As the new leader of Accenture's global banking practice, I'm excited to "blog-connect" with you. Over 50 years ago, Martin Luther King, Jr. warned America that it could no longer afford the luxury of "the tranquilizing drug of gradualism" and that real progress on civil rights required "the fierce urgency of now". Bank CEOs will recognize a similar call to action as they survey a global industry pummelled by increased regulation, negative shareholder sentiment, a slowing global economy, rapidly changing customer demands and a surge of new entrants. Now eight years after the start of the financial crisis, any fading hope that the banking industry would revert to an environment of incremental change and sustained shareholder value creation is long gone.
The irony is that this era of depressed returns is also an era of unprecedented technological innovation. Backed by over $20 billion in venture funding, FinTech startups are taking bites out of payments, credit and wealth management profit pools. At the other end of the spectrum, technology giants like Apple, Facebook and Alibaba are selectively entering the financial services business and embedding payments and financing in broader technology ecosystems. In this rapidly changing environment, traditional banks risk being marginalized and pushed to the ends of transaction chains as undifferentiated stores of value. As the telecoms giants of the 80s and 90s can testify, once boxed into that type of position, it can be very hard to retake the high ground of customer relationships.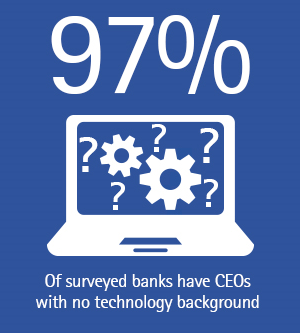 So 'fierce urgency' is now a leadership litmus test as bank boards look to appoint executives who can respond most effectively to the challenge of simultaneously satisfying both regulators and shareholders. Yet, those boards themselves may not fully understand what is required to succeed in a world of depressed returns and rapid change. With an estimated global spend of $360 billion, banking is increasingly becoming a technology-driven business. However, recent Accenture research – Bridging the technology gap in financial services boardrooms – showed that in over 100 leading banks, only three percent of CEOs and six percent of board members have a professional technology background. This stands in stark contrast to the healthcare industry where Russell Reynolds puts the equivalent board number at 39 percent.[1] Even in the leading geography of North America, only 12 percent of bank board members have a technology background, while around the world 43 percent of bank boards do not have a single member with professional tech experience.
Improving short-term returns, successfully navigating digital disruption and satisfying demanding regulators all call for improved technology skills in both the C-suite and the boardroom. As Dr. King also said, "there is such a thing as being too late. This is no time for apathy or complacency. This is a time for vigorous and positive action." Given the range of potentially existential threats stalking the traditional banking industry, when bank CEOs and chairpersons assess the technology skills of their institutions, this is a warning they would do well to heed.
I invite you to read our detailed report: Bridging the Technology Gap in Financial Services Boardrooms.
In this most interesting of times for the banking industry, I look forward to posting regularly on both the state of the sector and the work that Accenture is doing with our clients to help shape its future.
[1] 2014 D2014 Digital Board Director Study, Russell Reynolds Associates Board Director Study, Russell Reynolds Associates