For two days in May over 1,700 people of many different backgrounds—think tanks, academics, NGOs and government representatives—gathered for the 12th European Business Summit (EBS). The EBS, an initiative of BUSINESSEUROPE and the Federation of Enterprises in Belgium, was founded to focus on issues affecting European market competitiveness and growth. While in 2013 the focus was on unlocking industrial opportunities, this year focused on the theme of digitalization. The summit's goal was to identify potential drivers of Europe's comeback.
As part of this effort, the EBS partnered with Accenture, who conducted a survey of business leaders from across the EU on their view of the business agenda for Europe. The findings of this study were presented in detail during the summit. Particularly striking to me was the increase in optimism regarding Europe's economic growth prospects. After several years of recession, stagnant growth and uncertainty, you might imagine business leaders feeling somewhat jaded and skeptical of any positive economic news.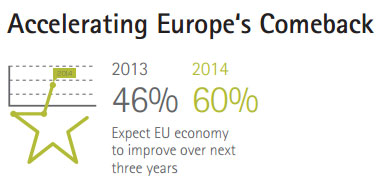 The banking industry having been particularly severely hit, with ROE levels unlikely to return to previous highs, digital solutions offer an opportunity for additional growth and greater profitability. In spite of this, retail banks across Europe have been slow to digitise their processes, and most are believed to be investing less than 0.5 percent of their spending on digital at a time when they are looking for means to achieve growth. Yet in both Belgium and Italy over 70 percent of respondents felt that digital technologies would provide greater access to retail banking. This contrasts with the UK at 58 percent, possibly due to high penetration of banks already in that market.
In spite of low investment to date, it seems most (over 80 percent) business leaders are hoping digital initiatives will solve many of the current problems they face, such as skills shortages, innovation issues, collaboration between businesses and access to finance. On seeing these figures I worry that some firms might believe throwing money at digital will open doors for them. The real challenge however, is knowing what to invest in, given your strategic objectives and the environment in which you operate. Just as the Internet helped revolutionise the consumer market, digital solutions can open up a range of possibilities from new omni-channel product offerings to operational improvements assisting the sales force and back-office personnel.
When asked about the top priority to be taken at a European level to help address business financing challenges, over a third of executives identified the need to develop digital banking for SMEs (small and medium enterprises). Often described as underserved by the banking community, SMEs are the ideal group to target with new digital banking solutions. Agile by necessity, these banking clients would greatly benefit from the flexibility that digital solutions may offer, with digital technologies allowing banks reach their customers in a more cost effective manner.
While examples exist of innovative solutions being offered today by European banks, it is interesting to note that the majority of respondents felt Europe was behind the United States in developing and implementing digital technologies. Though Europe is perceived to be ahead of China currently in digital initiatives, this lead could be lost over the next three years. European business leaders recognised the need to move quickly and embrace digitalisation of the economy to improve competitiveness. The banking industry should do the same, to create new growth opportunities or risk losing out to digital non-bank alternatives.