Small- and medium-sized enterprises (SMEs) play a major role in the UK economy, collectively generating close to half of the UK's private sector turnover. But banks are missing out on the chance to provide this key economic segment with a broad range of services that add up to a substantial amount of revenue. In fact, the findings of our recent report, "SME Banking 2020 – Changing the conversation (and capturing the rewards)", show that banks could be missing out on a total revenue opportunity of £8.5 billion[1] between now and 2020.
Our report surveyed 1,000 UK SMEs about their perceptions of their bank. This included SMEs' assessments of the relevance of the products and services their banks offer them today. What this revealed was a clear call for banks to develop propositions tailored to SMEs' needs, not necessarily just focusing on the traditional banking products and services. Doing so could position them as 'go –to' service providers and be rewarded accordingly.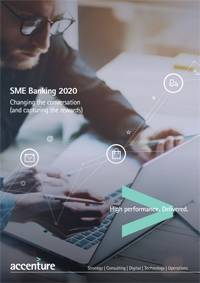 Today, 58% of UK SMEs choose their bank according to cost and 56% make their choice based on consideration of overall service quality. But only 4% chose their bank for the value-added services it offers to help improve business performance, customer service and sales. That's not to say that SMEs are dissatisfied with their current banking arrangements – 63% of them are happy with their main bank and one in five said that there was nothing that their bank could do to enhance their satisfaction.
However, we also identified a clear – and as yet largely unsatisfied – appetite from SMEs for value added services to help them manage and run their businesses more effectively and take advantage of new opportunities.  More than 60% of SMEs said that they would use new services from their bank – such as Bitcoin and peer-to-peer lending – if they were on offer. That reveals a mismatch between what banks currently offer SMEs and the services those SMEs would truly value – and that unmet demand also extends to SMEs' desire for a more engaged and active relationship with their bank. SMEs want their banks to engage with them and make suggestions for new ideas more proactively. That includes being able to offer services to meet what are for many fairly complex needs which banks may currently tend to not fully satisfy.
Making greater use of digital channels should be a priority for banks to give SMEs the same capabilities that they have extended to retail customers. SMEs currently tend to choose dealing directly with relationship managers as their preferred channel for advice, applications, complaints and non-banking services. However, with services designed in the right way to meet SMEs' needs, there are significant opportunities to migrate them to greater use of digital channels.
Our survey highlights some clear opportunities that banks need to recognise and seize. If they don't, SMEs may take their business elsewhere. To prevent that happening requires banks to change their mindset from a focus on financial services provision, to a more holistic approach as an SME service provider.  By harnessing new technologies and new thinking, banks can capitalise on a potential revenue opportunity of £8.5 billion.  With SMEs clearly expressing their desire for new services and support, the door is open, Banks need to make sure they enter before others get there first.
[1] Five year forecast based on £1.7bn of potential new revenues over five years: 2016-2020