Other parts of this series:
---
Closing out their four-part series, guest bloggers Ben Lopez and Charlie Arthy discuss how banks can empower their back-office workers to add value and fuel growth.
---
It's a bold move, but winning banks will remake their back office into a front-line, value-adding engine that can stir growth. Yet, doing so necessitates that a bank's back-office workforce also evolves in ways that significantly influence the outcome of large-scale change. We see this people evolution occurring across three main elements: new roles, new ways of working and innovative learning.
Roles reinvented by AI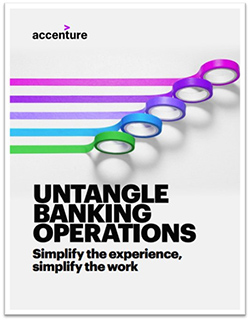 An early prognosis of artificial intelligence was that all things robotic—machine learning, robotic process automation and others—would replace back-office workers. Now, it's becoming clear that the combined workforce of people and machines is what will help banks capture the most value from technology-enabled back-office change. Based on our research, banks that commit fully and wisely to AI and human-machine collaboration could boost their revenue by an average 34 percent and increase employment levels by 14 percent.¹ This boost will come from various strategies. For example, shifting low-value roles, such as data entry and document review, to machine workers will free human resources to re-train into high-value roles that require more high-level creativity, complex reasoning and socio-emotional skills. Banks will also need to embrace and invest in new functional roles, such as for the design, build and maintenance of robotic processes where humans improve the performance of intelligent technologies.
New ways of working that foster change
North American bank COOs we polled recently suggested several elements within the work environment as top barriers to achieving greater, enterprise-level agility.² Consider that 40 percent cited "complexity of the current state/legacy environment" as a top reason while 15 percent said an "ineffective operating model". Banks can address such hindrances and evolve their back office by advancing towards new ways to do work. One example is the familiar combination of the Agile and DevOps approaches to achieving a new way to build and deploy business capabilities. While Agile focuses on development methodology along with the cultural alignment and integration of business and IT (such as its team structures), DevOps focuses on engineering culture and automation practices (such as its information flow, collaboration, shared responsibilities and learning traits). With culture change a center piece of both methods, together they can shift a bank from the traditional phased delivery model to a continuous delivery mindset.
This is what ING did,³ shifting itself to minimize barriers, such as bureaucracy and functional handovers, to being nimble. The strategy ultimately transformed the bank from a traditional business model organized around functional departments into a different type of  change-ready organization based on an Agile-plus-DevOps model. ING put its change focus on engineering talent and creating multi-disciplinary teams that are self-sufficient from both the software development and delivery as well as a business and management standpoint. The transformation positioned the bank to work in a more agile and flexible way, bringing IT, operations and business closer together to improve time to market, employee engagement, productivity, handovers and customer experience.
Just-in-time learning is key to new skilling
Evolving the back office will also require new skilling for workers in a shortened time frame, as technology skills can quickly become obsolete. Interestingly, employees are ready, but employers lag. Our 2019 Banking Tech Vision report shows that 75 percent of banks believe their employees are more digitally mature than their organization overall.4 How might banks catch up and keep up?
One way is through just-in-time learning, where new skilling is segmented into two groups: microlearning (three- or four-minute "nuggets" that can be deployed and consumed quickly) and experiential (active, immersive and hands-on, such as an apprenticeship).  Experiential techniques shift the focus from institutions to individuals with tailored programs that empower the workforce to learn. For employees who want to upgrade their skillsets and adapt to a more agile ways of working, banks can engage such techniques to drive greater retention.
The back-office revolution in banking will not arrive on the back of just one organizational change. It will arise through various means that require changes in all types of work, ways of working and ways of learning. How ready is your bank?
Learn more about the importance of an agile workforce in creating the new bank back office in our report, Untangle Banking Operations: Simplify the experience, simplify the work
---
1Accenture 2018 Future Workforce Survey – Banking
2Accenture 2018 North America Banking Operations Survey
3ING, "Nothing beats engineering talent – ING's agile transformation" 7/1/2016
4Accenture 2019 Banking Technology Vision