In today's fast-moving digital world, corporate clients are demanding different products and services from transaction banks to better serve their needs. Today's corporates have a need to decrease cost of treasury operations and have greater insight and control over their working capital and liquidity positions. At the same time, tightening regulatory pressures and an emerging need to offer differentiated product offerings is allowing transaction banks to focus on market innovations such as virtual accounts. Virtual accounts, though not a new concept, offer the opportunity for corporates to optimize their working capital and liquidity processes in a cost-effective way.
First, it is important to differentiate two key concepts: virtual IBANs and virtual accounts. Virtual IBANs are a mechanism to improve straight-through reconciliation of receivables for corporate clients whereby a bank opens a series of dummy IBANs for its client. Virtual accounts, on the other hand, are a comprehensive offering giving corporates a cost-effective means to centralize their accounts payables and receivables.
The key innovation today is the recent emergence of virtual account management (VAM) platforms offering flexible and self-serving tools to help a corporate manage a centralized accounting structure and simulate some of their treasury functions with improved efficiency.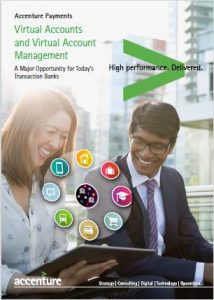 Although virtual accounts have the potential to provide great value to both small and medium enterprises (SMEs) and corporates, the greatest value is realized by large corporates and multinationals. Specifically, virtual accounts offer them a number of benefits:
Simplification & centralization of the treasury functions
A cost-effective substitute to existing cash & liquidity management products such as notional pooling
Increased cost savings and efficiency gains through improved straight-through processing of reconciliation and payment information
Likewise, it is also interesting to note the benefits offered by virtual accounts to transaction banks:
Lower operational costs through increased STP rates and decreased IT expenditure
Enabling banks to protect themselves against revenue losses from notional pooling
Higher share of market through increased client acquisition (such offerings present local banks with a serious potential competitive threat.) This is because large universal banks in other countries will be able to compete in their local markets without building a physical presence, and they can aggressively commoditize payments services, driving down local bank revenues.
An opportunity to drive customer centricity through self-service capabilities.
Recognizing these benefits, a number of European banks including Deutsche Bank, UniCredit and ING have already invested in the virtual accounts offerings for their clients. A key trend observed here is the embedding of VAM platforms into a bank's ecosystem. VAM platforms help drive a superior client experience, enabling virtual accounts to be opened and administered by the client in a real-time environment, outside the traditional (and often cumbersome) banking process & environment.
Given the importance of virtual account management solutions to corporates, recent market trends have shown both banks and ERP solution providers are competing to offer such market propositions to their corporate clients. Given the associated know-how required against the complex accounting cash pooling structures and the administration which comes on the back of these accounts, we feel that banks are better positioned to offer VAM solutions. They have a thorough understanding of the complex accounting structures, liquidity constructs of their clients and they are well equipped to support smooth account migrations.
In this regard, it is worthwhile to note that banks would need to assess the impact of offering virtual accounts services across their operating model. In our opinion, virtual accounts impact across business areas of a bank—from IT architecture (channels–core banking), product management, operations, legal and risk. In order to investigate the impact in more detail, a bank should consider the following implications:
Virtual accounts are a new product to compete for the digital customer and require banks to rethink pricing models.
The VAM platform should form an integrated extension of current online banking platforms—and this will have an impact on a bank's IT landscape.
Virtual accounts complicate the bank's ability to have one single comprehensive view on their customers, given the potential to create complex structure of accounts.
Perhaps the most complex is the impact of virtual accounts on the bank's broader compliance function (e.g. Risk, Legal, Tax.)
On a final note, we argue that adding virtual accounts to the offering of a transaction bank serving large corporates would yield the greatest returns now, for the follow reasons:
Basel III's tighter regulations around liquidity coverage ratios. Under Basel III, banks will not be able to compute liquidity ratios by means of netting the outstanding balances of accounts (e.g. in notional pools). As a result, such products have become more expensive for both the bank as well as corporates. Virtual accounts are a convenient alternative for corporates to more efficiently manage their cash management structures and at the same time offer banks the flexibility to meet Basel III requirements.
Given the recent investments in SEPA compliance, banks should invest in helping corporates streamline their operations further. It is in this regard that virtual accounts can help drive further operational streamlining to the corporate treasurer and increase ROI for SEPA project investments.
Today's burning need for a corporate to optimize their working capital at lower costs positions virtual accounts as an attractive proposition (in comparison to more expensive models: POBO/COBO structures, in-house banks.)
Accenture recognizes that the actual implementation of these concepts may not be easy. For example, there are clear questions regarding tax, KYC (know your customer) and legal impact that must be addressed in order for the concepts to have meaningful value to the large corporates of today's world. That said, the promise of being able to have more control over and significantly reduce the complexity of current financial operations should appeal to many corporates, in addition to being able to optimize the return on cash positions.
Learn more about virtual accounts and virtual account management.