Kash Khan, Accenture's Core Banking Practice lead for the UK & Ireland, assesses implications for banks in Accenture's UK Financial Services Customer Survey 2016. Banks are more trusted than they've been for years. But customer demands are growing more complex by the day.
There are signs that the public's collective memories of the financial crisis are beginning to fade. Our UK Financial Services Customer Survey 2016 showed that banks are now more trusted by their customers than they were a year ago (the percentage of respondents that consider banks trustworthy rose from 24 percent in 2014 to 29 percent last year). This makes them the most trusted of all financial services institutions.
Meanwhile, the proportion of respondents that consider their current account provider to be trustworthy remains largely unchanged (at around 50 percent). That's less good news.
Particularly at a time when younger customers are more likely than any previous generation to switch their current account, banks must get better at identifying and responding to the needs of their customers. How banks approach this imperative will be a key battleground for the future.
In a digital marketplace, retailers and online brands have set the standard for delivering engaging digital experiences, in personalised and often captivating ways. But that doesn't mean it's all about digital. Our survey shows that banking customers still place a high value on having access to a frictionless blend of integrated digital and physical channels.
Just 18 percent of consumers would be interested in using a purely online bank (with no physical branches), whereas more than double that number (42 percent) would consider using a bank that blends online and offline service.
Our survey also showed that while the use of mobile banking has more than tripled in the past four years, the proportion of respondents visiting a physical branch at least once a month was higher in 2016 than five years previously.
Of course, this may be because they have no choice but to visit bank branches. More complex products (like mortgages and complex packaged accounts) often have to be purchased in-branch so customers can be advised. And in many cases, cheques still have to be deposited physically.
Digital is catching up, with innovations like e-signatures and mobile cheque deposits beginning to erode the need for physical interaction. But for the moment banks will have to find a way of providing frictionless customer journeys that span digital and physical channels. For the customer, this should mean no extra effort, no repetition and no barriers to desired outcomes.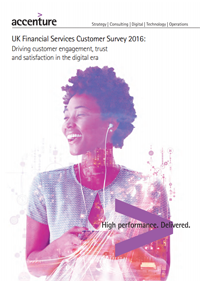 Another message stands out clearly from our research. Banks must recognise that certain segments of their customer base have a stronger appetite than others for digital interactions. We found that customers who hold multiple financial products behave differently. They're more engaged and much more digital in their everyday lifestyles (using mobile internet, online payments and online banking services more than any less sophisticated financial customers). They're also harder to please and less loyal.
Provided banks can identify these customers and provide digital services that match their demands, they'll be in a strong position to build loyalty with this core group. But they need to be sensitive to concerns about how personal data is used. There's a fine balance to be struck between using customer data to develop more relevant products and services, and not overstepping the line by becoming too obtrusive.
The solution?  Identify core customer groups' tolerance for certain innovations, and get better at articulating the benefits for customers that are willing to engage more closely with their banks.
These are just some of the findings in our UK Financial Services Customer Survey 2016. Thanks for reading.
To learn more, download our report here Accenture's UK Financial Services Customer Survey 2016