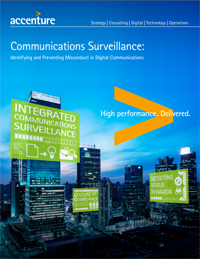 Many of the risks facing financial institutions today involve communications with closely connected people, inside and outside the organization. Employees, clients and counterparties all can purposely or accidentally act in ways that expose an institution to risk. Harmful activities might include insider trading, money laundering, bribery, market rigging and violations of trading restrictions. As described in our paper, Communications Surveillance: Identifying and Preventing Misconduct in Digital Communications, damages from these crimes can be substantial.
In response, regulators are requiring increased levels of communication surveillance, posing new challenges for banks and financial firms. Areas of concern range from social media to data to human capital and beyond. In my next few posts I'll explore these potential trouble spots, and then I'll wrap it up with a post describing some integrated solutions.
To start, social media. New and ever-present social media applications create new difficulties for banks and capital markets firms. Both the Financial Conduct Authority (FCA) and the Financial Industry Regulatory Authority (FINRA) have offered guidelines on managing social media. For example, something as short and sweet as a 140-character tweet on a social network, if of a promotional nature, must be clearly identified as such and managed accordingly.
Different social media vehicles come with different requirements that financial firms must oversee. Per FCA's final guidance around social media, financial institutions must have a system in place that can create a record of all social media communications, and then save them for possible reference.
Clearly, addressing this challenge will be a complicated process for any financial enterprise. Rather than developing one-off solutions for each potential social media scenario, we recommend a comprehensive, multi-layered approach. Our paper describes an approach we developed in partnership with one of our global clients—covering not only each medium but also four different languages.
The real trick, however, is creating an approach that both handles the many permutations of social media, and also helps the organization to prepare itself and respond in the event of an issue arising.  Managing social media and the various other communications across financial firms' channels is a new challenge for us in the digital age. Stay tuned—in my next post we'll look at how data factors in to the equation.