Every so often, a research report is published that breaks new ground by providing truly fresh and disruptive insights into an area of vital interest to financial services companies. One such piece of research was published recently by Accenture in collaboration with Lloyds Banking Group: the Lloyds Bank UK Consumer Digital Index 2016.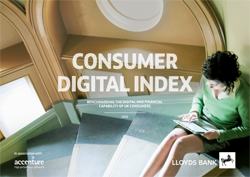 Building on the success of the Lloyds Bank UK SME Digital Index that we've published with Lloyds Bank for the past two years, our new study takes the proven approach used in that research, and turns the spotlight squarely onto consumers. In it, we observe and analyse trends in consumers' digital and financial capability and – for the first time – investigate and pinpoint the links between the two from a UK-wide perspective.
As the largest longitudinal study of financial and digital capability ever conducted in the UK, this was clearly a major undertaking. And to make it as comprehensive and accurate as possible, we worked in association with partners including the digital skills charity Go ON UK, and Toynbee Hall, a charity that works tirelessly to create a future without poverty. The result of our combined efforts is the UK's first behavioural data-led study of one million consumers' digital and financial capabilities – and a Consumer Digital Index that has been baselined to enable it to be updated annually from now on.
So, what approach did we take in conducting this research? We based it on three key pillars of information:
Behavioural data – drawn from a robust and representative sample of one million consumers aged 18 and above from across the UK. This data was captured over a period of 52 weeks, and enabled us to drive insights into actual behaviours across many millions of transactions.
Attitudinal research – a quantitative survey of 2,700 UK adults, looking at their financial and digital behaviours and attitudes. We used this to support and supplement the behavioural data.
In-depth insights – detailed qualitative interviews with 28 'unbanked' consumers, all aged 16 or above, conducted by the Financial Health Exchange at Toynbee Hall on behalf of Lloyds Bank.
Having amassed all this data, we then cross-referred and analysed it to identify a wide range of correlations – such as between people's levels of digital and financial capability – and the impacts of additional factors such as age. The results bring many striking findings and implications for banks.
For example, we found that being more digitally capable can help consumers make the most of their financial circumstances – but also that having greater financial capability does not necessarily drive consumers to use online tools and services. People's age is a far more influential factor on their Consumer Index scores than the region where they live. For example, a staggering 47% of people over 60 told us that "nothing would help me get online" – a finding that provides much food for thought for banks rolling out online services.
So, what should banks do differently in response to our findings? In my second blog on the Lloyds Bank UK Consumer Digital Index 2016, I'll examine our recommendations for banks springing from this report – focusing particularly on what it means for their digital agendas.