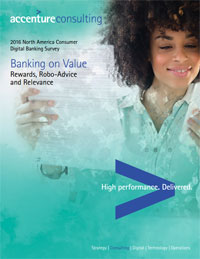 The late Muhammad Ali was a cultural and sporting icon for over 50 years. One key to his longevity was his ability to change and evolve in a sport and a culture often dominated by one trick journeymen. Ali was also very conscious of the value of time. Every sparring session, every press conference, and every chance to land a knockout punch was an opportunity to shine, and his mantra was "don't count the days, make the days count."
There are many retail bankers who probably feel like they are on the ropes in the late rounds of a heavyweight title fight and who are "counting the days" until the bell. Economics are challenged, investment budgets are tight, regulators are intrusive, and new entrants are starting to win material share in payments, wealth management and credit. Burdened with a tangle of legacy systems that often don't talk to each other, bankers are also being challenged by customer expectations that are being ratcheted up by great digital experiences in other aspects of their lives.
Accenture's latest Consumer Digital Banking Survey provides retail bankers with some direction on how to get off the ropes, evolve their offerings, and deliver more value to customers. One key insight is the increased importance of reciprocity. Customers are increasingly aware of the implicit value trade they have with their bank and 45 percent say that their loyalty is driven by the ability of their bank to offer discounts on purchases. The good news is that 63 percent of customers are happy to share data to help their bank shape a more personalized set of offerings.
Another key insight is that, despite the rise of digital challenger banks and the increasing number of millennials who would consider switching to a truly branchless bank, 87 percent of customers still see themselves using a physical branch in the future. The survey also indicates that customers who value advice are increasingly willing to have that advice delivered digitally, with 46 percent willing to use robo-advice in the future.
The survey also highlights the danger of just covering up and hoping that, like George Foreman in the "Rumble in the Jungle," the competitive threats will punch themselves out: 11 percent of North American consumers switched banks last year. For millennials, the number was close to double that, and the most popular destinations for them were online virtual banks.
Finally, one of Ali's greatest strengths was his willingness and ability to adapt his style to the situation. While his "rope-a-dope" act was a brilliant tactic against Foreman, in the "Thrilla in Manila" Ali went toe-to-toe with Joe Frazier for 15 rounds. Retail bankers also need to be able to flex their interaction model and play different roles for different customer segments and markets. Some will want to be traditionally, vertically integrated providers, while others may want to be platform providers, service brokers, or innovation playmakers to deliver maximum value for their customers.
Many retail banks are on the ropes and they need to act now to avoid a knockout punch. Evolving customer needs and preferences are becoming clearer and the technology exists to meet them, but to thrive retail banks need to ensure that they are in the center of the ring and shaping the future, rather than just reacting to their customers and their competitors.
I invite you to read more about how banks need to react to changing customer needs in our full report, Accenture 2016 North America Consumer Digital Banking Survey: Banking on Value—Rewards, Robo-Advice and Relevance.