As commerce around the world continues to evolve into a 24×7 real-time ecosystem, there is growing pressure for payments infrastructure to keep pace with today's realities transferring funds in real time.
"Real time payments" can be defined as an interbank account to account payment that is posted and confirmed to the originating bank within one minute, so the payee can use this value instantly and the payer has confirmation of the status of the transaction. The instant confirmation of the transaction won't be enough in the future, it is the real time availability of funds that matters.  The 'real-time' payment infrastructure may enable passing of greater data (ie, the use of ISO20022 messaging standard) and also addressing of payments to alternate addresses (ie mobile telephone numbers).
Customers expect payments to be fast as alternative payments networks (e.g., PayPal, Venmo and digital currencies) are already able to provide real time payments within their ecosystem.
Regulators are actively promoting real time payments in different ways. The revised Payments Services Directive (PSD2) will ease interbank account to account payments, allowing third party providers (TPPs) to initiate payments directly from the account of consumers and corporates. At the same time through EBA Clearing in Europe and the Federal Reserve in the US, they are kicking off industry task forces to support the creation of real time payments central infrastructure.  In Australia, the New Payments Platform (NPP) program has already embarked on the creation of real-time payments infrastructure.
Real time payments are not new: 31 systems have been built or have gone into development so far, of which 4 initiatives launched in 2014 (Fig. 1). However some of the systems have been in existence for over 10 years (eg: Switzerland, Brazil, Mexico); some, over 40 years (eg: Japan)
Fig 1 – Real time payments systems adoption worldwide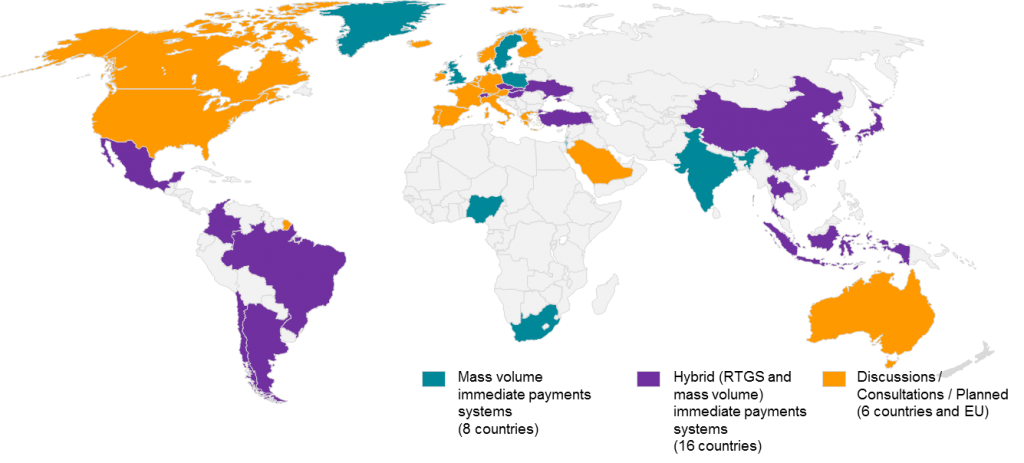 Real time payments infrastructures may have different origin: they can be launched as domestic infrastructure to modernize the national payment system (e.g.: UK, Denmark, Singapore and Australia) or as a market driven initiatives to face competition from non-banking players (e.g.: Poland and Sweden).
To become a real time payments institution, it is not enough to connect to a new infrastructure, it requires investments and a wide transformation program.  In the UK the cost of building and maintaining the immediate payments infrastructure – Faster Payments Services – amounted up to £70-£80 million for each participating bank, but the cost of execution to upgrade their infrastructure and change processes for some banks was up to ten times higher. Today banks can be better equipped with some real time capabilities already in place if compared to 2008 when the UK Faster Payments Services was launched, but the complexity of this change can't be underestimated.   This is even more so if both the ISO20022 standard and non-account addressing are also included in the program.
As found out in a recent poll done by NACHA at Payments 2015 conference, execution and high investments will be the major challenge also for US banks: for 37% of payments executives execution difficulty is the major barrier followed by high investment required (30%)[1].
Once the plans at industry level are finalized for how real-time payments  will be implemented, banks – especially in Europe, US and Australia – are going to look internally and define strategy and investments to migrate their entire infrastructure, technology, operations, systems, processes, fraud, risk systems from batch processes to 24/7/365 operations.
Legacy systems will have to fit for real time and new capabilities will be required. Account keeping systems and transaction banking portals updates will need to be in real time across channels like the funds' availability. Funding and settlement for nostro/vostro accounts will change since real-time payments systems will likely have predefined funding cycles which create positions that need to be settled at least twice daily. 24/7/365 operations means also that customer services and exceptions handling are always available.
Despite these challenges, if banks want to become Everyday Banks where they are integral to their customers' digital lives, then they have to provide real-time payments. Some banks are discovering the benefits of their real time payments infrastructure offering a multitude of innovative overlay services – such as Paym and Zapp in the UK – enabling P2P, in store and online payments directly from their current account.  In Singapore, a number of services have already been launched by the participating banks.  Other banks are evaluating crypto-protocols, like Ripple, to infuse real time capabilities in selected services like cross-border payments (e.g.: Fidor Bank, Cross River Bank and CBW Bank) and inter-bank transfers (e.g.: Commonwealth Bank of Australia)
In our view, banks need to take this imperative on board—and change their mindset to view the real time payments opportunity from the perspective of an Everyday Bank.
[1] NACHA