Not long ago—specifically, before 2008's financial crisis—liquidity was something financial institutions took for granted. Cash was always going to be available if it was needed. And then, it wasn't.
These days, liquidity risk management is a not just a hot topic, but a critical priority for financial institutions. Internationally, a liquidity coverage ratio (LCR) was established, followed by US requirements around high-quality liquidity assets (HQLA) to ensure short-term liquidity.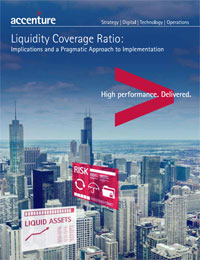 Even today, regulations are shifting as the financial community seeks the best way to manage liquidity risk. Tiered regulation is being kicked about by some in the industry.  Others have called for more transparency.
Managing LCR and HQLA is not an easy task, with the required daily assessments leading to concerns around data quality. Our recent report, Liquidity Coverage Ratio: Implications and a Pragmatic Approach to Implementation, offers guidance to help banks manage liquidity. Three key steps are involved.
Interpretation: Not surprisingly, interpreting regulations is a first hurdle for banks to address. Given the wide range of products and services offered by banks, as well as different operating models, the "one size fits all" approach from the US Federal Reserve fits each bank differently. Our report advises taking a structured approach to interpreting a regulation, matching to an operating model, evaluating the options and choosing the best course of action.
Gap Assessment: A good interpretation results in clear understanding of how individual regulations apply to a particular institution. That level of clarity can help drive an efficient assessment of gaps, showing where the bank will need additional effort at implementation.
Implementation:  A reliable approach includes starting with a blueprint, to avoid surprises and ensure all bases are covered. A well-built reporting tool makes certain the right data is captured and formatted for use in the LCR process, and also eliminates manual processes. Testing is critical for confirming an accurate, quality LCR calculation. Once it's all put together, a reporting routine provides ongoing oversight.
In my next post, we'll talk more about ongoing management of the LCR process, and other challenges banks may encounter.