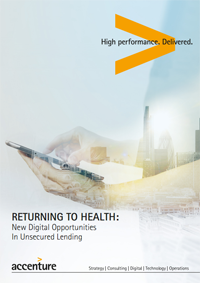 By harnessing digital to respond to changes in consumer behaviours and expectations, and fulfil their financial and non-financial needs, leading banks are transforming to become an 'Everyday Bank'. It's a trend that we've been highlighting in my series of blogs. This latest posting looks at a key area of opportunity for banks that make this transformation.
It arises from the interlock between the bank business models that digital enables, in the fast growing demand in the UK's unsecured lending market (examined in greater depth in a recent Accenture point of view Returning to Health: New digital opportunities in unsecured lending) we explore this further.
Provided that traditional lenders can take advantage of digital channels, they'll be able to bring in new revenue streams by giving consumers access to lending products at the point of need – whether that's the point of loan, purchase or other transaction.
But they need to move fast. Having exited riskier segments of the unsecured lending market in the wake of the 2008 financial crisis, traditional lenders have looked on as a new generation of players capture advantage.
Backed by venture capital, fintechs have been quick to exploit the demand for new products in this space. The result? An unsecured lending marketplace where highly aware digital consumers expect products and services that are positioned to meet their demands and lifestyles – simple to use, always available and there when they're needed.
These expectations have driven an upsurge in point of sale finance, closely integrated with the purchasing experience (instead of being provided through a separate application process). It's an area currently dominated by fintechs. But it creates outstanding opportunities for UK banks – provided they can develop new, technology-driven product offerings to target a range of customer segments.
Understanding and investing in the right technologies through the right partners will be vital. This means being on top of the latest fintech developments and, quite possibly, forming partnerships with disruptive market entrants. Instead of relying on expensive legacy systems, traditional lenders would then be able to take advantage of efficient third-party platforms that can dramatically lower the cost to serve and acquire customers.
There are other priorities. Lenders need to provide easy access to the services consumers require. This means developing full-service internet and mobile offerings, backed by automated lending processes, for rapid acquisition and retention of loan customers.
Technology will also underpin good decision-making. Successful lenders in this market will have systems, controls, processes and governance that enable rapid and accurate customer due diligence. In such a heterogeneous marketplace, it's important to build up a comprehensive profile of each loan applicant. Social profiling engines will help provide this, supporting the intelligent decision-making that'll enable leaders to acquire the most valuable customers ahead of the competition.
Traditional lenders already have access to enormous quantities of customer data. With the right technologies, they can capitalise on this resource to bring interesting deals to customers from the merchants they like to shop with. Every transaction would then present each-way opportunities, not just for making a loan, but also for earning a margin from the seller.  Companies like Groupon have thrived on this model – and they don't have access to consumers' banking data.
Consumer lending is at its highest point since July 2010 and there are exceptional opportunities for lenders that can move decisively into this market with the right mix of fintech relationships and technology capabilities. When it comes to unsecured lending, now's the time for banks to take steps to secure their futures.