A self-service revolution is sweeping retail banking. But who are the real winners—banks or customers?
This new level of banking self-service is a reality thanks to digital technologies. Self-service channels including online and mobile banking options, interactive screens and remote advisors make ATMs seem like antiques.
Benefits for banks
By shifting transactions to self-service models, banks can save personnel and infrastructure costs associated with maintaining extensive branch networks. After all, Accenture analysis shows that it's 95 percent cheaper to process deposits digitally than through a teller. Banks benefit from the ability to redirect cost and resource savings to core retail banking products—a competitive necessity in a disrupted market.
The customer experience
Customers can benefit too—most of the time.
Findings from Accenture's 2015 North America Consumer Digital Banking Survey show just how open consumers are to self-service options done right. Case in point: Consumers rank good online banking services as the top reason they stay with their banks.
What's more, consumers report that they use online banking most often, prefer it over other channels, and consider it to be the most important channel for banks to invest in over the next five years.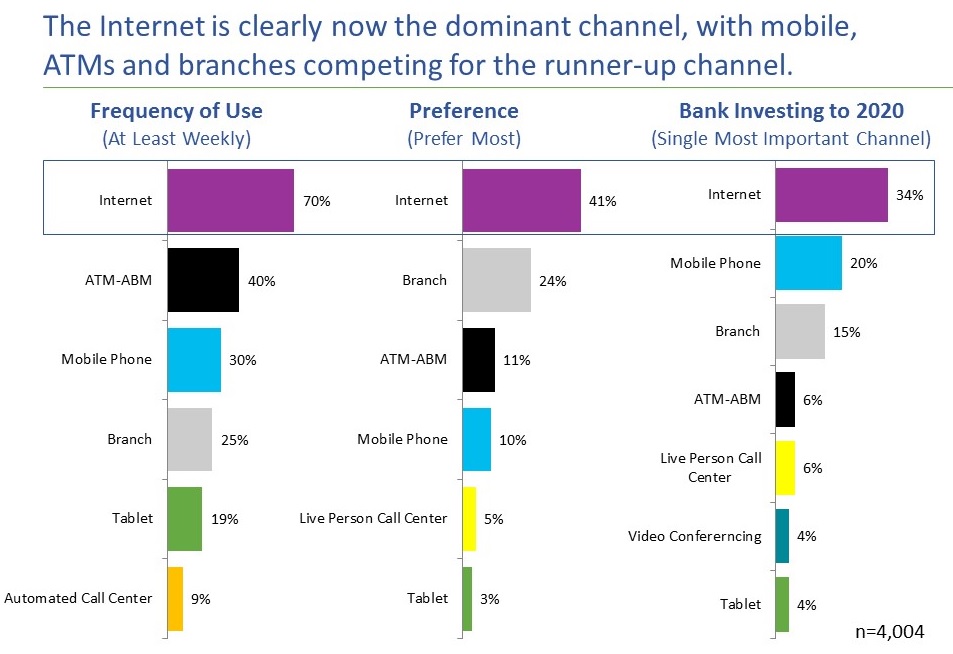 Move forward with caution
While consumers' enthusiasm and expectation for online banking is clear, it is not necessarily an endorsement for any digital self-service option.
Too many banks have moved tellers out of branches and self-service machines in, creating a banking customer experience that some customers rail against. The cautionary tale for retail banks here is simple. Self-service driven by the bottom line without deep understanding of customer needs can backfire. The banking customer experience trumps everything else.
Making customers winners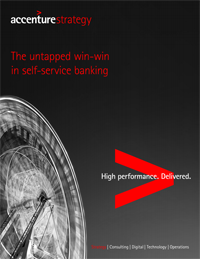 In a recently published point of view, my colleagues explore what banks that win at self-service do differently. These banks don't focus on technology first; they focus on the banking customer experience always. They are different in several fundamental ways:
Customer obsession. By understanding their customers' needs and behaviors through data insight, winners position themselves to deliver self-service options that intrigue and interest rather than distract and disappoint.
New mindset. These banks have shifted from "self-service" to "digital-do-it-yourself," recognizing that customers don't want to feel that technologies are forced on them. They want to opt in, maintaining choice and control.
Ease and simplicity. The self-service options that customers like best aren't necessarily those with all the latest technological gadgets and bells and whistles. They want clean, elegant solutions that are intuitive to learn and use.
Adoption focus. The worst thing a retail bank can do when it comes to self-service is to assume that "if you build it, they will come." Not necessarily. Self-service winners invest not only in solutions, but in customer adoption initiatives too.
Human touch. There are some customers and some situations where customers want to interact with a real, live human being. As they adopt more self-service options, banks should can never lose sight of this.
I encourage you to read this article to take full advantage of self-service banking opportunities. And if you haven't already, explore our 2015 North America Consumer Digital Banking Survey for insight into what your customers expect when it comes the banking customer experience.