Other parts of this series:
---
The rise of social media and the number of social network users has risen dramatically over the last few years. In fact, from 2012 to 2013, the number of users around the world rose from 1.47 billion to 1.73 billion—that's an 18 percent increase in a single year. And the numbers are projected to grow to 2.55 billion by 2017.
There's no escaping social media in the workplace either. Among Fortune 500 firms, 77 percent have active Twitter accounts, 70 percent have Facebook pages and 69 percent have YouTube accounts.
Risk management capabilities are not keeping pace with explosive growth of social media
However, company risk management capabilities have not kept pace. Traditional risk management policies and procedures were not designed for the rigors of monitoring social media chatter to identify brand, strategy, compliance, legal and market risks—risks that might be considerable.
What are the risks?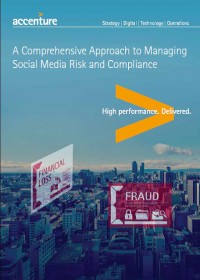 Social media is a powerful channel for financial institutions. It offers value for branding, marketing, advertising, corporate communications, servicing and grievances resolution. On the other hand, it is also one that can expose companies to a wide range of risks including reputational and brand risk. Negative social media commentary can result in loss of trust and revenues, but it can also produce more serious types of risk, including:
Strategic risk. If an organization fails to ensure staff are protecting sensitive information, or if its social media presence is infiltrated by malicious third parties, strategic objectives can be compromised.
Business risk. When business-sensitive information flows across social media networks, whether unintentionally or maliciously, the result for organizations can range from simply damaging to deliberate fraud or corporate espionage.
Regulatory risk. Financial services organizations work in highly-regulated environments where the failure to maintain client confidentiality can lead to sanctions or fines.
Legal risk. Legal action can occur when organizations fail to identify and mitigate the risks associated with social media, and when clients, employees, shareholders and other stakeholders can demonstrate that they have suffered damage.
Market risk. Many organizations can now publish financial information over social media, it's critical that they have robust processes in place to ensure against unauthorized distribution and to counter the fraudulent release of false information, which could affect market prices.
What's needed is a proactive approach
Organizations expanding their social media activities to take advantage of the new opportunities to connect with customers and a broader network, need to be aware of the risks, and take a proactive approach to social media risk management.
In my next post, I'll talk about the specific risks major social media platforms present.