---
Far-sighted insurers are pulling together comprehensive change strategies to enable them to quickly adapt to the shifting needs of the digital economy. Improved communication, employee training and staff accountability often top the transformation agenda.
Many insurers, however, neglect the most important comp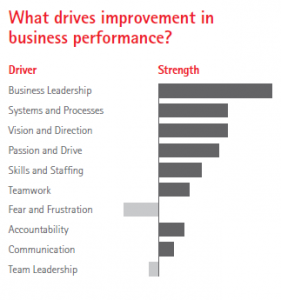 onents of an effective change strategy – strong leadership; clear vision and direction; good systems and processes; and passionate and driven employees. Our study of 250 major change initiatives at more than 150 organizations shows that these are the most critical performance drivers in a successful business transformation. Effective change management requires far more than just a smart internal communications program and a few training courses.
Why are the essential components of effective change management so often neglected? The answer's simple: they're difficult to measure. Many insurers, as well as lots of other organizations, concentrate on traditional, but less effective, performance drivers because they're easier to measure and, therefore, manage. This needs to change.
Few of us would plan our holidays using just a few scraps of information we've picked up by chance. We'd use a digital service such as TripAdvisor to gather as much relevant information as possible about our proposed excursion. Then we'd book our trip.
Similarly, insurers need to turn to digital technology, especially sophisticated analytics systems, to help them chart their change journey. Automated text analysis solutions, for example, can scan online responses from employee surveys and workshops, as well as social media posts, to determine workers' attitudes to specific change initiatives. Such information enables business leaders to quickly identify and address potential obstacles to change.
Advanced analytics systems allow insurers to move their change strategies away from isolated projects with defined timeframes. Instead, they can concentrate on building a continuous change capability. This will enable them to swiftly adapt and shift their operations and business models without impeding their business performance. Insurers can certainly make changes to their businesses without employing change management. But far-reaching changes are unlikely to be successful unless they're accompanied by comprehensive change management processes, systems and technology.
In my next blog post, I'll discuss how change management can help insurers thrive on digital disruption. In the meantime, have a look at these reports written by my colleagues Warren Parry, Randy Wandmacher, Paul Nunes and Joshua Bellin. I'm sure you'll find them useful.
Turning change upside down: New analytical approaches provide powerful insights into organizational change.
Thriving on disruption: Position your business for a sustainable future by becoming indispensable within a broad and diverse network of partners.