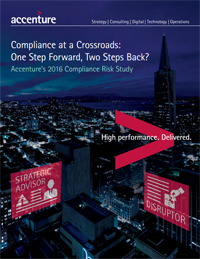 As we've seen in my previous two posts, compliance leaders are in a balancing act. The results of Accenture's 2016 Compliance Risk Study show increasing demands on compliance, but also a leveling of growth when it comes to the function's stature.
What does it all mean?
Compliance organizations need to keep working on improving their capabilities. But, as they do so, they'll probably have to make do with fewer resources—and meet a higher bar. The results delivered should be meaningful, and should meet the increasingly complex expectations held by stakeholders.
Going in to this scenario, compliance officers responding to our study say they are positive about their ability to deliver on the priorities facing them. These include regulatory reporting (84 percent are positive they can deliver this), management reporting (87 percent), adoption of strategic data platforms (85 percent) and data governance (83 percent).
An equally high number of respondents (81 percent) agree their function will need to optimize its operations to meet growing demand.
One key action compliance leaders can take is tapping technology to manage risk in lieu of ramping up the need for human capital. Not only can compliance perform more with less, it can also enhance consistency by leaning on technology.
Leading compliance players are using predictive analytics and robotic process automation to support investigations. They are investing in business process outsourcing and lowering costs while building efficiencies. With technologies in place, they are freeing bandwidth to help manage emerging threats, particularly cyber risk.
What kind of compliance organization will yours be, in the future?
My next post will look at the decisions facing compliance leaders. For now, you can access the Accenture's 2016 Compliance Risk Study to learn more.