My previous post introduced Global Structural Reform (GSR) and how new regulatory and compliance concerns are fundamentally changing the nature of the financial services marketplace.
Developing big-picture insight around the trends inherent in GSR can go a very long way in helping a financial institution survive and even thrive, seizing value in the wake of all the changes coming its way. Accenture's Global Structural Reform Study shares seven pillars or building blocks of GSR that can make the journey a little easier for providers: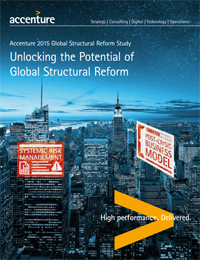 Scrutiny from domestic regulators: Institutions to find a way to meet requirements in every country where they operate—not an easy task when every regulator has unique expectations.
Governance of legal entities: Will a shift in responsibility be needed based on local changes in governance of legal entities in the jurisdictions where they operate?
Stricter stress testing: Evidence requirements around comprehensive and effective risk management continue to rise, with the need for quality and completeness of an institution's data architecture becoming a focus.
Capital and liquidity adequacy: Sufficient capital and liquidity are mandatory, both locally and globally, putting increased emphasis on allocating capital and then demonstrating capital and liquidity adequacy to regulators.
Recovery and resolution planning: Institutions to spend time developing and communicating their roadmap for quickly recovering or else winding down in the face of possible insolvency.
Separation or cessation of activities: Some regulators are requiring approaches that ensure resilience and head off systemic failure if one of an institution's legal entities or business lines fails.
Geography-focused finance: Institutions to position themselves to report and perform financial operations at the local or jurisdictional level.
These pillars of structural reform point to key capabilities, business processes and business models financial institutions need to consider to meet requirements in the new GSR environment. Institutions that grasp the direction should enjoy a significant advantage. Eventually, as the dust settles, these financial providers can demonstrate that GSR can be managed—and even that positive gains can be found within this changing environment.
My next post will discuss the possibility for gain within GSR, so keep tuned in.