Alternative lenders are not so alternative anymore. LendingClub Corp., which once appealed mostly to early adopters, has become a household name. Prosper Marketplace, Inc. has funded more than $5 billion in loans. Goldman Sachs reports that alternative lending could put an estimated $11 billion in banking sector profits at risk through 2020.
More than 75 start-ups have built websites that match investors with borrowers seeking loans to pay down debt or finance a big purchase. Alternative lending is a rapidly expanding global phenomenon, especially in the United States, the United Kingdom and China—with signs of emerging growth in Germany, Spain, Australia and Canada.
As consumer and small and medium business (SMB) lending shifts from traditional sources to emerging ones, banks must seize opportunities to avoid disintermediation. Like it or not, alternative lending is part of the future of banking.
Silicon Valley meets Wall Street
The alternative loan market arose from a perfect storm of forces—another example of banking industry disruption. Non-bank lenders have the advantage that they are not bound by the cost of branch infrastructure, reserve requirements and regulatory overhead. So they can pass along lower overhead costs to borrowers through lower interest rates.
Alternative players' business models are grounded in digital technologies—from end-to-end digital services across all channels to the infusion of credit-focused analytics. They are also using social media and other data to help determine degree of credit risk for prospective borrowers.
A strong appeal to customers
Alternative lenders' use of technology enables them to offer a strong customer experience in origination and fulfilment—fast, personal and convenient. Consider how well these digital disruptors perform against important credit and lending metrics: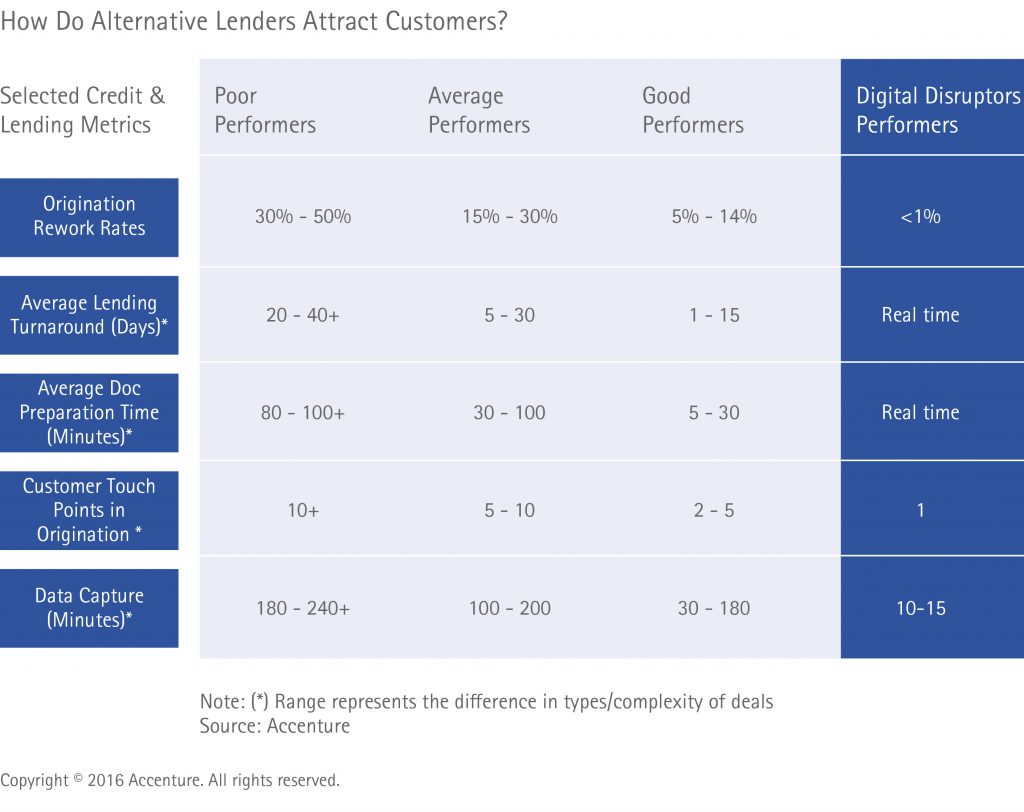 Even so, alternate lenders face unique risk factors in addition to borrower credit and interest rate, liquidity and regulatory risk.
Banks can go on the offensive
There are several strategies that traditional banks can pursue to match the service levels and customer experience that alternative providers deliver. These approaches include:
Go digital. Develop in-house digital capabilities for consumer and SMB lending.
Tap into digital. Build partnerships with alternative providers.
Connect with new investors. Partner with new financial institution investors.
Make acquisitions. Leverage third party balance sheets and network effects.
In these approaches, banks have the advantage of their lending experience, sophistication, and "trusted partner" brand status. However, banks must be willing to work with multiple players to build both sides of the marketplace.
The benefits add up
The upside here for banks is the opportunity to drive net revenue growth, create new delivery efficiencies, sell and market to a new group of investors, get new insights on consumer and small business funding needs, and create barriers to entry for emerging players. All of this is essentially about beating alternative players at their own game.
In doing this, banks can evolve customer relationships too. They can extend their role beyond providing financial transactions. With more tailored customer experiences, banks can build advice-based relationships and support customers' everyday needs.
Our research, Banking Shaped by the Customer, indicates that consumers are hungry for more personalized, digital experiences that support how they live, not just how they bank.
A look to the future
Alternative lending is a trend to watch. It is already reshaping lending tradition and will shape the future of banking. Traditional lenders should monitor this market closely and act on the clear opportunities to thrive in this dynamic market category.