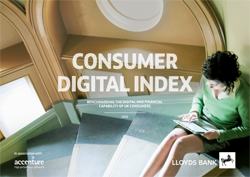 In my first blog on the Lloyds Bank UK Consumer Digital Index 2016, I detailed the approach we took to creating this ground-breaking research study with Lloyds Banking Group, and summarised some of the key findings. In this blog I'll go on to examine our recommendations from the report – focusing on what we think banks should do differently in response to the results and differing digital capability of consumers.
In assessing our recommendations, it's important to grasp the new and highly thought-provoking nature of the insights contained in the report. The research represents the largest longitudinal study ever conducted in the UK of consumers' financial and digital capability, and the first ever attempt to analyse and pinpoint the links between the two.
The findings are equally ground-breaking. To pick just two from the myriad of statistics in the report, we've found that highly digitally capable consumers make savings deposits four times the value of less digitally capable people – and they make those deposits 50% more often. And highly digitally capable consumers are also increasing their wellbeing: 86% of people who manage their money online report they "worry less" because they can track their finances.
So, having made a full assessment of the findings, what are our recommendations for banks? Put simply, we think they should do four things:
Raise awareness of the digital dividend – One of the clearest findings of the Index is that people save significant money when using digital, and that low income consumers save a larger proportion of their total income. So banks should take proactive steps to raise awareness of online tools, and promote the benefits of saving – including the additional advantage of saving online, termed the "digital dividend" – with all their consumers and communities.
Promote increased access to welfare and banking services – There's an accelerating move towards digital delivery of welfare services (such as universal credit payments) as well as the delivery of banking services. To ensure consumers have full access to these income streams and services, banks need to promote the digital imperative.
Drive financial and digital capability skills by mobilising Generation X as champions and mentors – The Index shows that "Generation X" – people aged 40 to 49 years old – are benefitting particularly highly from both digital and financial capability. This suggests that Generation X should be mobilised as digital champions, friends and mentors to pass on their skills and knowledge to other generations, both younger and older.
Collaborate with Financial Technology (FinTech) companies – Banks should work collaboratively with FinTech startups to identify and develop innovative solutions for consumers with low financial and digital capability. This complementary collaboration will support the development of new consumer products and services, by bringing together the experience and scale of banks with the agility and ingenuity of startups.
In our view, these four steps build into a robust, fact-based programme of action for banks, as they seek to understand, map out and navigate through the evolving and interconnected landscape of UK consumers' financial and digital capability. It's a long journey ahead. And the Consumer Digital Index will continue to provide guidance and support, as the research is renewed and updated on an annual basis. So stay tuned.