Every industry is scrambling to capture Millennial mindshare, and retail banking is no exception.
Consider the sheer numbers and earning power of 18 to 34 year olds. Millennials now officially outnumber Generation Xers in the US labor force, according to the Pew Research Center.
Millennials and Money
But just how digital are Millennials? In recent months, Accenture research has revealed insights to help answer this question for the banking industry.
You may recall that results of our 2015 North America Consumer Digital Banking Survey offered some surprises. We learned that while banking through digital channels is important to them, more than a quarter of Millennials expect to use the bank branch more by 2020. The message to banks is to see digital as a catalyst, not as an end-all-be-all to connect with Millennials.
The Appeal of Digital Payments
Recently published results of our 2015 North America Consumer Payments Survey—a multi-year survey of over 4,000 consumers in the United States and Canada—tell a different story when it comes to Millennials and payments.
Millennials have not abandoned traditional payment instruments. Sixty-six percent use cash today. However, only 53 percent expect to use it in 2020—that's five percentage points less than the projected future use of all survey respondents combined.
Moreover, Millennials have a clear affinity for digital payments. Just like last year, they continue to be change drivers and first movers in all digital payments areas when compared to other demographic groups as this table reveals: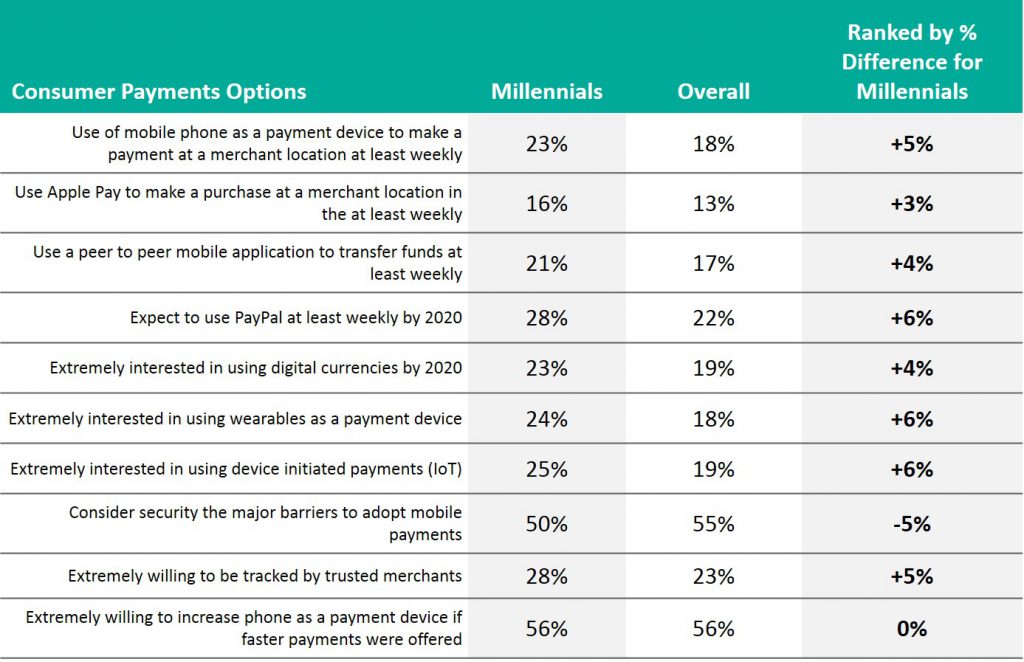 Open to Digital Evolution
These insights offer an interesting perspective into the Millennial mindset related to digital payments. For example, Millennials are 6 percentage points more likely than other groups to use PayPal, Inc. in 2020. They are also 6 percentage points more likely to be interested in connected commerce. This is the ability to make payments via objects with Internet connectivity—anything from wearables to appliances and cars.
Strong Millennial interest in both a "traditional" digital payment option like PayPal and in an "emerging" digital payment option like wearables suggests that this generation does not view digital with tunnel vision. They are open to a variety of options.
Millennials' openness to change and innovation is something that the industry should not forget. After all, Millennials are digital natives. Having grown up with digital, they know expect technology to be ever evolving and to cater to their needs.
The challenge for the industry is to understand what will influence Millennials to choose from among various digital payments options? Will it be convenience? Customer experience? Cool functionality? Something else? Answers to questions like these will help providers find Millennials' true digital payments sweet spot.
Learn more about Accenture's latest consumer digital payments survey.