According to the Pew Research Center, Millennials will overtake Baby Boomers this year as the largest living generation in the United States. This is an undeniable signal that 18 to 34 year olds are an increasingly influential customer segment for banks.
The results of Accenture's 2015 North America Consumer Digital Banking Survey—our multi-year survey of over 4,000 consumers in the United States and Canada—offer insights into who Millennials are and how they like to bank. And they may not be the people that you expect.
Our survey findings debunk three common misperceptions about this unique generation:
1. Millennials are tomorrow's customers.
Millennials today are already significant contributors to consumer spending. While some younger Millennials are in college or starting out in their career, older Millennials are more established. They have been working for years and have reached key life milestones that create a need for financial services and advice—from buying a home to saving for retirement.
The survey results reveal that, for now, Millennials manage fewer banking products and providers and tend to have basic banking products. But as this generation ages, we can likely expect their banking needs to expand. This is why it is so important for banks to start connecting with Millennials now.
2. Millennials are all digital all of the time.
Banks should avoid generalizing about just how technology savvy Millennials are. Certainly, their experiences are shaped by digital—they focus more on digital services than other age groups do. For example, more Millennials purchased/signed up for mobile banking software/apps in the past 12 months—22 percent compared to just 13 percent of 33 to 54 year olds and 6 percent of those 55 and over.
Even so, developing more digital products and services is not the only way to win Millennial customers. Consider this surprising survey finding: Although Millennials value digital channels for banking, more than a quarter also expect to use the branch more by 2020. Banks must focus on using digital as a catalyst to bring new value to Millennials' financial and non-financial lives.
3. Millennials are not loyal.
Our survey results reveal that as a group, Millennials switch from their primary bank at a pace nearly double the average of other age groups. They report that high fees and poor loyalty programs are the top reasons why they are dissatisfied with banks.
Yet to automatically equate Millennial switching with a lack of loyalty is short sighted. In my view, this data suggests that Millennials are prepared to leave if they don't get what they want from banks—they are not buying banking products/services, they are buying value. So, it's up to banks to deliver against their expectations to keep them coming back. When we asked Millennials about the kinds of services that could improve their loyalty, their top six responses are non-traditional bank services: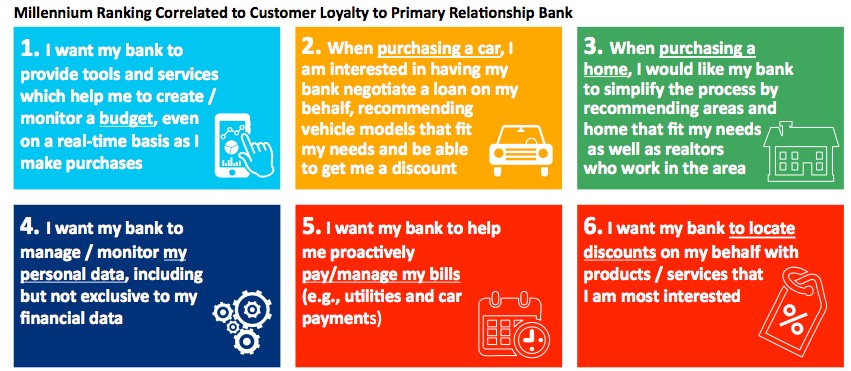 Millennials are an important customer segment for banks to capture—now and in the future. Breaking down the myths to develop a rich understanding of the Millennial mindset is a good place to start developing strategies tailored to their unique needs.
Learn more about Accenture's latest consumer digital banking survey.