Great brands aim to make an impact on the world. They use purpose to drive action. And according to a recent Accenture Song study on North American banking customers, "brand purpose" is no longer a nice-to-have factor—it's an imperative.   
For banks, we define "brand purpose" as the action-oriented articulation of your mission and values, and it is at the core of great customer and employee experiences. When done well, it is a competitive advantage and a powerful driver of growth, loyalty and valuation. 
Your brand purpose should be inspiring and delivered consistently in everything you say and do. 
Marketing executives are taking note: 78% of marketers globally indicated brand purpose is more important than ever post-2020. And according to our Marketing Decluttered research, 71% of financial services marketers worldwide stated their organization is focused on actioning brand purpose to highlight differentiation. 
While there is clear interest, purpose is a C-suite priority that many fall short on. As our research shows, 82% of C-suite leaders say purpose is important, yet only 42% say their company's stated purpose has had a significant impact on their organization. We're seeing this misalignment in banking.   
It's important because banking customers also care about brand purpose. Accenture Song's research among North American banking customers focused on the importance of brand purpose and found that 78% believe today's banks should have a strong and visible brand purpose. Additionally, 87% agreed that a bank's brand purpose must align with the actions it takes.  
With executives and customers alike signaling the importance of brand purpose, we have defined a purpose impact framework across three platforms: brand, engagement and enablement. The framework enables banks to define a purpose and build a holistic brand around it, then activate and implement that brand to ultimately drive growth.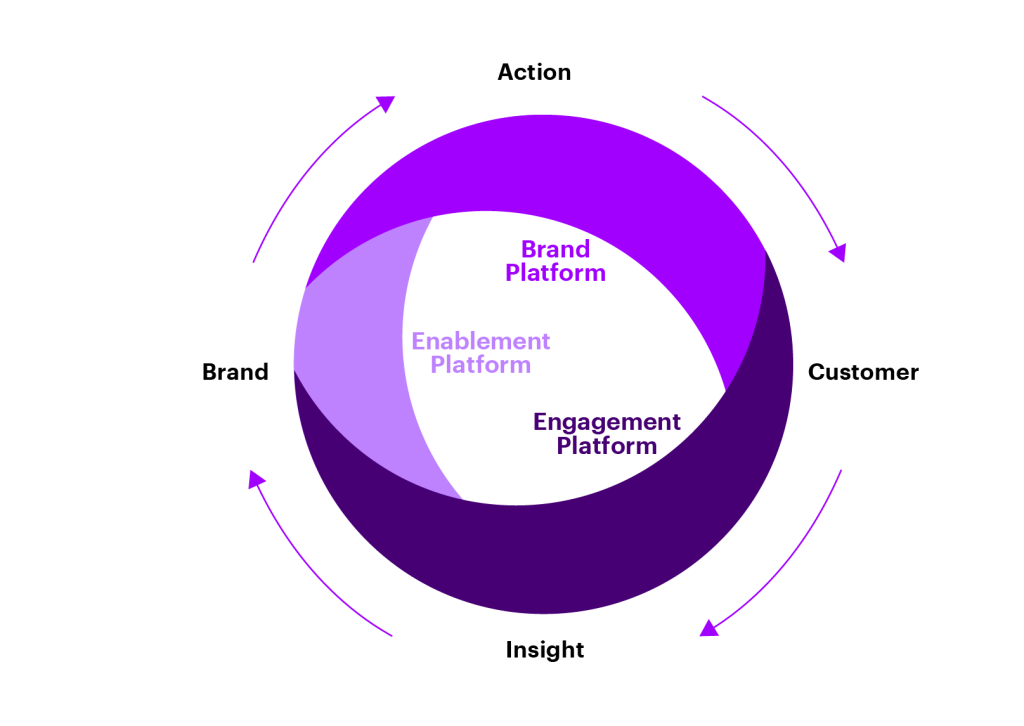 The platforms required to activate brand purpose and drive growth.   
1. Definition through a brand platform: Articulate a brand purpose and platform that create a meaningful bond with the audience.  
Brand purpose starts with your action-oriented articulation of your mission, vision, business strategy and your promise to customers, employees and shareholders. This brand platform shines when it is understood, compelling and future-forward. When consistently delivered, it will power and inspire the entire bank so that current customers understand and embrace the brand's direction, and potential new audiences know and value the brand for all its strengths. 
As we navigate our post-pandemic world, there is both a significant opportunity and an expectation for banks to be purpose-led across every interaction. With this influence, along with rising competition and the agility and transparency enabled by digital, more banks and fintechs are doubling down on putting their customers, employees and communities first through their brand platform.  
Nubank shows us the power of brand purpose. The Brazilian digital bank, now the largest fintech in Latin America, defines its brand purpose around making banking more accessible in a market with traditionally high interest rates, challenging account-opening processes and a reputation for poor customer service.  
Additionally, Nubank fosters a customer-centric culture that takes care of its employees and embraces partnerships with companies like WhatsApp and Meta (Facebook) to consistently live its defined purpose. And this all starts with its purpose: "Nubank was created to build this world with you, simplifying your financial life with transparency and security. Since day one, we've treated people as human beings and not as numbers. We deconstruct complexity, bureaucracies and that unfashionable way of dealing with money." 
This alignment of brand platform to business and customer strategy creates the foundation for building real advisory, enhancing financial wellness, and establishing durable win-win partnerships that drive growth.
2. Activation through an engagement platform: Bringing brand purpose to life across the audience's unique journey.  
While a bank's brand platform can be clearly defined, today's purpose-driven bank needs to consider how this strategy will be reflected throughout customer experiences, employee experiences, products and services. With this, a bank's engagement platform is the next step toward purpose activation.  
Customers and employees expect banks to deliver purpose in ways that are clear, authentic, inspiring, culturally relevant and experiential. This meaningful delivery must be consistent across the bank from customer touchpoints, marketing campaigns, products and services, to the employee experience and beyond. How will you activate brand purpose through delivery? How will you ensure your purpose is the foundation for each customer engagement opportunity?  
As highlighted in the blog post, Advice for CMOs from Thrivers, banks must stay simple and consistent in their purpose. It's not about supporting a hot topic at a particular moment. Your purpose should permeate every customer and employee experience with the brand, from social media, advertisements, your branch experience, your mobile app and more.  
We see the digital challengers and smaller regional banks stand out as leaders in this alignment and activation of purpose by fully committing to their brand promise through products and customer touchpoints. N26 has built its product around serving expats, while the Swedish fintech, Doconomy, has oriented around climate action and sustainability. The regional bank, Greenwood, has taken the Black Lives Matter movement a step further by making statements and aligning products and services with regard to wealth bias. 
Customers and employees are looking for authenticity and they'll support brands that not only stand strong in their values and beliefs but also show up consistently in meaningful ways across every interaction. 
3. Implementation through an enablement platform: Listen to, respond to, and deliver on the audience's needs — efficiently, across channels, and at scale. 
Finally, we come to the critical stage of listening to, responding to, and delivering on customer needs. From a bank's talent and its employee experience to technology, processes and data, the way a bank enables and implements purpose will drive results and growth. Remember the power in your responses. Strong communication relies on your ability to respond in authentic, efficient ways.  
Across experiences, our research reveals that customers expect to see their bank being consistent and unified, remembering the customer and their behaviors and interactions to deliver customized, personalized, and adaptable service. 
BBVA was named "Western Europe's Best Digital Bank" in the Euromoney Awards for Excellence. It fueled its digital transformation through a human-centric purpose and approach to focus on growth and customer retention. This continuous effort to embed innovation into its culture has enabled BBVA to better serve customers by providing more personalized financial advice and other relevant products and services. These results speak to the strength of brand purpose activation. 

Bring all these elements together to drive your purpose impact. 
In today's world, your purpose matters more than ever. Banks have an opportunity, in the context of current social, climate and health crises, to be helpful stewards that guide customers, employees and the community through the changing world. By bringing the elements together, you will activate your brand purpose so that:  
Intermediaries want to champion the brand's products and services;

 

Investors see the brand as transformational with infinite growth potential;

 

Employees see the integral role they play in defining and building the future;

 

The bank rallies around the brand and contributes to realizing its future;

 

The bank can drive growth and realize its full potential.

 
It's time to bank on your brand purpose.  
Accenture Song's 2022 research, 'Activating Brand Purpose', focused on the banking, capital markets and insurance industries. The full report will be published in the autumn of 2022. For more information about brand purpose and this report, reach out to us. We would love to connect.
Jess Lin: Accenture Song North America Marketing Transformation Strategy Practice Lead and Lead for the 'Activating Brand Purpose' research. 
Todd Staehle: Accenture Song Global Insurance Lead and research team member for the 'Activating Brand Purpose' research. 
Jess Murray: Accenture Song's North America Banking & Capital Markets Lead and research team member for the 'Activating Brand Purpose' report.
Alexandra Tyler: Accenture Song's Marketing Transformation Senior Manager.  
Special thanks to Alexandra Convey, Accenture Song Marketing Transformation Consultant, and Abhit Sahota, Accenture Song Marketing Transformation Manager, for contributing to this blog post. 
Disclaimer: This content is provided for general information purposes and is not intended to be used in place of consultation with our professional advisors. This document may refer to marks owned by third parties. All such third-party marks are the property of their respective owners. No sponsorship, endorsement or approval of this content by the owners of such marks is intended, expressed or implied. Copyright© 2022 Accenture. All rights reserved. Accenture and its logo are registered trademarks of Accenture.