In the wake of the Sibos conference, it looks to me like banking right now is full of paradoxes. Central bank digital currencies (CBDCs) are a total game changer or a complete dud. Fintechs are an existential threat to incumbent banks or they are their most important partners. Sustainability is on the cusp of major change—like it has been for years or even decades.  
These contradictions can't last for long, and when they resolve they will make major waves in the industry

I went to Sibos expecting to be surprised. It was the first in-person version of the iconic conference since the pandemic, and I knew the week would be full of great meetings and new ideas.

But I was still astonished—by the quality of the conversations I took part in and overheard; by how nice it was to see familiar faces again and meet new ones; and most of all, by the inspiration and innovation I found everywhere. Watch my interview for my reflections and takeaways from Sibos.
Sibos 2022 started with a bang, with the kickoff plenary session featuring remarks from Her Majesty, Queen Maxima of the Netherlands and the Yawar Shah, Chair of the Board of SWIFT. 
The rest of the conference kept pace with this strong start. On the second day, I had the pleasure of sharing a stage at Sibos with Catherine Zhou of HSBC and Amélie Arras of Zumo for our presentation, "Spotlight on Digital Value: Conquering the metaverse." We shared our thoughts on how the metaverse is creating new worlds of opportunity for banks.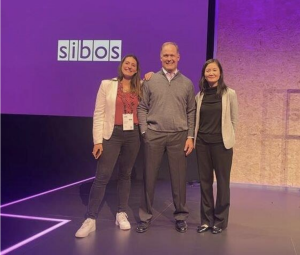 While our talk was well-received, sharing your own perspective is only part of the Sibos experience. The other part—probably the more important part—is listening. Around 9,000 banking leaders attended Sibos, so tapping into that collective wisdom is powerful stuff. 
After a week of some talking and more listening in beautiful Amsterdam, I flew home bursting with new inspiration about the trajectory of the industry. These are my picks for the four most significant:  
1. From disruption to enablement in fintechs 
Fintechs are not a monolith, but their role in the payments ecosystem since their inception has been one of disruption and challenge.  
But at Sibos I saw this balance shifting. Today's fintechs mostly want to enable the current payments world and not disrupt it. 
It remains to be seen how long this collaborative spirit will last and what will come of it. But the moment reminds me of another one almost 50 years ago when 239 banks in 15 countries came together to create SWIFT. 
2. Sustainability grows teeth 
Sustainability is a difficult thing to measure. Getting everyone to agree to the same system of measurement may be harder still.  
But around Sibos I heard consensus that the industry is getting closer. We're moving towards a day when all public companies will need to publish sustainability metrics alongside income and cash flow statements in their annual reports. Sustainability reporting needs to be compulsory to be effective. My sense from Sibos is that we're moving towards that point.  
3. Payments in the metaverse look beyond the "private label"
While some metaverse payments rails exist right now, they are mostly "closed"—that is, you send money into a digital ecosystem like Roblox and whatever your money buys there stays inside that ecosystem. 
This looks to me like the "private label" credit card world that was eventually upended by Visa and Mastercard. 
Based on that parallel and what I heard at the conference, I think the question to ask is not whether an equivalent payments revolution will happen in the metaverse but when it will start. 
4. A new conversation around CBDC 
I have a confession: I think I'm slightly clairvoyant. Or at least it feels that way when I think about the discussion around central bank digital currencies at Sibos this year. 
As I projected in my Banking Top Ten Trends for 2022 back in January, the conversation has moved beyond technical questions around what CBDCs are and how they work, to more practical ones like whether CBDCs should be issued direct to consumers, how disputes should be handled, and how to avoid the creation of a "shadow" banking system.  
In other words, we've begun to look at policy—and setting the rules of the road is one of the last steps before traffic starts actually moving on them.  
Thanks again to my co-presenters, the great Accenture team that attended, and everyone I met and spoke with at the conference. For Sibos takeaways from Accenture banking leadership:
Read More
And keep your eyes peeled for my 2023 Banking Top Ten Trends early in the new year. It will be here before we know it! 
If you'd like to discuss how your bank can compete and win in today's market, I would love to hear from you. I can be reached here. 
Disclaimer: This content is provided for general information purposes and is not intended to be used in place of consultation with our professional advisors. This document may refer to marks owned by third parties. All such third-party marks are the property of their respective owners. No sponsorship, endorsement or approval of this content by the owners of such marks is intended, expressed or implied. Copyright© 2022 Accenture. All rights reserved. Accenture and its logo are registered trademarks of Accenture.