The big players in commercial banking are making major investments in technology to quickly ramp up their digital transformation and streamline their processes. That's all very doable for banks with deep pockets—but what about the mid-sized banks?  
As we identified in our Commercial Banking Top Trends in 2022 report, the farther we get into the digital transformation of banking, the greater the divide between the banks that can afford to throw money at the problem and those that cannot.  
So, what's a small or medium-sized bank to do? Banks that can't keep up are likely to see their market share slipping away to large banks, digital-first challengers and new entrants. Those without the size and balance sheet to muscle through a transformation will have to be more creative and find ways to close the digital divide within their organizational and financial means. 
Compete where you can win 
If your bank has limited resources to invest, you will be forced to place strategic bets on your technological future. But how and where should you place those bets? Assessing your current strengths, advantages and goals can help you pinpoint where new technology is likely to give you the strongest return. For example, what makes your bank unique? What inherent advantages do you have that you want to enhance? Where do you have industry or geographic expertise that exceeds your peer group's?  
This is where strategy and technology combine to propel growth. Whether you're focused on a particular geography, industry or product, you can select the technology tools, acquisitions or partnerships that align best with your strategy and use them to move forward faster. Instead of trying to compete with the big banks on everything, you compete only in the areas where you can win.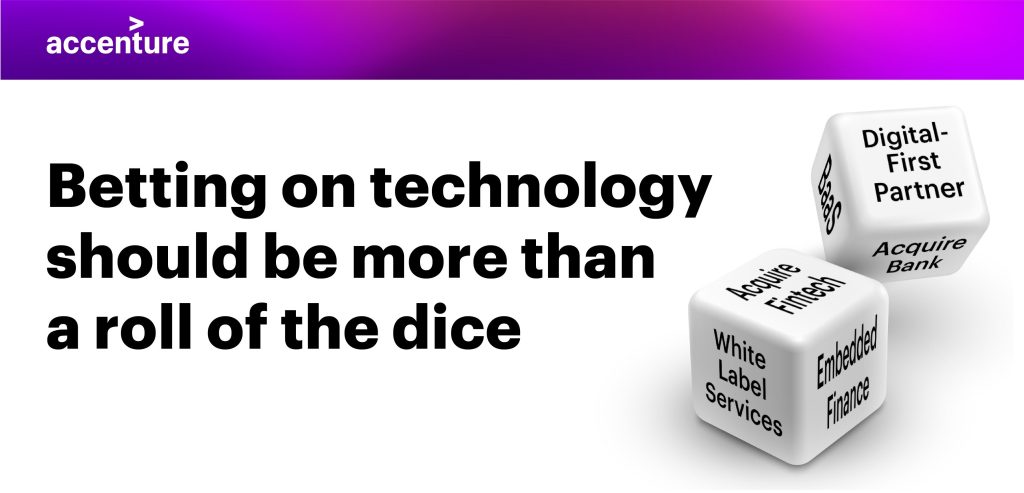 Fast-forward using acquisitions 
A popular approach for many banks is to use the strategic acquisition of fintechs to fast-forward their digital growth. This allows them to bring in not only the technology, but also the team behind it, which gives the bank the necessary brainpower to continue developing their offering. It's been a popular move for the largest banks, but there are many players with deep enough pockets to acquire a promising new fintech. 
For banks with a narrow focus on a particular sector or service area, acquisitions may be the fastest way to put themselves at the digital forefront within their niche, giving them a first-mover advantage against competitors. By acquiring the technology and owning it in house, they can ensure the competition won't have the same tools at their disposal. 
Acquisitions don't necessarily have to be of fintechs. For medium-sized banks, the most strategic move may actually be to acquire a small(er) bank that is technology-forward, or perhaps even a digital-only bank. If they are focused on the same niche or geography where your bank is performing well, or an area you've identified as a strategic target, you can move quickly and begin to see an immediate return on your investment. 
Find partners with the right solutions 
For some smaller banks, acquiring fintechs may be out of reach. But that shouldn't prevent them from adopting the latest digital solutions to support their strategy and competing successfully with the rest of the field. Banks that can't buy a solution that aligns with their strategic goals can "rent" it instead. Partnering with fintechs or SaaS vendors and/or white labeling their offerings creates the opportunity for banks to introduce a range of new capabilities in a very short time frame.  
This is a lower-risk approach—both reducing the upfront capital investment required and offering banks an "out" in the event the relationships don't work as well as they anticipated. In this scenario, banks will ultimately still need to cut their losses, but those losses will be significantly lower if they haven't built or purchased the technology themselves. Partnerships open the door to licensing sophisticated technology that smaller banks can't afford to acquire or build.  
Commercial Banking Top 10 Trends for 2022: Our annual commercial banking top trends report identifies the topics that are most likely to transform the industry in 2022.
LEARN MORE
Strategic partnerships may take many forms. Some banks are taking advantage of another trending area, embedded finance, to expand their online footprint. In this example, banks embed services from fintechs and other partners into their own banking portals, thereby maintaining customer contact while providing additional financial services. Conversely, banks can embed their own services on the platforms of cloud accounting software, payroll systems, e-commerce platforms and more. This gives the bank exposure to new customers with no cost of acquisition, which can accelerate growth.  
Whatever approach commercial banks use to bridge the technical divide, they can't wait too long to move forward. The gap is getting wider all the time, and customers have come to expect speed, convenience, intuitive interfaces and seamless interactions, regardless of who they're dealing with. Small and medium-sized banks will need to create bold game plans and take strategic action to meet those expectations. It's time to place those bets! 
You can contact me to discuss your strategy for bridging the technical divide. To learn more, read the full report, Commercial Banking Top Trends in 2022.
Read report
Disclaimer: This content is provided for general information purposes and is not intended to be used in place of consultation with our professional advisors. This document may refer to marks owned by third parties. All such third-party marks are the property of their respective owners. No sponsorship, endorsement or approval of this content by the owners of such marks is intended, expressed or implied. Copyright© 2022 Accenture. All rights reserved. Accenture and its logo are registered trademarks of Accenture.