Banks have the opportunity of a lifetime. And if they don't act now, it's going to slip from their grasp. 
I've just returned from speaking with senior bank executives around the US and Europe. The topic of our talks? One of the many pressing issues facing commercial banks today: sustainable credit—using banks' capital resources to protect our planet and its inhabitants. 
What did I learn? Most bank execs are sincere about reaching their sustainability goals. They're keen to introduce green lending and provide transitional finance. But few know how. As we highlight in our Commercial Banking Top Trends in 2023 report (and a shameless plug: if you haven't read it, you should!), banks have earmarked $130 trillion to tackle climate change and sustainable development. Yet they're struggling to make progress on operationalizing these ambitions. 
To be clear, I'm not blaming them, and I'm not arrogant enough to believe I have all the answers. But I do have some ideas about how banks can start delivering sustainable finance at pace and at scale. And I believe it's vital they move fast. The shift to sustainability presents banks with an enormous opportunity—not just an economic opportunity but also a chance to dramatically uplift their social standing and brand credibility. But it is an opportunity that also poses considerable risks.   
Let's start with why the clamor for sustainability is a big opportunity for banks. Then I'll pinpoint the risks banks face if they don't respond in time. After that, if you're still with me, I'll share my thoughts on how banks can come to grips with sustainable finance. 
Sustainability is a huge opportunity for banks
There's no doubt that banks have a unique and crucial role in ensuring the future of our planet. As we discussed in our Rising to the Challenge of Net Zero Banking report, governments, regulators, environmental groups and consumers are all looking to banks to take the lead in building a sustainable future. They recognize that banks have the power to direct capital towards projects and companies that are advancing sustainability, and to shift funds away from those that threaten to harm our environment. And that recognition is quickly evolving from an aspiration to an expectation. 
Banks that rise to the challenge and become sustainable organizations by providing an array of green finance offerings will win considerable acclaim. They will be recognized as pioneers of a better future for all. Customers, shareholders and employees will be proud to be associated with them. The value of such social capital is enormous. 
Some bank execs still view sustainability as a burden  rather than an opportunity.
What's more, the financial opportunities promise to be substantial. The financing necessary to transition to a green economy could be as much as $150 trillion over the next 30 years, according to the Glasgow Financial Alliance for Net Zero. S&P Global Ratings estimates that sustainability-linked lending has already topped $200 billion.  
With so much upside on offer, it's unfortunate that many banks have been slow to respond.  
Some bank execs still view sustainability as a burden rather than an opportunity. They concentrate on its regulatory reporting and compliance aspects rather than the potential. No bank wants regulators to slap them with fines, reprimands or consent orders. But by only box-checking, banks are neglecting the huge rewards they could earn as sustainability leaders and are creating a self-fulfilling prophecy of compliance headaches. 
Jared Rorrer and I sat down with American Banker to discuss this year's Commercial Banking Trends. You can watch our full conversation here, or jump to the section on Trend 3—Financed Emissions: Get real and take action at the 14-minute mark. 
Banks face many sustainability risks
What will happen if banks don't pick up the pace and take the lead in advancing sustainability? Well, they risk being forced to respond. They risk missing a huge financial windfall. They risk having their reputations diminished. And they risk being disintermediated, pushed aside by competitors, in the provision of finance in the new green economy.
It's clear that regulators, such as the US Securities and Exchange Commission (SEC) and the European Securities and Markets Authority (ESMA), will insist that banks become far more sustainable. Tougher regulations requiring them to reduce financing greenhouse gas emissions, for example, are already in the cards. So are rules. The French government, for example, has added biodiversity disclosure to its climate legislation.
If banks are forced by regulation to get their houses in order, they'll lose the goodwill they could have earned as pioneers of sustainability. Instead of environmental heroes, they'll be seen as impediments—or worse—dinosaurs that had to be dragged into the new economy. They will likely have ill-fitting regulations foisted upon them. Funding opportunities will increasingly pass to more progressive providers of green finance.
Banks have about 12, maybe 24 months, to show that they're committed to sustainability and to make progress in the provisioning of sustainable finance. If they fall short, regulators will start to call the shots and the window of opportunity for positive publicity will close.
What could have and should have been a force for good has become one of the most hated activities in banking.
If you need proof, look at what happened with the introduction of anti-money-laundering (AML) laws. Banks could have championed AML laws and highlighted how they were making the world a safer place by clamping down on the financing of drug lords and terrorist organizations. Instead, they wavered and let the regulators set both the tone and the agenda of new legislation. Now, AML laws delay the onboarding of customers, extend wait-periods, create excess documentation and require banks to perform high-cost processing. What could have and should have been a force for good has become one of the most hated activities in banking.
---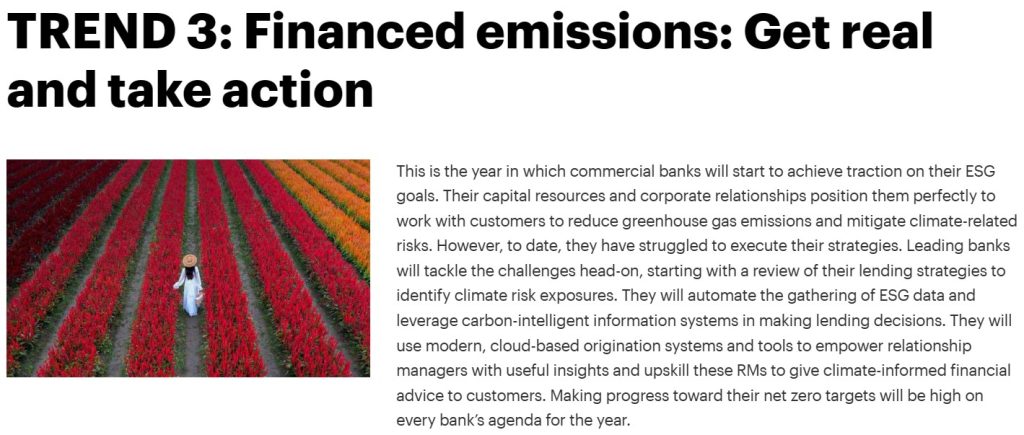 ---
Four steps to ramp up sustainable finance
So, how can banks get on track and demonstrate progress in offering sustainable finance at scale?
Get serious: Recognize that becoming a sustainable organization that provides sustainable products is an urgent imperative. Bank execs need to start having tough conversations about how their organization is going to tackle this challenge—about how it's going to enact, execute and operationalize change. Sustainability is not a side-show.
Overhaul incentives and rewards: Sustainability affects almost every bank process and all bank employees. Many relationship managers, for example, are still incented and rewarded for issuing brown, environmentally harmful, loans. Banks must align their sales incentives and rewards with the organization's sustainability goals. Underwriters, portfolio managers and credit risk executives need to be encouraged to consider the sustainability of their policies, processes and approval criteria. Operations staff should be incented to track and tout the environmental benefits of their portfolios.
Build green products: What is a green product? Well, dropping a quarter of a point off the interest rate on a loan because it looks environmentally friendly doesn't make a green product. Banks need to start looking at how they can change their loan conditions, covenants and collateral management to build products that encourage customers to be more sustainable.
Educate and equip: It's not enough for bank execs alone to promote sustainability. All bank employees, especially middle managers, need to be educated about the organization's commitment to sustainability and equipped to drive the required transformation. The shift to sustainability is an opportunity for banks to create a better workforce culture where all employees know that words are backed by action.
Most of these steps are not difficult. But they do require hard work and a commitment to change. I remain convinced that most banks can achieve their sustainability goals—I hope they step up to the challenge before it's too late.
To discuss how your bank can increase its commitment to sustainability and roll out sustainable finance products at scale, contact me. To learn more about sustainability and other big trends we expect this year, read Commercial Banking Top Trends in 2023.
Disclaimer: This content is provided for general information purposes and is not intended to be used in place of consultation with our professional advisors. This document may refer to marks owned by third parties. All such third-party marks are the property of their respective owners. No sponsorship, endorsement or approval of this content by the owners of such marks is intended, expressed or implied. Copyright© 2023 Accenture. All rights reserved. Accenture and its logo are registered trademarks of Accenture.