A few bold banks are beginning to see the benefits of working together to tame supply chain emissions. They're sharing ideas about how they can more accurately measure these Scope 3 emissions that are generated by their suppliers. And, most important, they're exploring ways to reduce them. The discussions involve several big retail banks and they're being co-ordinated by Accenture.  
If all goes well, the talks will produce recommendations before the end of this year that will help banks across the UK curb emissions from their supply chains. The recommendations could provide organisations such as the Carbon Disclosure Project (CDP), the Greenhouse Gas Protocol and the Net Zero Banking Alliance with valuable perspectives on how the banking industry in many countries might classify, baseline and ultimately reduce such emissions.  
"Cuts in supply chain emissions in the banking industry would likely trigger reductions in other sectors."
Action to help banks tackle emissions by their suppliers is vital. As discussed in our Rising to the Challenge of Net Zero Banking report, Scope 3 emissions are by far the biggest source of bank emissions—more than 95%. And a chunk of these are "upstream" emissions produced by bank suppliers and contractors. Banks are increasingly addressing "downstream" emissions, generated by companies in their lending and investment portfolios. But they've tended to hold back on tackling supply chain emissions. 
By stepping up efforts to curb greenhouse gas emissions generated by this particular source, banks could advance their quest to become sustainable organisations. They'd move closer to reducing their carbon footprint to net zero. Greater cooperation with suppliers and contractors might also enable banks to share cost savings and to capitalise on new business opportunities. 
Moreover, cuts in supply chain emissions in the banking industry would likely trigger reductions in other sectors and support the global shift to sustainability. Our research shows that supply chains across all industries produce 60% of global greenhouse gases. 
Why have many banks been reluctant to tackle their supply chain emissions?  
The first big challenge banks encounter when trying to bring down their supplier emissions is identifying the vast number of firms within their supply chains. Then, they face the complex problem of measuring emissions generated by those suppliers. 
"If banks hold inaccurate information about their supply chains, they're more exposed to risk."
Without a true picture of all the companies that operate in their supply chains, banks would be unable to correctly measure emissions from those sources, let alone start reducing them. They'd likely struggle to allocate resources effectively and could miss opportunities to better align their procurement operations with the needs of their suppliers. Furthermore, banks that hold inaccurate information about their supply chains would be more exposed to risk.  
We found that little more than 30% of the emissions generated by the supply chains of financial services firms was attributable to their direct (tier 1) suppliers. The remainder was produced by subcontractors (tier 2), suppliers to subcontractors (tier 3) and companies further down the supply chain (tier 4 – Nth). An astonishing 30% of the emissions generated by financial services supply chains is produced by companies in tier 4 or beyond.  
Banks and other financial services companies need to look far down their supply chains when trying to get a fix on their output of emissions.  
Distribution of upstream emissions by tier
supplier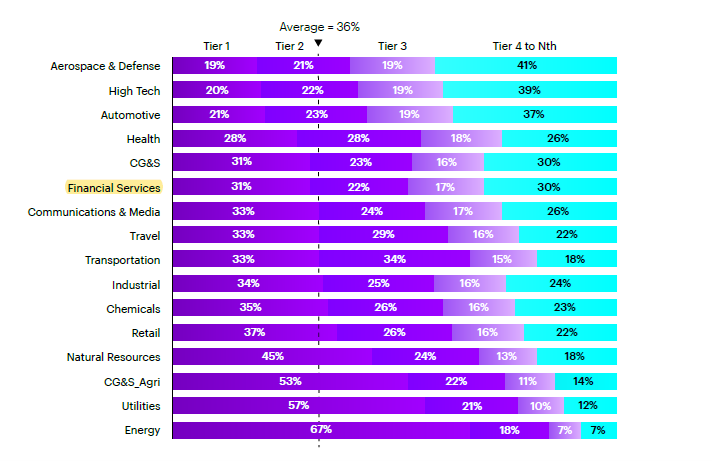 Click/tap image to enlarge.
Often the "hot spots" that generate a big portion of a bank's supply chain emissions are companies that are well beyond the institution's traditional business boundaries. Sometimes they are in a different country. To significantly curb their supply chain emissions, banks need to forge closer ties within a network of suppliers that reaches well past their immediate product and service providers. Without such relationships, they'll likely struggle to encourage suppliers to curtail their emissions. 
More than 60% of the CEOs we surveyed with the United Nations Global Compact report that difficulties in measuring environmental, sustainable and governance (ESG) data across their supply chains are an obstacle to advancing sustainability in their industry. While 55% of CEOs say their companies have started measuring Scope 3 emissions, only 16% state that such monitoring is at an "advanced level". 
The recent talks among UK banks about how best to curb supply chain emissions have highlighted potential improvements in the ways those emissions are measured, reported and curtailed. Issues addressed in the discussions include: 
Aligning a common set of categories for the calculation of supply chain emissions. 

 

Moving to supplier-specific calculation methodologies.

 

Simplifying the gathering and submission of emissions data from suppliers and contractors.

 

Embedding ESG requirements into the banks' sourcing and contracting activities.

 

Incentivising suppliers to improve their sustainability.

 

Aligning the sustainability support, education and accreditation given to suppliers.

 
The recommendations that are due to emerge from these discussions will equip banks to at last confront and tame supplier emissions. 
You can learn more about the interbank discussions on supply chain emissions by contacting my colleague, Benjamin Oswin. Our Rising to the Challenge of Net Zero Banking report provides valuable insights into how banks can accelerate their progress towards becoming sustainable organisations. You can also contact me. I'm keen to hear from you. 
Disclaimer: This content is provided for general information purposes and is not intended to be used in place of consultation with our professional advisors. This document may refer to marks owned by third parties. All such third-party marks are the property of their respective owners. No sponsorship, endorsement or approval of this content by the owners of such marks is intended, expressed or implied. Copyright© 2023 Accenture. All rights reserved. Accenture and its logo are registered trademarks of Accenture.