Well over a decade ago, I was fortunate enough to land a banking leadership role in commercial and corporate banking operations. I immediately noticed two things that have stuck with me ever since.
First, the people in operations are some of the best and most well-intentioned, albeit often overlooked, employees in the firm.  When we talk about putting clients first, in the back office it's a mantra and a major source of motivation for the teams completing some of the more routine operational tasks essential to the day-to-day work of the bank.
Secondly, most of the work in operations, along with the talent profile, is geared to completing operational tasks defined within a clear policy and procedure manual. Importantly, as lower-complexity work was automated and the remaining tasks became more complex, operations teams had a more difficult time effectively completing those tasks.
Both of these points have only become more important as automation, now further bolstered by the recent advent of generative AI, takes on more complex work, leaving only the most challenging tasks for operations employees to complete. This, coupled with the steady loss of skills due to an aging workforce, exposes operations to considerable risk.
So, what should a future-ready operations team look like? How will operations leaders upskill their employees to manage a higher-complexity workload? What about those employees who cannot make the leap? Should more of our future operations leaders come from the front and middle offices? And how will operations teams contend with an unprecedented level of change management and training?
My colleague Colette Prior joins me for this look at Commercial Banking Operations: Tech and talent transformations as a strategic opportunity.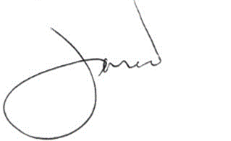 As we discussed in our Commercial Banking Top Trends in 2023 report, the demand for talent is emerging as one of the major forces shaping the banking industry this year. A shortage of the higher-complexity skills needed to fill operational roles was evident in commercial banks even before the pandemic. Since then, the Great Resignation and a wave of early retirements have combined to create even more openings. Meanwhile, commercial banks continue to struggle to attract young talent, and with unemployment rates historically low, the talent gap could become a crisis.
In some ways, that crisis has already arrived. Our research shows that some commercial banks have experienced attrition rates among operations staff of more than 50% over the past two years.
We've heard reports of staff shortages and training issues within operations contributing to a rise in transaction errors and reporting mistakes. Inefficiencies in the back office run the risk of eroding trust and customer service—frustrating for teams and leadership alike. Workforce challenges are even draining the profitability of some banks. Several firms are having to steer revenue into bad debt reserves to cover possible operations missteps.
AI and generative AI will transform the role of operations
Research shows that AI's impact on banking is expected to be very significant, with more than half of employees' current tasks (by time spent) showing high potential for automation.
Figure 1. The share of US workers' tasks that could be augmented or automated by generative AI.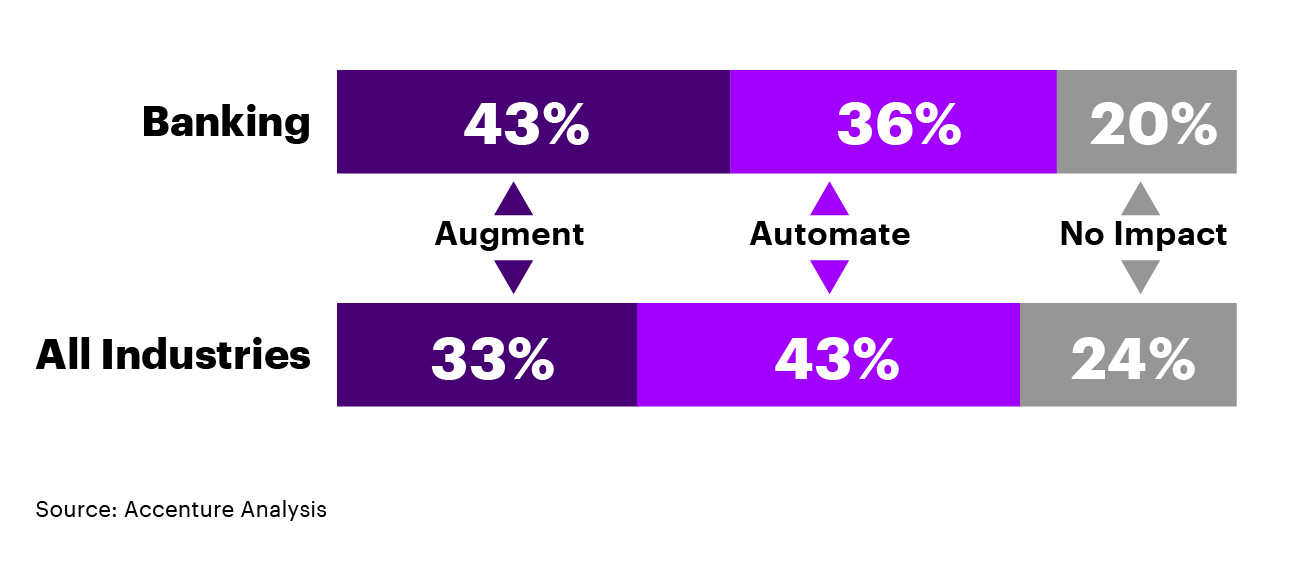 As both AI and generative AI fundamentally shifts the way companies address manual operations, and as many of our valued employees consider retirement, banks will need a deliberate, comprehensive, and very human talent strategy to build operations teams that are fit to purpose. The full impact on operations of new automation technologies and genAI will likely unfold over the next few years, but the transformation of the operations workforce must start now. The future of operations talent will continue to shift from tactical to value-add as robotic solutions enable the automation of transactional activities. 
Figure 2. How the composition of the banking operations function is likely to change.

Some banks are outsourcing all or part of commercial and corporate operations to help simplify the transition.
As an example, one large US-based bank has outsourced nearly all of its middle- and back-office commercial lending functions to Accenture. The bank's goals in doing so were to reduce costs, and also to make the operation future-ready. The bank worked with us at the onset to simplify its operating model and further centralize the most complex tasks, leaving those with the bank. Then it partnered with us to drive ongoing automation and efficiency, which we've been doing for the past five years.
This has led to a model where bank employees are rewarded with higher-complexity, value-adding roles and both the bank and Accenture are jointly accountable for driving ongoing automation and efficiency. When undertaken mindfully and strategically, flexible managed services can help a bank de-risk its attrition problem and improve its ability to keep up with demand for higher-skilled workers.
For other banks, retaining their loan operations is the smarter play.
For these banks, we recommend a three-part talent strategy:
1. Take a fresh approach to accessing talent from within and outside the organization. To attract and keep skilled staff, banks must bolster the work environment and career opportunities they offer new hires. Align recruitment and development with the organization's long-term human capital requirements. And don't forget about reskilling your current workforce, including teams from outside operations. Look to the middle and front offices to enhance operations talent. By bringing in middle-office employees, and even combining commercial and corporate middle-office and back-office operations, banks can create the synergy and flexibility needed to pivot to a smaller yet more skilled operational workforce. Bringing front- and middle-office talent—at all levels—into operations drives shared accountability for outcomes, improves the understanding of processes across the broader organization, builds energy for faster transformation and increases career path options.
2. Apply intelligent technology to help take care of your people. Automated processing systems relieve operations staff of repetitive tasks and free them to engage in more complex, high-value activities that provide greater work satisfaction. It's vital that workers receive ongoing training to keep pace with upgrades and advances in these systems. Middleware applications incorporating AI can enhance communication and collaboration across teams and speed up workflows. Importantly, operations teams should be establishing data-driven automation factories staffed with experts who understand the tools available and the unique processes within the operation. 
3. Expand workers' capabilities and skills through retraining and career development. Improve morale, increase employee satisfaction and reduce churn with training opportunities. Empower back-office workers to extend their skills and provide meaningful opportunities to apply their capabilities in other areas of the business. Comprehensive succession planning will help nurture and retain talent and offset the effects of the current wave of retirement.
Banks that retain their loan operations will benefit from dedicating considerable resources and leadership oversight to the transformation of their loan operations workforce.
The rewards for banks that implement this three-part strategy can be substantial. Banks with robust and efficient operations, staffed by skilled and motivated workers who are supported by advanced technologies, will improve customer service, enhance profitability and curtail their exposure to risk.
Regardless of the approach banks take, one thing is certain: operations will require a smaller and better-skilled talent pool in the future. It will be hard, and you must be honest, and you must bring your team along with you. Planning for this now—and in a very human way—is essential to leading the organization through its transformation journey.
If you'd like to talk about your bank's operations talent strategy, please contact either of us: Jared or Collette.
To learn more about the trends we expect to shape our industry, read our Commercial Banking Top Trends in 2023.