As you read this, the internet is being reshaped. And it's already transforming banking.
We have not witnessed a topic explode quite like the metaverse. While extended reality (XR) technology has been around for some time, the topic's momentum has recently accelerated with some analysts now predicting the metaverse to be an $8 trillion opportunity.
With more people turning to online gaming during the pandemic, the industry has soared with a global revenue of $154 billion in 2021. While the pace at which the metaverse is expanding beyond gaming is unknown, we do know this next frontier is coming fast. And for banks, FOMO (fear of missing out) is greater than ever.
The more conversations we have with banks about the metaverse, the more excited we are by its potential. As mind bending as this new environment may seem, banks need to consider the possibilities that will transform everything from the basics to the future of business.
With banks now starting to jump on the metaverse bandwagon, it's important to strike a balance between the prescriptive and the curious. Here is how we believe the metaverse will change the ways banks enable, engage and invent:
1. Enabling your existing functionality in 3D
It took the internet took some 15 to 20 years to diffuse into banking. The mobile phone took a matter of five to six years. As we go beyond 2D to 3D, we can design an expansive universe with the ability to immerse customers. Banks should consider how banking would be enabled in a 3D world.
With 47% of bankers believing that customers will use augmented reality (AR) / virtual reality (VR) as an alternative channel for transactions by 2030, it's no surprise to see early industry explorers in this area. BNP Paribas has launched a VR app that allows customers to use VR in their banking transactions, including account opening, while Citi has tested holographic workstations for financial trading.
We also see incredible possibilities to elevate the employee experience. Employees play a critical role in amplifying a bank's brand and driving meaningful interactions with customers. Immersive training, like Bank of America's deployment of VR training for 50,000 employees, simulates real customer service scenarios for branch employees so they can detect emotions and adjust behavior in a risk-free environment.
AR/VR is also a powerful weapon in the war for talent with new paths to engagement, talent attraction and retention. Accenture took 3D technology to its team during the pandemic, finding new and fun ways to reconnect its members and enhance our work-from-home experiences. Have you had a virtual snowball fight with your team members? We have. 
Enabling 3D customer and employee experiences will be crucial for banking's future in the metaverse, and those looking to gain early advantage will need to start enhancing capabilities now. Then, extend beyond simply "lifting and shifting" existing experiences into new AR/VR channels and start to reimagine how you can connect with clients, deliver advice and build relationships … all virtually.
2. Engaging with your customers in meaningful new ways
While banking has become functionally complete, it is too often emotionally detached. Ironically, the metaverse provides banks with a much-needed avenue to bring humanity back into banking and deepen connections with current customers by meeting them in more meaningful ways.
The metaverse also creates new opportunities to reach new audiences, including a younger, NFT-savvy generation. Banks will need to connect with this audience in new ways. The three of us remember going to a branch with our parents to get our bank books stamped. What will the metaverse equivalent be for the next generation?
It may mean bank customers can visit virtual branches for high-touch customer service, take a house tour with a mortgage broker in real time, conveniently discuss retirement plans with an avatar advisor, attend an investor event or participate in a bank-sponsored community program.
JPMorgan is the latest bank to move into the metaverse with its Onyx lounge. South Korea's Kookmin Bank already allows one-on-one consultations between customer and employee avatars in its virtual bank, while providing customers with access to personalized financial information.
To explore this area, start educating your teams now on the technology. Develop rapid prototypes to help executives better understand the potential of the metaverse. Show leaders how the metaverse brings together people, spaces and things in both the virtual and real worlds, and how it can evoke a sense of belonging and foster collaborative engagement. People exist in the metaverse, and the metaverse only exists with people.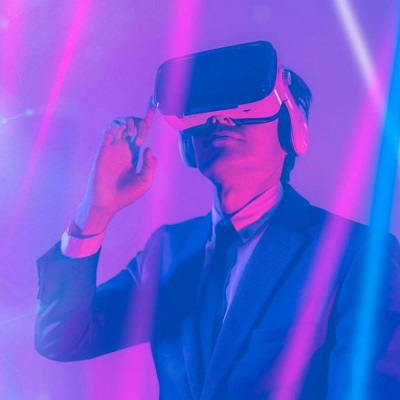 The ultimate guide to banking in the metaverse: Discover how banks can benefit from a host of new digital banking opportunities.
LEARN MORE
3. Inventing new products and creating new markets
Bursting from the crypto community, digital assets are now exchanged and valued in a market. In other words, people are already spending real money to own virtual assets. They will want to spend their virtual money in the real world.
The metaverse's burgeoning economy is an untapped source of growth, representing opportunities for banks to insure and lend against crypto currency, NFTs and virtual real estate. Banks will need to decide on the role they will play and take advantage of this opportunity to extend their brand.
The rules of competition are already being established. The latest filing by the New York Stock Exchange to patent an NFT exchange points to the battle on the horizon: who facilitates payments and owns the payment rails in the metaverse?
Banks will be able to virtualize familiar customer interactions like cash withdrawals from virtual ATMs, branch storefronts and real sponsorships for virtual events. Stretch this to the art of the possible and you could walk out of an appointment with your avatar advisor to an ATM, enter your PIN to get money in your virtual wallet, and walk next door to buy a virtual handbag.
How do your brand reputation, mission and purpose translate to this new environment? We're already seeing banks targeting NFT-savvy customers, but when it comes to marketing in the metaverse, roles will evolve.
Marketing in the metaverse will not be about marketing to customers but with them. As consumers shift to become collaborators in the metaverse, marketing's relationship with them will change from defining to partnering.
How a brand remains relevant will need to evolve and banks will need to find new ways to build trust. As consumers build spaces across metaverse worlds, banks should not expect to simply move in and monetize. Instead, they should work to proactively build community. For inspiration, look outside of the industry. Consider Nike's recent acquisition of NFT design shop RTFKT to increase its credibility and speak authentically to the community. But proceed with caution, as moving in the wrong direction could quickly break trust.
As the diversity of ideas in this post suggests, this new frontier offers exciting potential for banks. And while many of the details are still uncertain, the bottom line is: if you haven't already started to explore the metaverse, it's time to get familiar. Educate your teams on the technology and the potential.
Oh, and don't lose too much sleep to FOMO. As always, we're here to help. Connect with us to request a demo and check out our extended reality (XR) services.
Special thanks to Katie Burke, Director of Innovation, Metaverse Co-lead, Accenture Song, for contributing to this blog.
---
Get the latest blogs delivered straight to your inbox.
Subscribe
Disclaimer: This content is provided for general information purposes and is not intended to be used in place of consultation with our professional advisors. This document may refer to marks owned by third parties. All such third-party marks are the property of their respective owners. No sponsorship, endorsement or approval of this content by the owners of such marks is intended, expressed or implied. Copyright© 2022 Accenture. All rights reserved. Accenture and its logo are registered trademarks of Accenture.