I feel the need … the need for speed—in mortgages?
Let's start with the elephant in the room. Yes, mortgage rates are at a 14-year high and volume is off by more than 80%. But that's why I'm writing this blog series. I figure if you work in the mortgage industry, you might be regretting your decision not to pursue your dream of becoming an ace pilot. But before you try to enlist (and find out you're not in Maverick's league after all), I'm here to offer you a glimmer of hope. My colleague Cate Dalton has identified the top tech trends for the mortgage industry, and I believe some of them are game changers. I have a few suggestions for how you can leverage the current dip in volume and use this new tech to advance your long-term mortgage agenda.
Does mortgage origination really need to be so slow?  
It's a question both borrowers and lenders have been asking for decades. While other types of transactions have become substantially faster as technology has advanced—with many now being practically instantaneous—mortgages still seem to be rambling along in the slow lane. New technology has yet to have the impact in this area that everyone had hoped. 
But hope springs eternal, and this time it may actually be deserved. Many of the slowest processes in the mortgage origination cycle are getting the attention of developers and innovative players and promising solutions are starting to emerge. 
Let's look at three key areas where automation tech could create a sea change in the time it takes to originate a mortgage—starting almost immediately, not years or decades from now. 
Proptech will shake up the valuation industry  
Automating property valuation has been a difficult puzzle to solve. For over 30 years, valuators have struggled with data bias and inaccuracies in various automated valuation models (AVMs).  
Meanwhile, i-buyers—tech-driven companies that offer cash to buy homes quickly—put pressure on the market to reduce the time required for reliable valuations.  
We now seem to be on the brink of real progress in this area, thanks to an influx of investment by regulators, government-sponsored enterprises (GSEs) and innovative lenders. A couple of examples of new technology already on the market include:  
AVM products like Procision, launched in August 2022, are deepening their algorithms to include automated surveillance systems that monitor both valuation data and valuation quality, and incorporate those results into their estimates. According to parent company First American Financial Corp., the system also runs AVM valuations on every residential property in the United States every day. 

 

Corelogic's Total Home Valuex has incorporated adaptive technology along with artificial intelligence (AI) and machine learning capabilities to leverage current and near-future market conditions, advanced analytics, and rapid enhancement cycles. With this approach, the company can use one model to support a diverse set of use cases including mortgage, real estate, government and insurance, among others. 

 
In 2023, we expect innovators to begin feeding their AI systems more sources of data to further increase the accuracy of valuations. Algorithms will incorporate local market data and niche property data along with their existing AVMs, digital appraisal data and public tax information.  
Automated document processing will slash approval times  
One of the main pain points of mortgage origination—and one of its biggest bottlenecks—is manual document processing.  
Assessing customer documentation by hand, page by page, and entering the data into the bank's loan origination system(s) is an antiquated process in the digital age—yet it persists because there is so much inconsistency among document formats.  
The latest advancements in optical character recognition (OCR), AI and machine learning are moving the needle and making it possible to achieve more of this processing without human intervention and in much less time. Mortgage originators looking for ways to improve efficiency are likely to find the idea of their team spending less time sorting through documents very appealing. 
The accuracy of the newest generation of AI software has greatly improved with the advancement of neural networks—the systems that computers use to "learn." AI software models can now be trained to quickly identify documents and key data fields with a high degree of confidence. How high? Some of the latest tools can read unstructured, complex document formats with accuracy and confidence approaching the 90th percentile. Older models were stuck at around 50 percent accuracy. This is a game-changing improvement. 
We expect turnkey, subscription-based service offerings to emerge, where entire libraries of standard lending documents are available as a pre-built solution. This will provide lenders of all sizes the tools they need to process mortgage documentation in minutes rather than days. 
Home equity loans will stop looking like mortgages 
Traditionally, home equity loans have taken almost as long to close as first mortgages because the approval process has been similar. As we deal with a high-inflation environment, more people are likely to rely on the considerable equity in their homes for fast access to cash. This will put pressure on lenders to provide that cash with significantly less hassle. 
As competition in this market heats up, we are seeing a trend toward redesigned processes and streamlined home equity technology to speed up closing times. There are already lenders advertising home equity approvals in as little as five minutes and funding in five days.  
Automated underwriting decisioning—including more tailored business rule sets—is powering this step-change improvement. This automation is complemented by streamlined credit policies, full adoption of sophisticated AVM models and greater reliance on e-closing services. 
The biggest hurdles holding back fast processing of home equity loans are antiquated credit policies and processes and limited access to third-party data. Lenders that quickly overcome these hurdles will have the best opportunity to capture an impatient market. 
Is speed all we need? 
Speed is obviously just one factor in growing market share in mortgages and reducing the costs of lending; however, it is an important one. Customers are now accustomed to personalized and convenient solutions for pretty much everything—credit purchases, investing, trading, you name it. As a society, we are significantly less patient now than we were five years ago, and mortgages continue to make what should be the most exciting time in a borrower's life—buying a home—a bit of a slog. Millennials find the mortgage process unbelievably slow and Gen Z will find it unacceptable. 
Technology is quickly changing the way mortgages are originated, fulfilled, serviced, refinanced and sold. It's time to go full throttle! In my next post, we'll look at more of the technology trends that are transforming the industry today. 
To discuss how the latest technology could transform your mortgage business, contact me here. To learn more, read the full report, Top Tech Trends for the Mortgage Industry: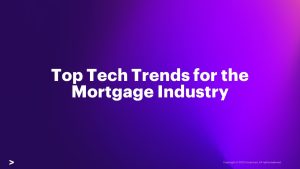 My thanks to Accenture's Cate Dalton for sharing her insights and expertise for this research.
Disclaimer: This content is provided for general information purposes and is not intended to be used in place of consultation with our professional advisors. This document may refer to marks owned by third parties. All such third-party marks are the property of their respective owners. No sponsorship, endorsement or approval of this content by the owners of such marks is intended, expressed or implied. Copyright© 2022 Accenture. All rights reserved. Accenture and its logo are registered trademarks of Accenture.