Driven by changing customer expectations and needs in an increasingly digital world, the banks of the future are evolving into something new.
China is at the forefront of the digital revolution in retail banking. With over 1.5 billion active users, AliPay and WeChat are changing the payments landscape with innovations that are making card transactions nearly obsolete in some cities. Why swipe when you can pay with a smile (facial recognition) or scan a QR code?
Banks are becoming so much more than just banks as they collaborate with organizations from other industries to provide new services. Financial services (FS) institutions are moving beyond their traditional roles to become one-stop shops for their customers' evolving financial needs.
For example, the Ping An Group in China started in 1988 as the first joint-stock insurance company in China. Today, it's an innovative financial services company that offers banking and investment to its customers. It partners with Discovery to use the South African insurer's Vitality health management platform. And later this year, Discovery is set to launch the Discovery Bank in its home market, itself making the leap from insurer to banker.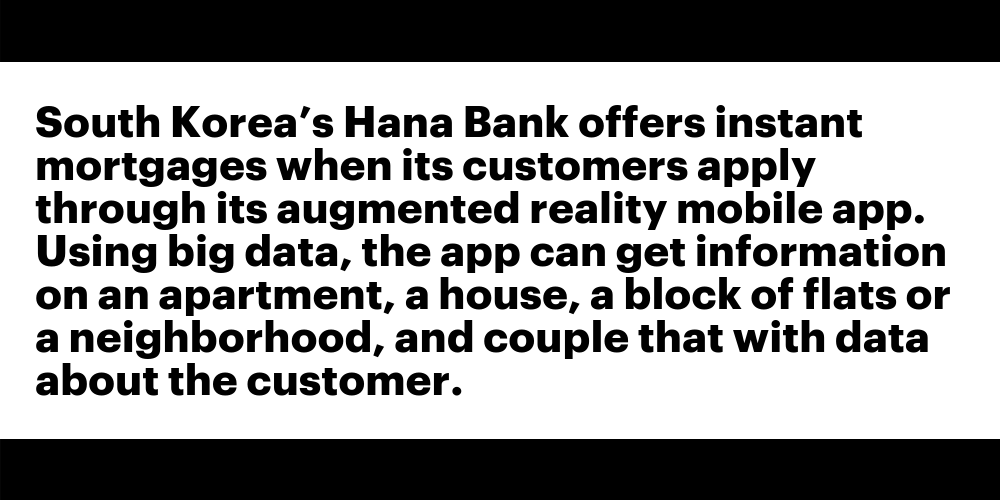 Building the future-ready bank
What will the banks of the future look like? Customers today expect more personalized, tailored services and interactions that are convenient, round-the-clock and at their fingertips. What will they expect tomorrow?
Accenture's Banking Technology Vision 2018 highlights the technology advancements that are most likely to disrupt the banking industry in the next three years.
The first trend, "Citizen AI" shows how artificial intelligence is becoming a visible member of the banking team:
79 percent of bankers believe AI will work alongside humans as collaborators and trusted advisors in the next two years.
90 percent say it's important for customers and employees to understand the general principles that are used to make AI-based decisions.
71 percent say the biggest benefit of being transparent in their AI-based decisions and actions will be building trust and confidence with customers.
As AI moves from the back office to front of house, banks need to ask if their workforce is ready for this new type of work environment; and if not, what steps they can take to get them there?
Perhaps the second trend, "Extended Reality", can help. Pioneering banks are starting to use virtual reality (VR) and augmented reality (AR) to engage customers and employees—closing the physical distance gap as well as the skills gap. Eighty percent of bankers think it's important to be a pioneer in extended reality solutions.

The third trend, "Data Veracity", shows how banks are building the future on truth. More partner-supplied customer data means a higher-degree of responsibility for banks. To achieve transparency and accountability, banks are learning how to manage and respect data throughout its lifecycle.
Bankers also believe that blockchain and microservices will help them achieve "Frictionless Business" (trend 4) and that they need an extended network of devices and methodologies, "The Internet of Thinking" (trend 5), to reach into the dynamic physical environments they wish to serve. Eighty-four percent of bankers believe edge architecture will speed up the maturity of many technologies.
A paradigm shift for banks
What do these changes mean for the future banking workforce at a granular level—in the branches?
There might be areas where machines will displace humans completely, for example in administrative roles, but there are many other areas where humans will help machines and machines, in turn, will augment the capabilities of humans. The same principle might apply to claims or underwriting in insurance.
To prepare for the future of work, and to get the most out of people and technology, banks need to deconstruct traditional job descriptions into tasks to understand where AI can be most useful. Humans, on the other hand, need to work with AI systems to make sure that they are well trained, can make ethical decisions and will evolve in ways that stay true to the bank's brand promise and code of conduct.
Looking to the future, companies are preparing for a world of many tasks being automated, where they won't need that many people for that particular function. How do you prepare your organization for that paradigm change and how do you do it at scale?
Accenture's Banking Technology Vision recommends the following action to help banks get future-ready: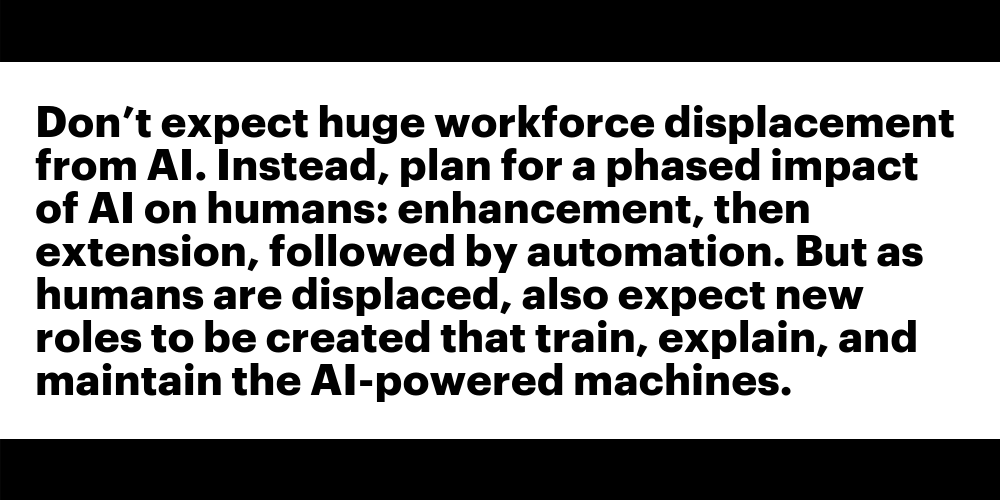 In my next post, I'll share how Accenture is helping companies prepare for the future of work. Until then, read Accenture's Banking Technology Vision 2018. To reimagine the future of work together, get in touch with me here.