Open Banking allows customers to share access to their banking data with trusted third parties, which then provide the customer with a better banking experience. Its adoption has been uneven around the world, with some regions quickly introducing it while others take a more cautious approach.  
Accenture research shows that 76% of banks worldwide expect customer adoption and Open Banking API usage to increase by 50% or more in the next 3-5 years.
In some regions—such as the United Kingdom, Brazil and Australia—the market has already expanded from Open Banking into open finance by allowing a customer's data to be shared across an ecosystem of new and existing service providers. They are now looking ahead to the next stage in the evolution—open data—which will help incorporate data sharing by utility companies, a variety of industries and government bodies.  

But this expected wider sharing of customer data also introduces larger systemic risks around fraud, data privacy and data misuse by non-verified third parties. Customers can be reluctant to share data unless they have confidence in the infrastructure and regulation surrounding how their data will be used. This will require:
Better management of data privacy, data security and consent rules
Improved trust across participants, including data providers, data recipients and customers
A well-defined set of roles, responsibilities and rules for participants
This is where Open Banking market infrastructure can set the stage for the growth of the Open Banking ecosystem and its expansion into open data.
Open Banking pulls banks into the API economy, where they can learn from the success of big tech platforms and fintechs.
Establishing the Open Banking market infrastructure
Open Banking market infrastructure is a set of systems and capabilities that make the Open Banking ecosystem work effectively. It can be administered by either a public organization or a private and regulated association or entity.
This infrastructure involves three main ingredients: standards, third-party management and value-added services.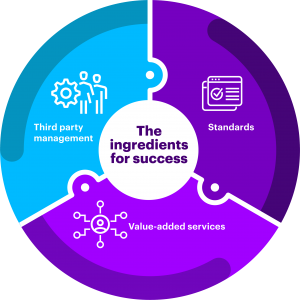 Standards
The development of strong and specific standards and guidelines in the following areas can help lower barriers to entry by providing a level playing field:
API and data standards: Uniform API design and data standard definitions including third-party provider verification, consent management and data specifications
Security standards: Customer authentication and authorization standards, and information security management
Operational guidelines: Customer experience guidelines and other operational best practices
Newcomers to the ecosystem, as well as incumbents, can then innovate new products under a well-defined set of roles and responsibilities (security, dispute management, liability, etc.). Strong standards can help provide consistency in data and transactions and create a basis for mutual understanding and smooth interactions among market participants.
Standards can also ensure that end users understand how their data is stored and used, and create consistent end user experiences and journeys.
As Open Banking apps, initiatives and APIs gather momentum, a new Accenture report details how banks can lead in the open data economy.
LEARN MORE
Third-party management
The infrastructure should include a third-party provider management and trust framework, including:
Onboarding: A standardized registration or licensing process for third-party providers and access to formalized Open Banking standards
Open Banking directory services: Registry and routing services for third-party providers with information on bank API locations
Third-party identification: Electronic certificates for secure identification of third-party providers
This framework will help reduce risk by developing a trustworthy service that assures financial institutions of the identity and safety of the third parties. It also reduces the systemic risk from non-verified third parties across the whole ecosystem.
A centralized third-party management and trust framework can use economies of scale to help reduce the costs for participants of maintaining their own security frameworks for dealing with third parties. In addition, reducing risk and onboarding costs by providing centralized directory services can help accelerate the adoption of Open Banking by additional participants, as evidenced by the growth of Open Banking in the United Kingdom.
Value-added services
Integrating value-added services into the infrastructure can further lower barriers to entry:
Digital identity: Federated and decentralized digital identity services
Dispute management: Unified incident reporting and dispute management services to manage customer disputes on behalf of the participants
Data / management information cockpit: KPI and API reporting and analytics for participants
Open Banking hub: Unified access to accounts, identity services and payment processing
These services make it easier for new participants to become part of the ecosystem. They reduce development and integration costs by creating shared services that can be used by all participants. The services can also help to monitor the ecosystem by collecting and analyzing aggregate data and evolving the services.
Value-added services will help boost users' confidence in the system by offering a streamlined digital identity experience and impartial dispute management. This could speed the rate of customer adoption by addressing trust issues and simplifying the user experience.
Wherever you are along the Open Banking market path, Accenture can help you plan for the data-sharing future. We have over 300 Open Banking specialists and thousands of API professionals, user experience designers and data experts ready to support your journey. Contact Amit here or on LinkedIn to discuss your next steps.
Disclaimer: This content is provided for general information purposes and is not intended to be used in place of consultation with our professional advisors. Copyright© 2022 Accenture. All rights reserved. Accenture and its logo are registered trademarks of Accenture.