I cannot overstate the benefits of a modern core system—including flexibility, growth, new revenue pools and cost reduction—or the downsides of not having one. Without a modern technology stack, auto and equipment finance companies: 
Waste time on repetitive manual tasks that are prone to error.

 

Lack the ability to easily add new products and services to their portfolios.

 

Are vulnerable to cyber security breaches.

 

Have a tough time offering the curated experiences their customers demand.

 

Are limited in the data sources they can access and don't have the predictive analytics they need to make better business decisions.

 
In the last few years, I've spent a lot of time talking with auto and equipment finance providers that experience these issues and want to modernize their core systems. Some, like Santander, Volkswagen and Siemens, have chosen a proactive approach. They have embraced core modernization as part of their strategic roadmap. But many are still undecided, hoping to hold onto their legacy systems a little longer. 
I get it. A modern core is a huge investment (running at $10 million or even $100 million in some cases). Whether they select a lease or loan management system (LMS), a contract management system (CMS) or a core subledger, organizations know it's a decision that will have far-reaching implications for the business—possibly for a decade or more.  
A modern core is the heartbeat of an ecosystem of solutions that can help you serve your clients. Two years ago we put out the report, Platform Modernization for Auto and Equipment Financing. The keys to a successful digital transformation, which we outlined in this report, are as relevant today as the day we launched. In the past few years, more than half of the top 20 auto financiers have made moves to replace their core platforms. Equipment finance has not engaged as fully, with only about one-third of the top 20 lessors engaging in initiatives to modernize their core. 
There's no doubt in my mind that acting today to modernize your tech stack is essential. Here are five reasons you should prioritize it before you lose market share to your competition: 
1. Your platform is costing you too much
Retrofitting legacy platforms to meet modern demands is essentially a waste of effort and money. Legacy systems almost always require extensive customization to keep up with the evolving market. Customization can be costly in terms of dollars and time—not to mention the opportunities you miss while you're make the business case for change. Where it might take a year to build a custom enhancement on your existing platform, it could take just a month to configure and test a new capability on a modern system or in a digitally decoupled system. When selecting a new system, I propose using the 80/20 rule: choose a platform that provides 80% of the capabilities you need out of the box, then add 15% configuration. The remaining 5% can be customized. 
2. Your platform can't support the products you want to sell (today and tomorrow)
It's important that your core system can support new products and business models, including those you can't yet imagine. Take servitization, for example. Most legacy systems cannot handle the operational requirements of a servitization model. There's often no place to store the data coming from connected equipment or vehicles, and no way to track basic things like the distance a truck traveled this month compared to last. Let alone anything fancy like predictive maintenance notifications for things such as changing the seal on a pump before it fails or replacing the belts on an escalator. Modern platforms can support these requirements and more, with configurations you could do yourself. 
3. Your platform isn't adaptable
Many legacy lending and leasing platforms make it difficult to adapt to shifting customer demands, expectations and needs. What customers want from your business changes as the market evolves and as innovative new technologies emerge. Or, there can be a catalyst like the COVID-19 pandemic, which accelerates people's desire for options like contactless payments. Agility isn't just a buzzword. It's a necessity if you want to keep up in today's world. 
4. Your platform doesn't meet the needs of the future workforce
The global pandemic has also shown us the importance of core systems that can support the workforce. Beyond enabling remote work, I believe lenders and lessors need to consider their platform's automation capabilities. As I mentioned in the Platform Modernization for Auto and Equipment Financing report, our Workforce 2025 analysis suggests automation can unlock up to $23 billion in cumulative cost savings across the North American financial services industry through to 2025. And up to $117 billion in productivity gains when you augment the workforce with technologies like artificial intelligence and machine learning. 
5. Your platform is no longer supported by the software vendor
Some lending and leasing platforms have effectively reached their end of life—with announcements from industry software vendors talking about sunsetting them within the next 24 months or less. That means deciding whether to continue paying top dollar to maintain and enhance an aging legacy system. Or investing in a modern solution now. In some cases, vendors have priced their upgrades at such a high price point that it is incumbent on the lender to scan the market and see if it can do better. There are many new market entries that offer interesting alternatives.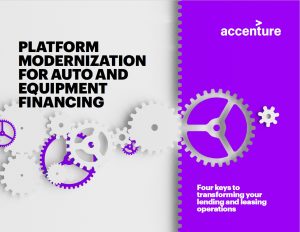 In today's specialty finance landscape, a robust core solution built on modern technology has so much to offer. If you've been on the fence about core modernization, you should know that many of your peers are already off and running. 
Reach out to me directly if you want to discuss your tech stack and how core modernization can lead to a competitive advantage. 
---
To receive posts in your inbox, subscribe to the Accenture Banking Blog. 
Disclaimer: This content is provided for general information purposes and is not intended to be used in place of consultation with our professional advisors. This document may refer to marks owned by third parties. All such third-party marks are the property of their respective owners. No sponsorship, endorsement or approval of this content by the owners of such marks is intended, expressed or implied. Copyright© 2022 Accenture. All rights reserved. Accenture and its logo are registered trademarks of Accenture.