Platform modernization best practices for auto and equipment financiers
Adam and I were talking the other day about all the changes we've seen in the auto and equipment finance industry over the last two years. So many areas of the business have been affected by simply replacing in-person meetings with digital interactions. It's also been a time of massive uncertainty, with climbing inflation and the potential for a serious recession on the horizon. 
What has remained constant is the complex nature of platform modernization. Generally large in scale, effort and cost, platform modernization projects can quickly fall behind schedule if they don't have the right strategies in place. 
A methodical approach helps auto and equipment financiers stay in the green 
In our forever-relevant report from 2020, Platform Modernization for Auto and Equipment Financing, we talked about four details that have lost none of their significance for lenders and lessors who want to create agile, predictable and sustainable change. If you get these details right, you can keep your project moving forward with a consistent green status. 
These four details are: 
Get the data right

. Your lending and leasing software platform is the engine of your business. Put the wrong fuel in the engine and your business will splutter. That's why managing the data-related aspects of platform transformation is so crucial.

 

Create processes that create value

. Reviewing and refining processes for a new platform doesn't have to be daunting. There are virtually infinite variations among business processes in theory. In practice, however, they break down neatly into three groups—standard processes, differentiating processes and innovative processes.

 

Solve the technology equation

. Selecting and implementing the right technology is about taking an Open Banking approach that balances off-the-shelf capabilities with custom solutions. We like to use the 80/20 rule, which keeps customization in check.

 

Manage change for the better

. Platform modernization is a change that will reshape the way every member of the organization works. In order to follow through and gain the most benefit from the selected technology, it's essential to manage change across the organization.

 
You might be thinking, "sounds good, in theory." But we've helped companies take this same methodical approach for years, including in the last 12 months, and seen their success first-hand. 
A platform modernization project that was in the green from end to end 
Case in point, recently one of our clients—a commercial equipment lessor—launched a new leasing platform. Go-live scenarios are often extraordinarily high-pressured, with any number of unexpected roadblocks preventing a smooth launch. That was not the case for this lessor, though. In fact, the project status for this platform implementation was green from day one and remains green today. You read that right—the status was green for the entire project! 
How did the organization manage this? It followed the rigorous and systematic approach outlined in our report, from governance through to change management. Let's take a look: 
Governance

. The company aligned the priorities of its platform modernization project with its larger business strategies to ensure efficient, effective and transparent decision making. It also defined clear RACI (responsible, accountable, consulted, informed) designations for all team members and stakeholders.

 

Right people

. A critical step was ensuring that each team had proper decision-making authority. Product owners were given the power to make decisions without escalating, and the project included a core team of subject-matter experts with a unified voice.

 

Data strategy and conversion

. As a new entity, the company was fortunate not to require complex data conversion. That said, the team made deliberate choices to avoid adding any unnecessary complexity, which will position the business well for the future and enable it to scale up easily.

 

Managing the changing landscape

. The company set up systems to plan for and monitor changing policies, source systems and roles. To ensure the new platform wasn't obsolete before it was complete, and to accommodate any new regulations that had the potential to alter the system's requirements, the team took a proactive approach, ensuring it was designing for the future and not merely for the current state.

 

Designing and building

. It's generally considered best practice to move from simpler to more complex use cases. In this instance, the lessor did exactly that, iterating with increasingly fine granularity as the project progressed. The team also focused its design on the majority of users first, building for exceptions farther down the line.

 

Configurations and customizations

. A key to this lessor's success was choosing a platform that could be used, for the most part, out of the box. This allowed the team to complete the implementation at a greater pace than if they'd had to develop a high number of customizations. Our rule of thumb is to apply the 80/20 rule. If possible, find a tool that has 80% of the features you need out of the box, and requires just 20% customization. Many platforms offer built-in configurations that meet the majority of most lessors' business needs—ensuring a fast, efficient implementation.

 

Change management

. One aspect that we consider non-negotiable is the requirement for end users to be a part of testing the solution. Without their valuable feedback, your system might not perform as you expect. In this case, the lessor followed our recommendation. The result is a platform that meets the business requirements and supports workflows that make sense to users—which led immediately to a high level of user uptake.

 
By paying close attention to these details, the lessor was able to reduce risk and uncertainty, and streamline the project to such a degree that it launched on time and under budget. Not only that: Adam reports that since the launch, his phone has been remarkably silent. There have been no panicked calls or urgent text messages. The new platform is performing as anticipated. 
Adam reports that since the launch, his phone has been remarkably silent. There have been no panicked calls or urgent text messages. The new platform is performing as anticipated. 
One last thing we think contributed to the success of this project is that the team decided to focus on a minimum viable product (MVP). This meant they could concentrate on a few key use cases and launch the new platform quickly. While it definitely takes discipline to stick with a plan like this, it's also a great way to build momentum. Then you iterate and scale over time. 
Are you about to tackle platform modernization?
I said earlier that our report on platform modernization was as relevant today as when it was published two years ago. There is one thing we'd like to add, though: the real secret to success is pulling all these pieces together into a cohesive plan. Whether you have a single internal champion or work with an experienced consulting team, someone needs to have the high-level strategic view of what you're trying to achieve, and the skills to orchestrate all the moving pieces to bring a complex project like this to fruition. 
What we've seen is that new entrants in the auto and equipment finance market understand this methodical approach implicitly and leverage it to their best advantage. This is partly why they're such a force to be reckoned with. However, incumbents can choose to follow the same path, adopting these best practices—and achieving similar results for their platform modernization!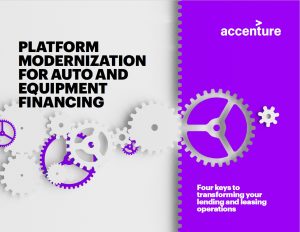 If you haven't yet read our Platform Modernization for Auto and Equipment Financing report, be sure to read it, especially if you're about to start or are in the middle of a platform modernization project. With the best practices you need to keep up with new entrants, and a methodology that's been used successfully by hundreds of finance organizations, it's a must-read. Then, feel free to reach out to Adam or myself to discuss your platform modernization goals and how you can position yourself for success. 
Disclaimer: This content is provided for general information purposes and is not intended to be used in place of consultation with our professional advisors. Copyright© 2022 Accenture. All rights reserved. Accenture and its logo are registered trademarks of Accenture.