This blog is based on my keynote presentation at the 2021 Payments Canada SUMMIT
Payments leaders probably feel like they are living in the future right now. The pandemic changed the industry forever. Digital adoption has exploded across all age groups. Uptake of tap-and-pay has likewise gone through the roof. It feels like the industry jumped forward to 2025—at least.
So, what's behind the change? Two super-cycles that are converging and shaking every part of financial services:
Super-cycle one – the neo normal
The first is the convergence of tech and banking. I like to call this "the neo normal" because it's fundamentally new and there's no going back to how things used to be.
The idea is that virtually every business—and certainly every bank—has achieved at least a basic level of digital and technological fluency by now. In North America, nearly every banking app is rated 4.8 stars or higher, on a scale of 1 to 5. It is a sea of digital sameness and differentiation is hard. Whether we like it or not, we're entering the post-digital age of banking.
At the same time, consumers are spending more time on non-banking marketplaces and platforms that make payments almost invisible, like Amazon, Uber or Doordash. These appeal to consumers by eliminating the hassle of payments.
As my wife told me recently, "the fun is buying—not paying."
Super-cycle two – the battle for the experience
We've heard for years that bank data is the holy grail for fintechs—worth its weight in gold.
But this is undercut by an inconvenient truth: on the open market, consumer banking data is almost worthless. On the open market right now card transaction data trades for around 10-40 cents a pop—that's per consumer, not per transaction.
But this shouldn't be surprising. Just ask yourself: is Facebook's data worth anything without Facebook itself?
Real value is in using data to change experiences – to influence behavior. Own the experience and you own the value.
In payments, that means owning the payment experience so you can influence purchasing behavior. This is what is drawing bigtech firms like Apple, Google, and Alibaba into the payments space—they want to influence the $35 trillion spent globally with cards.
The ultimate goal of the battle for the experience in banking is the super app—the all-encompassing platform where you can shop, pay, save and bank.
We've been here before
These two super-cycles are converging, causing huge changes in payments. This is a unique moment for the industry. But it's not completely unprecedented.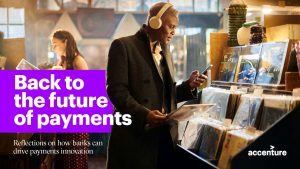 In the depths of the Great Depression, merchants began extending credit to customers in new ways. They were simple, closed-loop credit systems—today we'd call them "private label." Like most good ideas, it inspired imitation. Lots of different companies created their own private credit systems. This is similar to today's banking apps.
In the '50s, someone asked: why carry all these different cards that do the same thing? Couldn't one do it? This reasoning created the Diners Club and American Express cards—the first open-loop products, analogous to modern-day digital wallets like Apple Pay.
Banks eventually realized the threat posed by these open-loop credit systems and began innovating in response. They started with their own closed networks, but soon figured out that payments is a network game—best played as a team sport. Together they collaborated and created Visa and Mastercard, which remain pillars of the payments space to this day.
But though the past offers important clues about the path forward for payments today, the big difference this time is technology. It took banks decades to respond to the disruption of the first credit cards. The industry has a few years—at best—to respond to today's disruptive trends.
So what should banks do?
Four ways to innovate and win
When I look at the incumbents in the payments space, I see four areas where they could—and probably should—be doing more.
Thinking beyond payments is the first. The would-be disruptors are making paying a seamless part of the other experiences they offer. Banks need to likewise connect their payments services to other experiences that make life easier or better for users. This means asking questions like:
How can we bring offers into our payments process?
Why doesn't our card offer promotional financing?
Why can't billing information move with payments?
The second is kickstarting innovation. Banks sometimes get cagey about innovation, but it's probably easier than you think. Apple didn't invent the smartphone—they just got it right. Why can't banks:
Offer to provide your paycheck a few days early?
Integrate simple money transfer experiences into their apps?
Add cryptocurrency as payment options?
Provide offers within their banking apps?
The third is focusing on the mobile wallet, which is the most important battleground in the contest to own and shape the customer experience. With just a few APIs, Google and Apple could absorb almost the vast majority of mobile banking app use into their mobile wallets. Banks can address this threat by answering a simple question: why can't our customers tap and pay with our mobile banking app?
The fourth is knowing when to collaborate and when to compete. The competition for the future of payments is a competition for customer experiences. The right strategy will depend on each experience. Banks probably don't need to own the customer experience of paying for an Uber ride, for example, because payment is a small part of the Uber experience. The incentive to own the end-to-end experience is much greater for products like mortgages and the mobile banking app. Wouldn't it be better to allow a consumer to easily bring together their finances in any banking app, rather than let all of those experiences move to Google or Apple? Sometime the best way to compete is to collaborate.
The story of payments right now is at a turning point. If banks don't write the ending they want, someone else will write it for them.
Video: Michael Abbott, "Back to the future of payments" keynote, The Payments Canada Summit, 2021
If you'd like to discuss the future of payments, I'd love to hear from you. You can also register here to download the full report, "Back to the future of payments".
Register to view full report
Disclaimer: This content is provided for general information purposes and is not intended to be used in place of consultation with our professional advisors. This document may refer to marks owned by third parties. All such third-party marks are the property of their respective owners. No sponsorship, endorsement or approval of this content by the owners of such marks is intended, expressed or implied. Copyright© 2022 Accenture. All rights reserved. Accenture and its logo are registered trademarks of Accenture.