There's a lot of buzz about next-gen payments rails globally, but where does North America stand when it comes to adopting these new options? Accenture's recent consumer payments research—which you'll find in our report, Payments gets personal: strategies to stay relevant—revealed that North Americans have a clear preference for payment methods they trust, from providers they know. More than 3,000 consumers in the United States and Canada were surveyed, along with another 13,000 consumers across other regions, to find out what payment methods they're currently using and what they're looking for from payments providers. 
Here's what we found. 
Cards and cash are still king 
North Americans continue to use debit and credit cards, as well as cash, far more often than any other payment methods. Cash and credit cards are used at least five times per month by 59% of our survey respondents—and 62% use debit cards that often. 
This may be in part because the card networks in the region are well established and have largely met customers' needs. Card providers have continued to innovate by facilitating quick and contactless "tap" payments and introducing BNPL-style installments, for example. In other regions, where cards are not in wide use, digital wallets, super-apps and other new technologies fill a need in the payments space. In North America, these options are competing with a trusted card payment system and trying to overcome consumer inertia.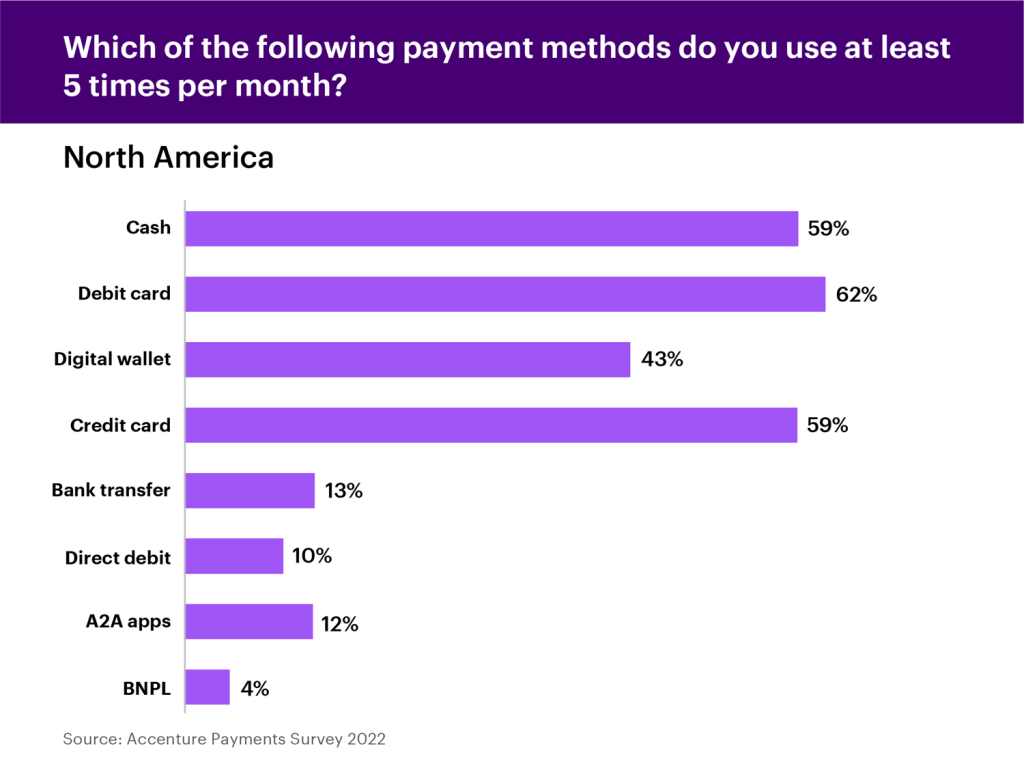 However, survey respondents are also looking for convenience, speed and control, which may lead them to try out next-gen innovations like account-to-account (A2A) or even machine-to-machine (M2M) payment systems. But consumers will need to believe those transactions are secure and reliable before embracing them. Next-gen systems that carry the branding of established banks or credit providers might have an easier time gaining the confidence of skeptical customers. 
A matter of trust 
In our survey, 77% of North American respondents said they trust their card networks to secure their transactions, and a whopping 87% trust their primary bank. On the other hand, only 35% trust big tech companies with their payments, while 21% trust BNPL providers. The much-hyped rise of crypto has been shaken by recent headlines about mismanagement and potential fraud. As a result of this uncertainty and instability, a mere 14% of North American respondents trust crypto wallets as a payment method.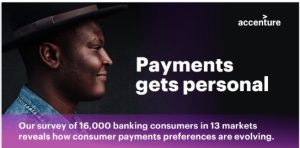 But banks are not immune to these concerns; the recent US bank seizures are likely to make customers increasingly cautious about who handles their money. This trust gap may account for much of the hesitation among North Americans to adopt next-gen payment methods.  
This trust issue might also help predict how super-apps created by big tech companies could be received in the North American market. With consumers' solid trust in their banks, it makes sense for super-apps in this market to partner with trusted bank brands to win the confidence of users.  
This concern also affects consumer opinions about the metaverse (which at this stage is largely controlled by big tech). Globally, 69% of respondents said they were concerned about sharing personal information for payment in the metaverse—yet 50% said they would be more comfortable with it if their primary bank facilitated the transaction. The opportunity for banks to use customer trust to their advantage remains strong, as long as the high level of trust in banks is maintained.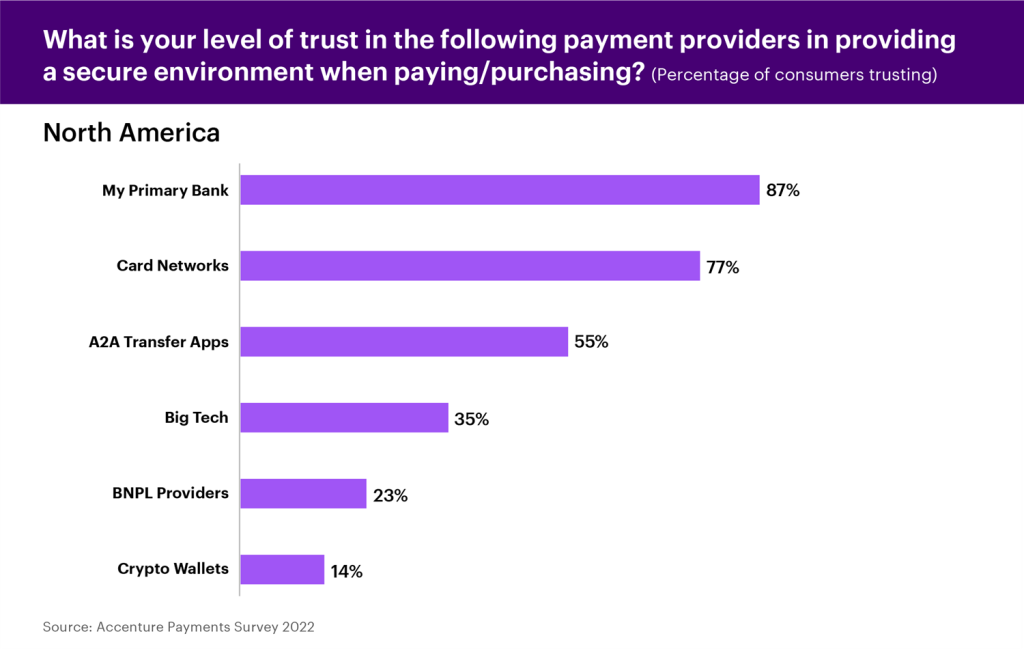 Responding to consumer needs 
Rising prices and interest rates are making it more difficult for consumers to stay in control of their spending and debt. Solutions that give them more control and a better overview of their financial situation are very attractive in this climate. North American consumers are looking for payments providers that can help them stay on track with their finances while making payments quick and convenient. Here are some features that are likely to draw them in: 
BNPL: Buy now, pay later options offered by trusted providers could give consumers a way to spread out the payments for larger purchases without paying interest. As this sector develops, consumers will be looking for providers who can show them the total amount of debt they've taken on and all the payments they need to make, rather than having to compile information from multiple sources. Banks that already have a strong overview of their customers' financial situation will be in a good position to offer this. 
Real time: Controlling the timing of payments can also help consumers who want to always know where they stand with their finances. Consumers will be looking for payment systems that work in real time and provide instant updates to dashboards and other account information.  
Interoperability and reliability: Consumers get frustrated when their payment method of choice isn't available, takes too long or has a low limit attached to it. According to our survey, consumers want the ability to link the cards they already have to a digital wallet. They also want their preferred payment method to be available at all retailers and they expect reliable payment networks that won't fail when they're needed or that decline larger purchases. Basically, they want to be able to purchase whatever they want, whenever they want, however they want. 
To learn more about targeting your payments offering for today's consumers, contact me here. To learn more about consumer trends and opinions across the payments world, read the full report, Payments Gets Personal.
Read report
Disclaimer: This content is provided for general information purposes and is not intended to be used in place of consultation with our professional advisors. Copyright© 2023 Accenture. All rights reserved. Accenture and its logo are registered trademarks of Accenture.