Other parts of this series:
---
The Open Banking wave continues to gather momentum, with more than 40 markets globally involved in various stages of rollout. Will traditional banks catch the wave or be swept away by the tide?
Today's steady flow of customer data enables banks, non-banks and fintechs to take advantage of ecosystems and platforms to offer hyper-relevant, personalized products and services. The Open Banking wave is gaining momentum, and banks that try to ride it out using traditional business models risk losing customers and business opportunities. 
Despite a market that could be worth up to $416 billion, Accenture has found that, compared to challengers like fintechs, neobanks and bigtechs, some traditional banks have been slow to adopt Open Banking.   
What's holding banks up? 
According to our recent Catching the Open Banking Wave report, despite increasing competition from challengers, customer and revenue loss has been minimal so far. In addition, some banks may bristle at the significant investment in technology infrastructure Open Banking requires. Finally, Open Banking regulations (except in the EU, UK, and Australia) are either a work in progress or not very mature. 
While it is true, in all parts of the world, that some regulators, banks and consumers are moving slowly or not at all, others are leapfrogging ahead. 
Open Banking adoption will soon reach a tipping point due to new regulation, challenger competition and consumer interest. Executives who participated in Accenture's Payments and Open Banking Survey echoed this prediction. They believe that consumer adoption and use of Open Banking APIs will increase by 76% and 50% in the next three to five years, respectively.
The bottom line: Rapid consumer adoption of Open Banking is around the corner and will change the dynamics of the industry. Incumbent banks should start preparing for this new paradigm without delay, or risk being left behind. 
The meteoric rise of third-party providers  
Like the proverbial canary in a coal mine, third-party providers (TPPs) are signaling the impending adoption of Open Banking. TPPs in Europe have increased from around 100 to more than 450 in under two years, and they are expanding their focus from retail banking and payments to include the entire financial value chain.   
Beyond Europe, TPPs in non-regulated markets are using Open Banking concepts and building platforms that are dubbed "super apps" because they offer multiple services from one platform. China's WeChat, a social media giant that has added payments to its platform, is one example. Grab and GoJek in Southeast Asia began as ride-hailing platforms and now provide more than 20 on-demand services to over 300 million users. US payment giants PayPal and Stripe and Sweden's buy-now-pay-later lender Klarna are architecting similar platform plays. 
Also driving Open Banking adoption are new non-financial entrants like Italy's utility giant, Enel, which has partnered with a Swedish fintech, Tink, to develop an account aggregation solution.  
As Open Banking apps, initiatives and APIs gather momentum, a new Accenture report details how banks can lead in the open data economy.
LEARN MORE
Open Banking readiness varies around the world 
In some regions, digital natives—those born with a smartphone in hand—are spurring Open Banking adoption. In other places, regulatory change is the driving force. Technology infrastructure and the competitive environment also feature prominently in the adoption of Open Banking. Consequently, Accenture's analysis of Open Banking market readiness in Europe, North America, Latin America and Asia-Pacific measured their respective state of preparedness against four dimensions: customer readiness, regulatory approach, technology and competition. 
Open Banking readiness across four key dimensions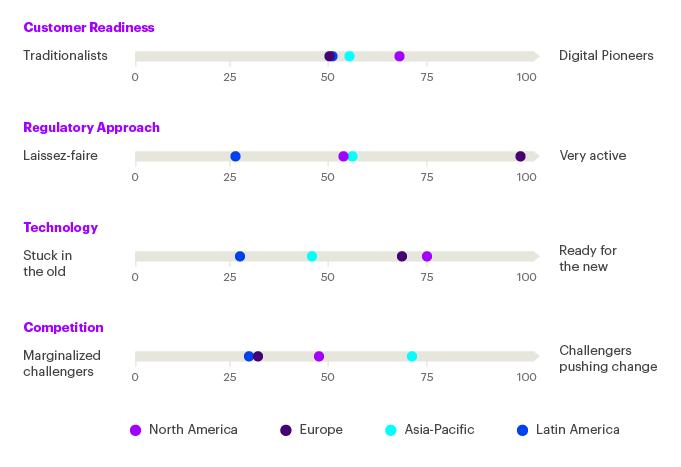 Change is coming, whether or not banks are ready
Changes imposed by regulators, demanded by consumers, accelerated by challenger banks and made possible by technology are already moving the needle on Open Banking adoption.
Our analysis of Open Banking market readiness identified four competencies banks will need to succeed in the new reality of Open Banking. See my next post in this series for actionable steps they can take to prepare. For a detailed opinion on getting ready for Open Banking, contact me here or on LinkedIn.
To learn more about the changing landscape in payments, download the full report, "Catching the Open Banking wave."
Read report
Disclaimer: This content is provided for general information purposes and is not intended to be used in place of consultation with our professional advisors. This document may refer to marks owned by third parties. All such third-party marks are the property of their respective owners. No sponsorship, endorsement or approval of this content by the owners of such marks is intended, expressed or implied. Copyright© 2022 Accenture. All rights reserved. Accenture and its logo are registered trademarks of Accenture.