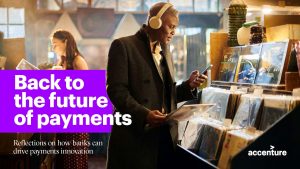 The pace of change in payments right now might seem overwhelming. The pandemic has supercharged the trend towards contactless, online and instant payments. Contactless payments, for instance, grew 150% from March 2019. This is just the start. In the next 10 years, almost 2.7 trillion transactions, worth $48 trillion, are projected to shift from cash to cards and digital payments.
Fintechs and bigtechs are rushing to stake their claims in this growing market. This is forcing incumbent payments players to accelerate their digital transition plans—and to make consequential decisions about their futures. 
Supercycles converge 
This extraordinary disruption is being fuelled, in part, by the convergence of two different supercycles of industry change. 
The first is what my colleague Michael Abbott calls the "neo normal," because, in his words, "it's fundamentally new and there's no going back to how things used to be." 
In the neo normal world, every payments player, whether challenger or incumbent, has achieved basic digital fluency. For the consumer, payments are frictionless, instant, and invisible. New players, meanwhile, continue to enter the industry and challenge incumbents. American retail giant Walmart, for example, has recently stepped into the payments space, joining the likes of Starbucks in competing with traditional payments players. 
The second supercycle is the leaking of share and revenue out of the banking sector and into other industries—particularly to bigtech firms. The entry into the financial services sector of major tech players, including Amazon, Apple, Google and Alibaba, represents a generational change for the payments industry.  
These trends are presenting payments providers with pressing questions—though one could argue that they are really variations on the biggest question of all. Payments providers know they need to change to keep up. But what should they actually do? 
What kind of vessel are you? 
One might think of incumbent banks as container ships—some of the largest boats on the water, able to access powerful economies of scale. Size is one of their defining strengths, whether in carrying capacity, assets under management, market capitalization or number of employees. Durability is another. 
But size comes with trade-offs. Container ships are relatively slow to accelerate or change course. They cannot access shallow waters. As recent events in the Suez Canal have demonstrated, they can get stuck in awkward places. 
The newer competitors in payments, meanwhile, are more like speedboats. They can't move as much cargo in one go, but they can go places that a container ship cannot—up rivers or into markets previously thought unviable.  
So when the forecast calls for stormy weather, is it better to be a container ship or a speedboat? 
The jury is still out on a definitive answer to this question in payments right now. But there is no doubt that answers are being explored.  
Some payments players, like Lloyds Banking Group, seem set on changing course. Its digital transformation project has already produced some impressive results. Seventy-five percent of its new products originate digitally, for instance.
Other parts of the industry look more like speedboats. Chime, for instance, is leveraging APIs to offer incumbent-like services with a much smaller workforce. The fintech employs around 1,000 people to serve 12 million customers.
Canada's RBC has a similar, speedboat-style 'buy now, pay later' (BNPL) offering with PayPlan, which packages a white-label BNPL service from US fintech Bread with RBC's regulated balance sheet.
Compete or collaborate? 
This anticipates another burning question. As everyone from Square to Google to Uber to the owners of TikTok jumps into the payments space, is it better for incumbents to compete or to collaborate with the new entrants?
There are successful examples of both strategies. For instance, the four biggest banks in Ireland are working together on a mobile wallet designed to go head-to-head with Apple Pay. Meanwhile Goldman's Marcus platform, launched in 2016, now includes seamless Apple integration. It's also been very successful. 
Whatever kind of vessel you are right now, there's no doubt that you could need to make some changes to stay afloat and outmanoeuvre the competition in the rough waters ahead. 
To read the full report, Back to the Future of Payments: Reflections on how banks can drive payments innovation, please register here.
Register to view full report
Disclaimer: This content is provided for general information purposes and is not intended to be used in place of consultation with our professional advisors. This document may refer to marks owned by third parties. All such third-party marks are the property of their respective owners. No sponsorship, endorsement or approval of this content by the owners of such marks is intended, expressed or implied. Copyright© 2022 Accenture. All rights reserved. Accenture and its logo are registered trademarks of Accenture.