Other parts of this series:
---
For leading incumbent banks, Open Banking is not just a regulatory imperative. It's a new revenue opportunity and a source of competitive advantage that can be captured by making the right power plays in the application programming interface (API) economy.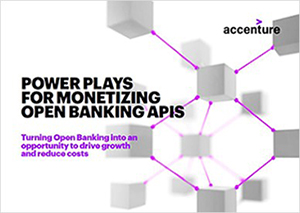 But what exactly is the API economy? Gartner describes it as "an enabler for turning a business or organization into a platform." Enterprises looking to leverage APIs can do it in one of two ways: by exposing their own services and data through APIs around which partners can consume and build new offerings or by consuming APIs to access third-party data, which enables them to more easily and rapidly add offerings to their portfolio.
The API economy has already existed for a decade among platform companies such as Google, eBay and Facebook. By far the best example of a company fuelling its growth through APIs is the e-commerce travel platform provider Expedia. Through its Expedia Affiliate Network (EAN) and Expedia Partner Central (EPC), the company provides API-based tools and technology to 10,000 partners in 33 countries, generating more than 85 percent of Expedia's revenues.
APIs are becoming the standard in online payments, as well. Visa paid $5.3 billion for API-driven fintech, Plaid, in early 2020. Stripe, a payments API startup, reached a $35 billion valuation in 2019.
Leading banks in the UK and Europe know that there is much to learn from the successes of the tech giants and fintech unicorns when it comes to leveraging the API economy for growth. They are already looking at monetization of Open Banking services.
DBS Bank in South Asia has a market-leading API play that utilizes the banking-as-a-service model. Launched in 2017, the DBS developer portal offers more than 500 APIs and has created more than 400 partnerships, which include names such as AIG, McDonald's and PropertyGuru, as well as start-ups like Activpass, FoodPanda and soCash.
In Europe, BBVA's API Market has enabled the bank to integrate with partners like Uber, Simple and Xero, and to launch a range of new services. BBVA's banking-as-a-service solution uniquely allows partners to connect into a core digital service, through which they can access APIs for services including Move Money, Identity Verification, Account Origination, Payment Stats, Alipay and Card Issuance, to name just a few.
Banks with a vision for Open Banking beyond compliance can thrive in a competitive landscape that includes new players like big tech, fintechs and non-financial services.
In my next post, I'll share the two predominant Open Banking business models.
Until then, have a look at our report: Power Plays for Monetizing Open Banking APIs.
---
This makes descriptive reference to trademarks that may be owned by others. The use of such trademarks herein is not an assertion of ownership of such trademarks by Accenture and is not intended to represent or imply the existence of an association between Accenture and the lawful owners of such trademarks.