Is your bank's
culture limiting the
value of cloud?
"Banks train people and tech companies hire them away."
Mike Abbott
Senior Managing Director - Global Banking Lead
"It's a talent issue from the
C-suite down."
Dr. Bridie Fanning
Managing Director - Talent & Organization,
North America Banking Lead
FOREWORD
Is your bank's culture limiting the value of cloud?
We know that more than 90% of banks have moved at least some of their workloads to the cloud. However, a new multi-sector survey by Accenture has found that 65% are failing to capture all the value they expect.
Why? The major roadblocks, it seems, are the people and change dimensions of cloud.
In the first two volumes of the Banking Cloud Altimeter, we talked about what it means for a bank to be operating in the cloud and the journey of choosing an end-state cloud environment. Like most banks, we focused on the technology. Without a doubt, this is a critical factor—but it's certainly not the only one.
Dr. Bridie Fanning, Managing Director for Accenture Talent & Organization, sums it up neatly: "The banks that are getting cloud right are those that are prioritizing not only the technology but also focusing on their people, culture and skills."
In recent years, and particularly during the pandemic, some banks have transformed themselves and become, essentially, technology companies. And yet capturing value from the cloud is not just a technology challenge. To operate effectively in the cloud, and to become the agile, innovative, high-speed organization that cloud enables, requires different skills and a different organizational culture.
This will become increasingly true as banks migrate more and more of their workloads to the cloud and as the cloud spectrum becomes increasingly complex.
One key to getting there is having a clear communication strategy. Take an honest look at your organization by answering this question:
To what extent do you agree that leaders in your organization set and clearly communicate strategies that support future business growth via cloud?
Employers of all descriptions are competing for cloud skills, and firms that can offer a conducive culture and work environment—like tech companies are known for—will have a decisive edge.
So, the key take-out from the survey's findings is that successful banks put people at the center of their cloud transformation. Cloud skills are just as important as implementing the technology. Equally critical is a workplace culture that, as in many tech companies, fosters continuous learning and collaboration.
Our featured content in this third volume of the Banking Cloud Altimeter explores this issue in greater depth. We'll hear from Accenture experts about the human-tech disconnect, why it's such an important part of the cloud journey, and what can be done to remedy it.
We also look at what makes a Cloud Champion—companies which on average achieved 60% greater value from their investment in cloud than their peers. Specifically, we explore what these companies do differently to support and enable their people to maximize the impact of cloud.
In this volume's industry Q&A, we sat down with Simon Cooper, digital transformation expert, and former CIO to discuss how banks are handling the transition to cloud, where they need to improve their culture, and why banks need to be moving even more quickly to cloud.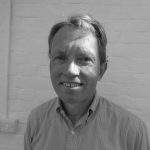 Simon Cooper is a digital transformation expert, previously the CIO of a leading global investment bank where he was responsible for a large reengineering program, driven by multiple mergers, that predominantly used cloud-based technologies. He is currently an independent consultant to Accenture and other companies.
Most legacy banks have a complex, very integrated technology architecture built up over the last 40 years. This is underpinned by many different technologies, designs and software development approaches. Challenger banks starting from scratch can leverage modern technology faster than established players. The challenge for legacy banks is: How do you change the parts on a moving vehicle when the moving vehicle is very complex and expensive to unpack? The people doing it successfully have figured out a cohabitating architecture that allows mature technology to interact with new technology.
FEATURED CONTENT
A successful cloud journey demands new digital skills and culture changes
As banks manage the transition to cloud, one thing is becoming abundantly clear: the most successful banks look more like technology companies every day. Digital transformation is taking center stage as traditional banks adapt to a new reality in which customers demand to be able to bank with ease, anytime and from any device. This is a world where banks are in constant competition with fintechs and tech-first companies, like Amazon and Apple, not only for scarce skills, but for customers too.
But while the most successful Silicon Valley technology companies enjoy the benefits of a culture of speed, agility and continuous learning, many banks are struggling to achieve similar results. The reason, as Accenture's new cloud survey shows, is the difference in their people practices, and their approach to learning. This difference is apparent not only in comparisons between banks and tech companies, but also between leading adopters of cloud in the banking industry and those in industries that have progressed further in their journey to cloud.
The banks that will succeed in pulling away from the pack and realizing the full benefits of their migration to cloud are those that not only have a cloud strategy that is closely aligned with their business strategy but are also investing in talent and rethinking their workforce culture. As Dr. Bridie Fanning, Managing Director for Accenture Talent & Organization, explains: "A new approach to workforce practices is the catalyst that releases a wealth of cloud benefits that otherwise remain trapped and out of reach. It's a game-changer."
This is confirmed by survey findings. The research identified an elite group—comprising 25% of the banking and capital markets sample—that achieved consistently better outcomes from their cloud program. They reported the following compared to banking and capital markets firms as a whole:
A much greater improvement in organizational agility and innovation (32% vs. 20%);
More impressive cost savings (21% vs. 12%);
Improved customer experiences (43% vs. 27%);
And a greater acceleration in cloud migration (39% vs. 25%).
These Cloud Champions excel across five areas: talent, leadership, culture, operating model and governance. Each is a lever that helps them support human potential and unlock cloud value across the enterprise. In order to succeed in these areas, banks should adopt a three-pronged approach that we call the Three As, focusing on alignment, ability and adoption.
Alignment

: Break down silos and collaborate
For many banks, the cloud environment which leaders believe they've created, and the daily reality experienced by employees are two separate things. To become a leader, banks need to first ensure that the C-suite is in agreement with regard to the company's cloud ambition, strategy, priorities and trade-offs. They need to communicate these to everyone in the organization, fostering a culture that is more open, fluid, collaborative and innovative. In particular, they need to encourage collaboration between IT and the business to lead the cloud transformation.
It also means dismantling some of the hierarchy that constrains interaction, empowering employees to take more risks, and using cross-functional teams to bring the strategy to fruition. Because banks operate in such a highly regulated environment, they are accustomed to reducing risk, double- and even triple-checking every crossed "t" and dotted "i". They also create rigid silos, and sometimes silos within silos, which naturally limits information sharing across the organization and makes it less likely that employees will see and work together towards the big picture.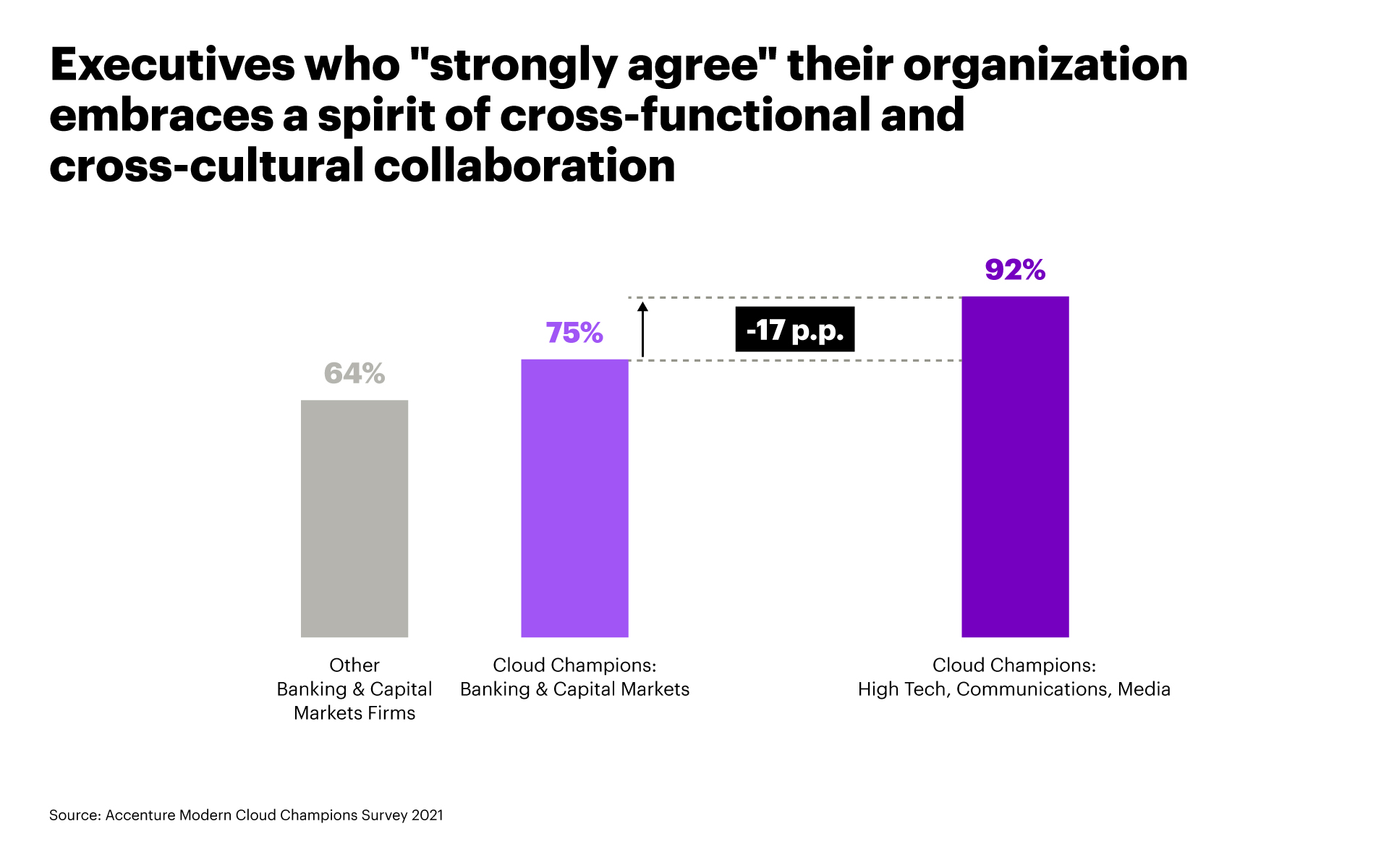 As illustrated by Figure 1 above, Banking Cloud Champions are ahead of other banks when it comes to a culture of collaboration, but they lag the Cloud Champions in most industries that are further along the cloud adoption curve.
The survey confirms that Banking Cloud Champions are significantly more committed to collaboration throughout the organization than other banks. However, compared to the Cloud Champions in those industries which have attained greater cloud maturity, they have some way to go in achieving effective cross-functional and cross-cultural collaboration.
New operating models combine cloud-based digital technology with agile ways of working. These models are based on frequent interaction between tech and product development leaders—all working together as one team. Banks that get the collaborative operating model right will realize the value of their cloud investments—faster.
It's really important that leaders at all levels work to create this new environment. "It's a talent issue from the C-suite down," Fanning says.
The business case for investing in people
There's a strong business case for banks to invest in people throughout the cloud journey. Banks that do this effectively see greater workforce benefits compared to the overall industry, as highlighted earlier and illustrated by Figure 3.
Figure 3. Banking Cloud Champions enjoy greater workforce benefits from their people investments than other banks.
A good example of getting it right
Accenture recently helped a global financial services client unlock the true value of cloud by focusing on its people and culture. The company, with some 20,000 people within its technology function alone, embarked on a multi-year transformation program with cloud at its heart. There was a clear focus on the technology, but the firm lacked the necessary skills and culture for a successful transformation.
"Many companies are investing heavily in their technology capabilities, but they aren't able to realize the return on this investment because there isn't enough of a focus on their people and culture," said Cengiz Besim, an Accenture consultant who led the program's Culture & Behaviors workstream.
The company's leaders thought they were doing well. However, when we carried out a culture diagnostic, it showed their employees disagreed. Although there was a sense of a "family-like" culture, with an intention to do the right thing, there were rumblings within the ranks that it was difficult to get decisions approved quickly. People were afraid to be proactive and there was a feeling that "death-by-consensus" was a prevalent barrier to getting things done. Departments were siloed and there was a fear of stepping out and speaking up. Ben Tulloh, an Accenture consultant and leadership subject-matter expert on the project, summed up the problem: "You can implement technology successfully, but if your people aren't motivated and capable of applying the right behaviors to adopt it, you won't unlock its true value. This is especially true when it comes to cloud."
The pair worked with global and regional leadership teams to develop interventions that addressed the cultural pain-points they had uncovered. They focused primarily on leadership, working to address the perception gap between them and their employees. They also helped remove hierarchies so employees could be more proactive and accountable. One example included a UK-based executive with a team that was overwhelmed with weekly tasks and activities. Besim and Tulloh applied behavioral science methodologies to co-create new team habits and behaviors—many of which were simple but effective, such as a prioritization exercise where leadership and their team members would agree to a maximum of three primary tasks each week to be completed before three more tasks were taken on. The leaders said that their teams became more productive. Through other interventions, workers—once fearful of disapproval—started speaking up with ideas and solutions, using all the technology at their disposal.
The banks that are getting cloud right—the Cloud Champions—are focusing not only on technology, but also on the people who make the technology work. They're doing this to speed up product innovation and improve the customer experience—to further the strategic goals of the organization.
Our digital magazine compiles the latest developments in cloud banking.
About Accenture
Accenture is a global professional services company with leading capabilities in digital, cloud and security. Combining unmatched experience and specialized skills across more than 40 industries, we offer Strategy and Consulting, Interactive, Technology and Operations services — all powered by the world's largest network of Advanced Technology and Intelligent Operations centers. Our 624,000 people deliver on the promise of technology and human ingenuity every day, serving clients in more than 120 countries. We embrace the power of change to create value and shared success for our clients, people, shareholders, partners and communities.
Visit us at www.accenture.com.
For more information on Accenture Banking Cloud Services visit: www.accenture.com/BankingCloud
Have your own question?