---
This series of blogs look at the future of banking in Growth Markets in a post-COVID-19 world.
Although Asia-Pacific banks have outperformed global peers in recent years, they're dealing today with challenges including an uncertain economy, under-pressure balance sheets, competition from digital attackers, declining cost-income ratios and a low interest-rate environment.
These structural shifts have made banking transformation harder. Ironically, this is why it's more important than ever that banks harness new technologies to transform.
At the heart of this transformation are the cloud and associated services. Yet while numerous banks have begun their cloud journey, most have yet to embrace its potential. And even among those that have gone down this route, many are underwhelmed: just 35 percent say they fully achieved the benefits they expected.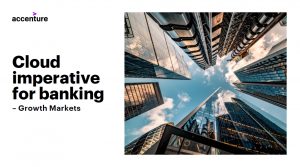 In this blog and the next, I'll explain why so many banks are disillusioned with their cloud journey, and I'll outline the steps required to transform successfully. (You can read more detail on all of this in our related paper.) And while I'm the first to admit that the journey to the cloud can be challenging, our research shows it is rewarding if done right.
Cloud at the heart
At the centre of all approaches to a changing industry landscape are strategies that incorporate more relevant, personalised data-driven services. Going digital brings greater efficiency, agility, and competitiveness, and putting the cloud at the heart brings advantages in seven core areas.
The first is data. Banks generate and store vast amounts of data, and need increasing amounts of processing power to run applications that can mine it for value. Expanding on-site data lakes and analytics isn't sustainable. Instead, to become a data-driven bank at scale means embracing the cloud's elastic storage and computing power to circumvent infrastructural limitations and unleash unlimited analytics.
The second area is speed to market. Off-the-shelf cloud services mean banks can meet customer needs faster to deliver digital products and services, and take advantage of new revenue opportunities.
The third is exponential innovation, and by that, I'm referring to the need at times to create something wholly new – for example, launching a neobank – rather than simply upgrading the existing business. As start-ups know, public cloud solutions make it cheaper and more efficient to launch digital lines of business.
Another benefit is transforming the cost curve. Our experience suggests that the cloud enables savings of up to 40 percent of all hardware, software, and support costs (see graphic).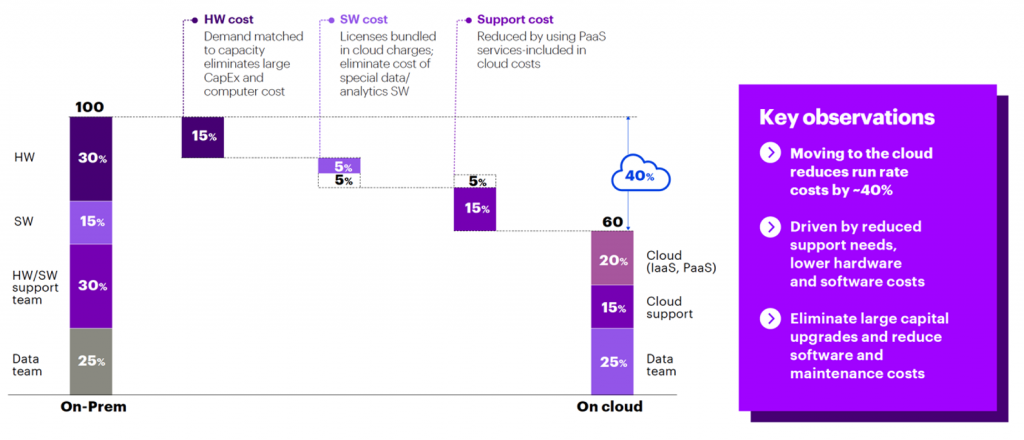 The business case for cloud data-management showing the potential percentage cost-savings gained by moving data and analytics to the cloud (indexed to an on-premises total of 100). (Source: Accenture)
Security is another area where the cloud can bring benefits, as are sustainability and shared commercial risk. Most banks have environmental, social, and governance (ESG) targets, and the public cloud can help attain these by cutting CO2 emissions. On the commercial risk side, partnering with a cloud provider means hardware, software and implementation risks are shared, with the provider paid only when consumption increases.
Crafting your migration strategy
Given these benefits, why are so many banks disillusioned with their cloud journey? Part of the problem is that cloud migration strategies often don't properly incorporate or prioritise these seven areas – and they need to. At the same time, it's important to appreciate that there is no generic "best" strategy. What's "best" depends on each bank's circumstances and where it is on its cloud journey.
A successful migration strategy requires that banks use the following considerations when devising their approach: business areas, people, technology, and timing (see chart). In practice, each strategy will use a hybrid approach that combines organic, re-host and re-platform, and re-architect and replace.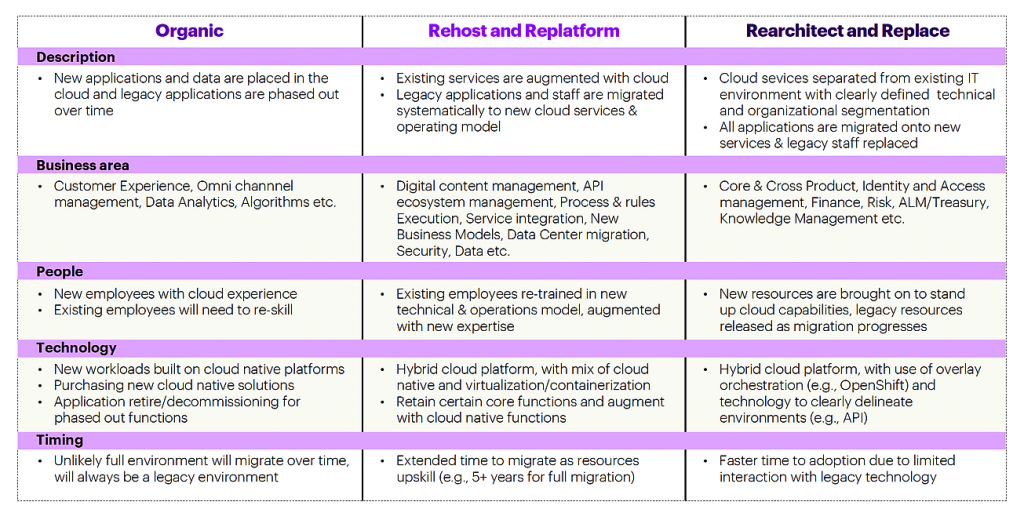 The different migration strategies. (Source: Accenture)
There are two further points worth making.
First, I can't stress enough the importance of having leaders who focus on creating a cloud-first culture and an environment in which engineering talent can thrive. Consider this: we found that 65 percent of senior IT executives across all industries struggled to attain the cloud's benefits because of the complexity involved in business and organisational change, a lack of cloud skills, and ongoing misalignment between IT and the business itself. Committed leadership can head off failure in those areas.
Second, banks can boost their chances of success by engaging with regulators in the planning phase. That's in part so that banks understand the rules they must follow, and is particularly important in growth markets where operations spread across different markets must comply with a patchwork of regulations. A case-by-case analysis can help to determine relevant regulatory requirements including, for example, what to do when data originates from multiple jurisdictions, or how to re-architect applications and data in a distributed way.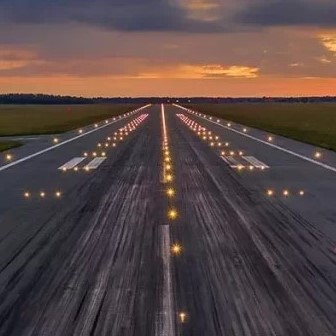 Banking Cloud Altimeter | Volume 6: Banks need a flight plan to navigate the cloud.
LEARN MORE
Devising the playbook
Drafting the optimal playbook starts by appreciating that functions typically move to the cloud in stages. Our paper on the subject has more detail, but, briefly, the following features characterise the standard approach:
Immediate and short-term: well-developed areas here include applications that support customer relationship management, human resources, and finance.
Medium-term: for applications that require short-term bursts of processing power, and higher-risk applications whose migration can unlock significant value – for example, data-intensive apps that make it costly to store and analyse large volumes of data.
Longer-term: for mission-critical applications like core banking, risk platforms, and trading systems. As these are often large, mainframe-based, and written in COBOL, migration is costly, with return on investment taking years. One solution is a modular decoupling approach that unlocks the value of the cloud yet avoids an expensive and risky "big bang" move (see graphic).

The modular decoupling approach. (Source: Accenture)
Structuring a cloud migration journey in this way will significantly boost its chances of success, which is why, unsurprisingly, we've found that banks that take the time to map out a strategy are far more likely to maximise the benefits.
In my next blog, I'll turn to a spot of MAGIC (Migrate, Accelerate, Grow and Innovate) to outline the actions that can help on this migration journey.
If you'd like to learn more about how to make your bank's journey to the cloud a success, you can contact me.
Contact Fergus Gordon
Disclaimer: This content is provided for general information purposes and is not intended to be used in place of consultation with our professional advisors.