Reputation is everything in business. After all, it is tied to revenue generation.
Improving brand reputation has been a critical focus for banks for years. Institutions have worked tirelessly to rebuild reputations that were gutted by the global economic recession. It has been an arduous and ongoing process since 2008.
Banks are not letting up—and for good reason. Accenture's 2014 CMO Insights Survey of senior banking marketing executives revealed that 81 percent are placing the highest priority on actively managing their bank's reputation—up from just 68 percent in 2011.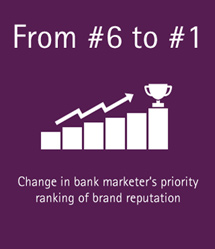 This deliberate push to strengthen the brand is even more important—and more challenging in many cases—in a switching economy where consumers have more choices in service providers and are more inclined than ever to switch among them.
This is yet another layer of complexity in today's banking landscape. It has me asking a fundamental question: How are banks doing in improving their brand reputations?
Consensus is that there is good news and bad news to report. You may have seen the American Banker/Reputation Institute 2014 Survey of Bank Reputations, which was released over the summer.
Survey results point to banks moving "in a far more favorable direction" when it comes to customer trust. The report reveals that 18 of the 25 bank brands studied scored at least 70 out of 100 points in a customer evaluation. This is clearly the good news.
However, the flip side of the story is that the banking industry is very much a reputation laggard when compared to other industries. In fact, the 2014 Trust Edelman Trust Barometer ranked banks and financial services the two least trusted industries globally.
This reputation gap reminds us that there is still work to do despite progress made over the past five years. Clearly, there is no simple solution here.
But the place to start is for the industry to reaffirm its commitment to transforming the customer experience. Customers are interested in:
Deeper relationships with their banks
Proactive financial advice tuned to how they live
Seamless interactions across all channels
More digital options
If banks can deliver these fundamentals, they can seed better reputations for tomorrow.