My latest trip to Phoenix gave me a preview of what's to come in auto financing, the for-hire vehicle industry and autonomous fleet management. And, that was just on my ride back to the airport.
With my travel schedule, hailing a ride to the airport using a ride sharing app is all in a day's work. After my meeting, I called for a car to take me back to the Phoenix airport for my flight home. Within a few minutes, and much to my delight, a shiny new Tesla Model 3 pulled up.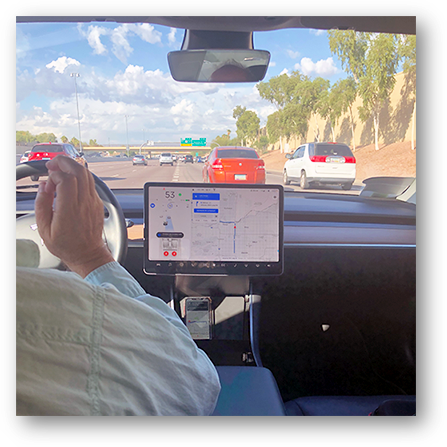 Once inside, I complimented the driver on his choice of vehicle and we started talking about its self-driving capability. I watched as he manually maneuvered the car on and off the highway, but everything else—speeding up, slowing down, changing lanes, navigating—was handled by the vehicle's AI technology.
As the driver, David, and I continued our conversation he told me what a typical day is like for him. He is a retiree who drives passengers for a few hours each morning. He knows where all the charging stations in Phoenix are and tries to charge up his car at a free one during lunch. After an hour or so, he and the car are both ready and he heads back out to drive passengers for a few more hours in the afternoon.
One might think all that mileage would diminish the value of the vehicle, but David is convinced it will not. The car uses nine cameras and a huge number of sensors to capture data whenever it's driving, which it sends back to Tesla. The manufacturer then uses the data to send the car software updates. David believes that as the car gets smarter it will become more valuable over time.
At this point he began asking me questions. He learned a bit about my work in auto and equipment finance and asked how he might go about financing a fleet of about a hundred autonomous vehicles to drive passengers for him. During the last few minutes of the ride I offered him some free advice on the financing required to upgrade a one-man retirement gig into a business with potentially millions of dollars in assets.
As we said goodbye and I made my way through the terminal to my gate, I thought about the possibilities that may soon emerge for fleet management and for others like David. In a few years, could Baby Boomers like us be buying and managing small fleets of driverless cars to help fund our retirement? Could driverless cars become the industry standard for ride sharing, for-hire transportation and errand services? Will this lead to a democratization of the fleet industry and open up new small-business franchise models while steering the big ride-hailing platforms toward profitability? How might the shift to new vehicles that appreciate in value change auto loan rates and lease terms?
If I knew the answers to all such questions I would already be retired. Until then, I'll be working through the questions and maybe a little more eager each time I see my next ride to the airport approaching.
For more on the future of automotive technology, take a look at our Automotive Tech Vision report.