The topic of banking security comes up often in my conversations with clients across the industry. This doesn't surprise me at all—and it probably doesn't surprise you either considering how much is at stake for banks.
As I discussed in a recent blog post on this topic, the already complex issue of banking security is even more complex for banks in a digital environment. Threats are elusive and epidemic. Enterprise boundaries are blurring. And the digital business model inherently introduces new vulnerabilities—from more mobile solutions to involvement with third party service providers.
So how can retail banks truly defend themselves in the digital environment?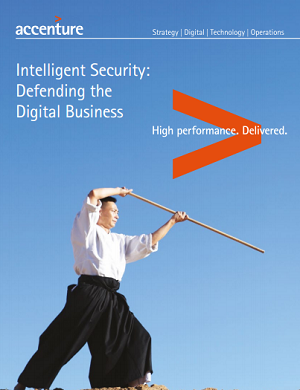 As Accenture explores in a timely point of view, Intelligent security: defending the digital business, every digital business must trade passive, defensive approaches for proactive approaches rooted in business objectives. Think of a martial arts master's ability to mount an active defense in the face of threats. This is the new face of digital business security.
The intelligent security concept is especially relevant for banks. It means embracing a threat-centric mindset over a compliance-centered one—which can be especially difficult in an industry so heavily focused on compliance.
To lay the groundwork for this transition, banks must address common weaknesses in the security value chain. Smarter security means that banks must connect business and security interests, think beyond compliance, govern the extended enterprise, enable dynamic approaches and enhance security resources.
Some of the key building blocks of intelligent security for banks include the following:
Maintain a business foundation. Develop a comprehensive strategy aligned with business goals.
Protect a strong core. Protect core business assets via enterprise security controls.
Look beyond the enterprise. Support extended enterprise safeguards for a secure digital banking ecosystem.
Stop guessing with Insight driven approaches. Act on cyber threat intelligence before threats occur with advanced analytics know-how.
Monitor and tweak via performance measurement. Measure business outcomes with security metrics.
Transforming banking security programs from static to adaptive will be a significant undertaking for most financial services organizations. I encourage you to read the report to explore key steps to developing a holistic security approach.