For the last decade, the Accenture Global Consumer Pulse Research study has annually tracked the intentions and actions of consumers around the world. This year's study included a sampling of more than 23,000 customers in 33 countries, including 16,000 banking customers.
One of the key trends we noticed this year is that customers are buying more products and services, but not necessarily from their current providers. Globally, 27 percent of bank customers purchased or subscribed to a new financial product or service over the last six months. When we compare mature and emerging markets, we see that the number is not as high for mature markets (just 20 percent) but is even higher than the average in emerging markets (39 percent).
Despite this overall growth in purchasing, over the past six years, consumers have increasingly expressed an intention to buy less from their current providers. In fact, 21 percent of bank customers say they are not at all likely to buy more products from their current provider. Conversely, at the other end of the scale, 21 percent say they are extremely likely to buy more products and services from their current provider. Clearly it's a polarizing question.
Additional results showed that 18 percent of bank customers are evaluating or considering other providers more often than they did two years ago, and 59 percent say they are more likely to switch to another provider compared to 10 years ago.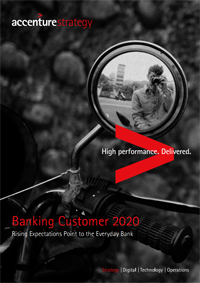 So why are customers more likely to switch providers and less likely to purchase additional products from their current provider? Competitive pricing (39 percent), high quality customer service (34 percent) and good value for money (32 percent) are the top three dominant factors leading customers to switch to another bank. And almost a third of customers (31 percent) believe it's not too that much of a hassle to switch providers.
For banks considering the question of how to keep their customers from switching to other providers, we found that first-contact resolution is the key. Of the consumers who switched to another provider due to poor service, more than 80 percent said they could have been retained if their issue had been resolved on their first contact with the bank.
Yet first-contact resolution has consistently remained the top frustration for consumers in the past five years (generally cited by around eight in 10 respondents), and the percentage of consumers expressing satisfaction with how companies have handled it has increased only marginally since 2009 (from 41 percent to 45 percent).
I think there's a real opportunity here for banks to improve customer retention by re-examining their methods for resolving customer issues—more so in the emerging markets, which all have high complete switching rates, but also in the mature markets of Poland, Spain, Ireland, Sweden and Belgium, which all have higher complete switching rates than the global average of 18 percent. For banks in these countries, customer retention has to be a priority.
Learn more about how banks can drive customer engagement and seize digital's opportunity.