Other parts of this series:
---
In the first of a four-part series, our team of guest bloggers will share how getting to simplified, future-ready bank operations may be more easily imagined.  
---
Customers want and expect fast, seamless and personalized service, 24/7 across multiple channels. However, banks are unable to support this if they do not modernize their operations. This requires a digital-centric strategy. North America bank operations executives say that by 2020, up to 40 percent of their bank's spending on digital transformation will be in operations.1 So, how do banks get to simplified, future-ready bank operations? Through a smart strategy, selecting the right technology and partner, a step-change approach and a re-skilled workforce.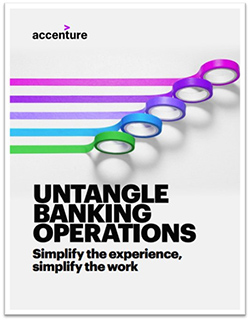 Four challenges to changing core banking operations
Even with a mandate and motivation to change, we most often see that the following four factors hold banks of all sizes back from digitally transforming their operations.
Determining where to start
With so many elements to consider—markets, customers, business models, products, locations, channels, IT systems, competitors and more—deciding where to start your transformation journey can be overwhelming. It requires bank leaders to agree on business and IT priorities for future target state of the bank, to understand your bank's going-in position (think customer vision, customer and employee experiences and legacy constraints) and to agree upon where you want to be. Other points of consideration include identifying areas that offer the easiest way to build momentum, will most impact customer experience, are most prone to regulatory scrutiny and are most vulnerable to legacy systems being the single point of failure.
Picking the best-fit technology
Digital technologies that revitalize core banking, like cloud, AI, APIs and core legacy systems alternatives, seem to proliferate almost daily. It can be difficult for bank COOs and CTOs to choose which technologies best serve their bank's intention when a wide and increasing array of options exist. For favorable outcomes:

Align your technology choices to your future business and operations models.
Bring in vendor partners that align to your vision, have representation and credentials in your geography and continue to support your future roadmap requirements.
Take full advantage of cloud and APIs for greater agility, efficiency, control and speed. Do not settle for less.

Removing legacy systems as a barrier
Unhitching a bank from its core legacy systems is getting easier, thanks to technology-based strategies, such as cloud, digital decoupling, open APIs, data lakes, robotic process automation and others. Banks can draw on these innovations to infuse digital into aging applications without a full "rip and replace" to quickly increase IT flexibility, speed and efficiency. A European bank, for example, augmented its existing legacy systems with new digital layers that sit on top of legacy IT to distinguish its retail and wealth management service.
Evolving the workforce
The real magic in core banking change happens in the back-office workforce as banks both evolve employees' skills and support them with an increasing set of technology-based capabilities. It means rethinking the value of "traditional back office" work, redesigning roles, retraining staff, re-deploying skills, incorporating new work arrangements and embracing new performance measures that fit banking in the digital economy. It also means combining people skills with intelligent automation to reimagine and create a new human-plus-machine workforce that propels transformation and matches digital operations value. Based on our analysis, we expect AI to free up some 25 to 30 percent of people capacity to focus on more value-adding work.
Don't hold back
Nearly 80 percent of bank operations leaders we polled say their organization's existence could be threatened if they don't update technology to be more flexible and capable of supporting rapid innovation.2 Basically, banks can no longer afford to tread water on core banking transformation if they want to compete in a digital-first banking world.
For more insights on this topic, read our report, Untangle Banking Operations: Simplify the Experience, Simplify the Work.
In our next blog, we will explore another critical issue facing operations executives, the impact of Open Banking and digital decoupling on banking operations.
---
1 Accenture North America Banking Operations Survey 2018
2 Ibid