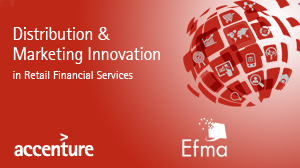 In just over a month, submissions for Efma, Accenture's Distribution & Marketing Innovation Awards, will come to a close. These awards recognize the most innovative projects, initiatives and ideas in the distribution & marketing field, carried out by retail financial institutions around the globe. Got what it takes to be one of this year's winners? Consider this: last year's winners all share a key characteristic—they are on the right road to becoming an "Everyday Bank," and have found new and innovative ways of reaching and engaging with their clients.
Take CaixaBank, for example. The Spanish bank launched a home banking app on Facebook, aimed at broadening the contact it had with its clients, while offering them innovative solutions. In this user-friendly dashboard that's integrated into social networks, clients can view their account information, make basic transactions, personalize their debit cards using photos from their Facebook profile and make donations to charities run by CaixaBank. Because the app enables the bank to reach clients where they spend most of their time anyway, it's able to offer more personalized services and adapt to clients' needs and behaviors. What's more, clients are able to promote and support the bank's products and services while they're already on Facebook.
Then there's Denmark's Nykredit that answered clients' calls for a more accessible bank. Nykredit Direkte blends the bank's core offerings in branches, including skilled advisors who provide personal interactions, into a self-service digital platform. Nykredit's goal is to be the best in the world at offering skilled banking at a distance, and already the bank has experienced an increase in client satisfaction and loyalty—and employee motivation.
Turkey's Aktif Bank is succeeding in delivering financial services to its customers through a digital offering that's distributed through local retailers. The bank started with the perceived consumer needs in the country: people have to travel downtown to conduct financial transactions, such as paying utility bills, topping up their travel cards, or buying bus or airline tickets. By tapping into the IT infrastructures of major retailers and dealers, the bank brought these transactions right to clients' doorsteps. The offering is also a win for merchants, who are not only benefiting from bank transactions, but they're benefiting from cross-selling their products as well. By collaborating with retailers, the bank has reached 4,000 points and 800,000 unique customers across Turkey.
So, what advice do the winners have for banks that want to innovate? Join me next time when I'll share some of their feedback.
And, don't forget to nominate your bank by September 10, 2014 for our next Efma awards, which will be held October 15th in Barcelona.