Since their introduction, digital channels have significantly increased the number of overall interactions that banks have with their customers.
In our recent Global Consumer Pulse Research, we found that when they are prospecting for new products or services, consumers rely on multiple channels (three or more on average), including digital channels. They mostly rely on corporate websites and online expert or comparison sites, followed by word-of-mouth, online reviews and branches.
When it comes to using mobile devices, 58 percent of bank customers use their tablets or phones often when prospecting or seeking support. Out of the average 17 interactions per month made by a customer with its main bank, seven are through on-line banking and three are through mobile phones or tablets. In emerging markets, where the average of total monthly interactions is higher, at 21, customers display an even higher propensity to use digital channels.
Customers also report that they prefer different channels for different activities. For example, they tend to use internet banking when they are looking for research and advice (48 percent at least once a month, 20 percent at least once a year) or accessing services (64 percent once a month, 14 percent once a year), whereas they prefer to talk to someone at a branch when they need to fix an issue (21 percent once a month, 32 percent once a year). In emerging markets, the use of social media for prospecting is considerably higher than in mature markets (48 percent compared to 19 percent).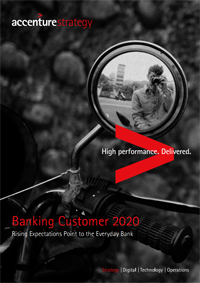 After switching to digital, banks discover that customers are looking for more digital services. Customers report being satisfied with online customer service channels compared with traditional channels, but that they'd like to use digital channels for other services as well. This is evidenced by the fact that across both mature and emerging markets, online subscriptions grew 6 percentage points to 60 percent in the last year, while purchases in branches declined by 6 percent. Even of consumers who seek advice in the branch, half of them use an online channel to purchase or subscribe to a new product or service.
Globally, 61 percent of banking customers expect to have access to more online interactions across their lifecycle. However, there is some variation across mature and emerging markets. Banking customers in emerging markets are much more likely to expect additional online interactions. In India, Poland and Russia, 86 to 88 percent are in favor of doing more online, and in Mexico a huge 91 percent favor more digital interactions. This contrasts with some countries in the mature markets such as Sweden at 24 percent and Finland whose customers only occasionally or rarely expect more online interactions.
Digital channels have shown their worth, but banks will need to address several challenges to encourage their customers to take more advantage of digital channels. Banks need to make sure they provide the right information across all the channels, gain customers' trust in digital channels and improve customers' knowledge of how to access and use the channels.
Learn more about how banks can drive customer engagement and seize digital's opportunity.