According to our recent Global Consumer Pulse Research, non-traditional competitors are gaining ground with banking consumers. Forty-four percent of consumers across industries globally say they would consider products and services from companies that are not generally considered part of traditional industry definitions, and 43 percent would be open to products or services not just from companies, but also from other consumers.
In banking, other Accenture research recently showed that nearly half of customers would likely bank with a company they currently do business with but that does not currently offer banking services—and that number surpasses 70 percent for those ages 18 to 34. This includes financial players such as PayPal and Square, and brands outside the financial sector like Apple, Google and Amazon. We also estimate that competition from non-banks could erode a third of traditional bank revenues in North America by 2020.
For banks it's a critical time to retain customers. In the past six to 12 months more than 30 percent of consumers switched their bank providers for competitive pricing, high customer service quality or good value for money. And in line with last year's findings, 27 percent of consumers are willing to shop for better deals and 31 percent find the switching hassle to be low.
When we asked customers if they thought banks are all the same in terms of offerings and services, 22 percent of customers agreed, not recognizing any differentiation between the offerings and services of different banks. We also found that fewer than one-in-six profess a high industry involvement.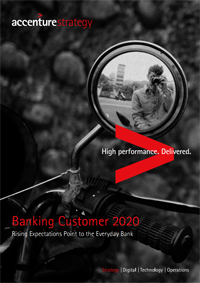 On a more positive note, about a third of consumers across industries who switched from a provider said they would consider returning within two years for better pricing or a superior product. That's good news for banks, but it means that if they want to win back customers, they need to focus on providing compelling offers that are clearly different than the offerings of other banks.
At Accenture, we think that simply being "more digital"—closing down branches and rolling out better mobile and online banking services—will not give banks the differentiation they need to capture the attention of, retain and best serve today's customers. Instead, banks need to:
Create an immersive relationship with customers.
Increase the quality of the customer experience.
Develop continuous daily customer interaction through partnerships and connections with provider partners.
Nurture loyalty through rewards programs and discounts.
Optimize front- and back-office processes for speed, efficiency and scalability.
In this banking model, which we call the Everyday Bank, the bank takes on three distinct roles—advice provider, access facilitator and value aggregator. Through these roles, and by placing themselves at the center of customers' daily lives, banks can address the real needs of customers and provide strong value for money.
Learn more about how banks can drive customer engagement and seize digital's opportunity.