Guest bloggers Ryan Douglas & Peter Lischick compare the value of credit card rewards over time and question whether there is a better way to compete.
The credit card industry has experienced a flood of new credit card product launches and re-vamped value propositions in recent years. Many of the bankcard releases, such as U.S. Bank's Altitude Reserve and Amex's new Platinum Card benefits, have made headlines for their rich value propositions. The partnership market has been no different. The value of rewards offered by partnership credit cards (defined as retail, T&E, automotive, and gas cards), both in terms of acquisition bonuses and ongoing rewards continues to rise. To better understand this trend, Accenture compared the value of rewards offered by de novo partnership programs that launched shortly after the recent Recession (2010 to 2013) to the value of rewards offered by recently launched programs (2014 to present). Our research found that on average, the maximum earn rate for ongoing rewards grew by 38 percent (121 bps) while acquisition bonus values grew by 92 percent ($43) between these two time periods, as show in Figure 1.
Although the value of rewards grew across all card partner industries that were included in our research, the retail industry had the highest percentage growth rate for both earn rates and acquisition bonuses. Last year's launch of the Ulta Beauty credit card program represents an idyllic example of a recently launched retail program offering high rewards; Ulta's value proposition equates to a cash-back in-store earn rate that ranges between 6 percent and 12.5 percent*. Within the card partnership market, not only are companies facing fierce opposition from their competitors' rewards programs, but the end consumer is increasingly becoming less loyal. A recent Accenture survey found that 48 percent of consumers would switch their primary rewards card to get more value for their purchases.
The rising cost of such rewards has captured the attention of c-suite executives in most major banks. The CFO of American Express, recently stated that "rewards expense increased 9 percent Year over Year…it's going to continue to be a very competitive environment"¹. In fact, executives from Capital One, Discover, Synchrony, and Bank of America all made similar comments about the rising cost of rewards in the first two quarters of 2017.
While the current market necessitates offering high rewards, the level of growth in rewards value is unsustainable indefinitely, so it is important for executives to consider other ways of investing in their loyalty programs. The next frontier of rewards will triangulate on themes outside of pure cash value such as expanded reach, instant-gratification and experiences. Recent research found that a credit card program offering no experiential rewards but an earn rate 1 percent higher than a comparable credit card program offering experiential rewards had approximately equal appeal to North Americans². Generation Z, known as digital natives, have an attention span of eight seconds³ and are impulsive shoppers who are projected to make up 40 percent of all U.S. consumers by 20204. What solutions will appeal to them?
An opportunity exists for companies to improve loyalty satisfaction without increasing the value of earn rates or acquisition bonuses. While high value is still an important pillar, investments that improve ease of access and embrace a digital narrative could help companies achieve greater loyalty while also improving their return on investment. As business leaders rethink the world of loyalty, any strategy needs to leverage new advancements in technology and affirm the characteristics/behavior of future generations.
Figure 1: De Novo U.S. Credit Card Program Rewards Growth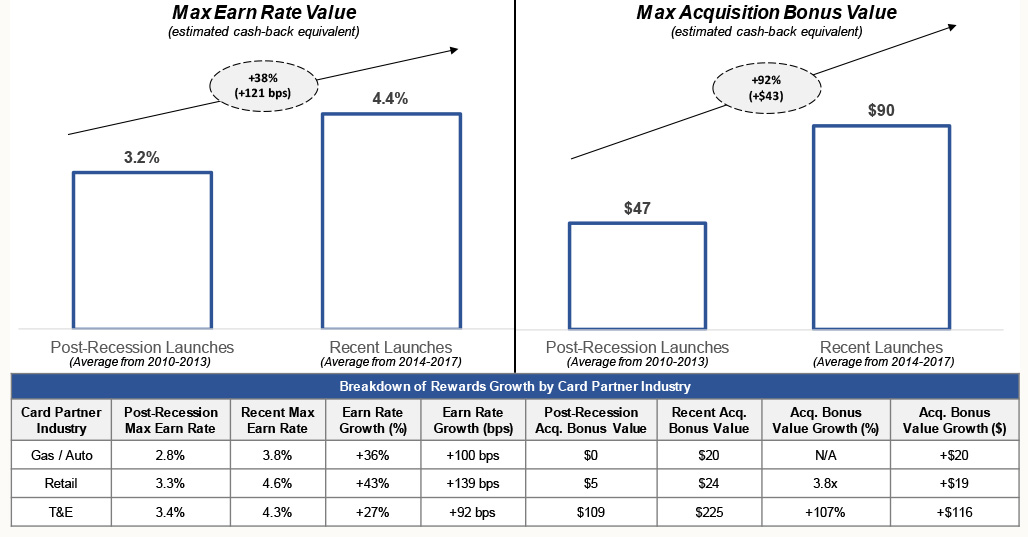 Ryan Douglas, Senior Manager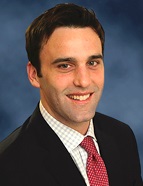 Peter Lischick, Management Consultant