Hello, readers! Today I'm posting my first entry to Accenture's Banking Blog, where we talk about how banks can survive in today's digital world. I'll be offering my thoughts regarding Payments, a hot topic for banks as they begin to use digital channels.
Several of us have talked here about the "Everyday Bank." Just as banks can transform–to better serve customers and to thrive in a digital world—into the Everyday Bank, payment providers can dramatically change the way payments happen by focusing on what we call "Everyday Payments."
The key to digital payments, I find, is the technology behind it. Today, peoples' accounts can initiate payments across any digital channel. That means when transactions are initiated via text, through a person's Twitter feed or via a mobile banking app, they become a focal point for payment providers—a chance for them to engage and interact directly with the customer. As with the Everyday Bank, the Everyday Payment Provider becomes a trusted and indispensable partner, involved in customers' everyday lives and activities.
There are six hot topics in the payments landscape that Everyday Payment Providers need to focus on for success in the digital economy:
Polymorphic payments, meaning fluid payment methods that can change, depending on circumstances, to accommodate customer purchases
Digital commerce, which creates the environment for new payment methods to flourish
Immediate payments, a required capability for supporting real-time and instantaneous payments
Cards innovation, which is about moving from physical forms of payment and migrating to mobile devices and the cloud
Digital corporate payments and transaction services, helping corporations move toward an Everyday Payments model
Payments transformation for digital, which is the next phase of simplification and replatforming programs, which we know some payments providers already are exploring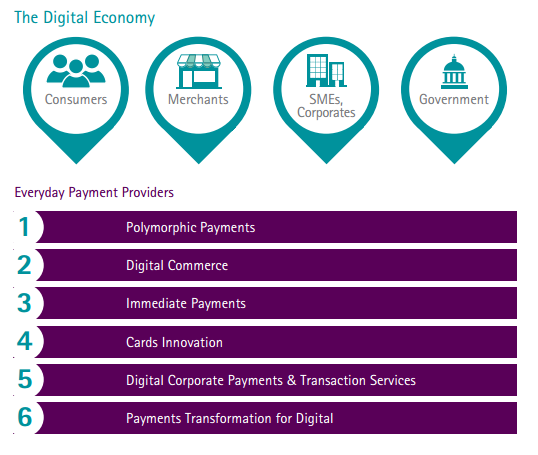 I look forward to exploring various topics with you in the coming weeks and months in my blog.